The products marked with * contain affiliate links. You won't pay any more than normal when you purchase a product through this link, but I may get a small commission from the sale.
Alright. You're interested in eating more plant based.
But where do you start?
What are some must-have pantry staples that can make a plant-based / vegan life not only much easier but also more delicious?
In this blog post I'll share with you 10 essential vegan ingredients that you'll always be able to find in my kitchen.
Ready?
Let's go!
1. Nutritional Yeast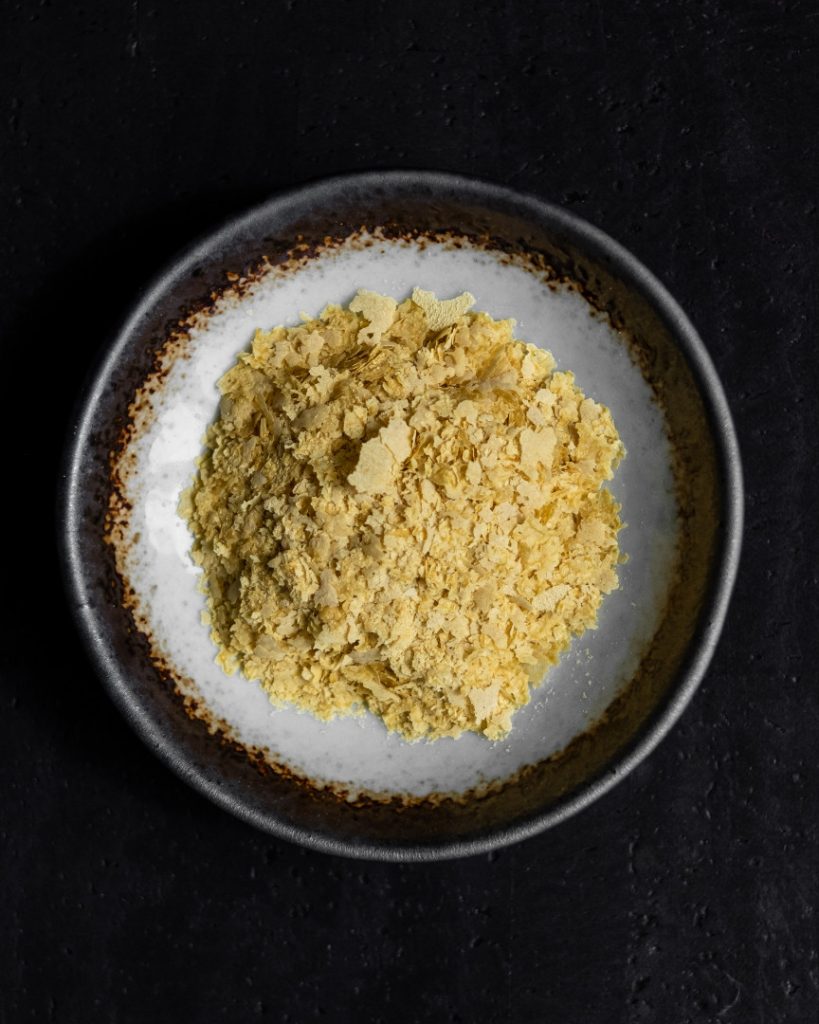 Nutritional yeast or "nooch", how a lot of vegans call it, is a weird one and sounds kind of gross. But believe me, it's amazing. Technically it's deactivated yeast flakes made from a single-celled organism called Saccharomyces Cerevisiae. Because it's deactivated it doesn't have any leavening functions so it cannot be interchanged with active yeast used in baking. It's often (but not always) fortified with B12 which is a vitamin that needs to be supplemented on a vegan diet as it is not naturally present in plant foods.
Nutritional Yeast is used as a cheese substitute, either on its own as a vegan option for parmesan or incorporated in cheese sauces. This Mac'n'Cheese recipe is a great dish to try out if you have never cooked with nutritional yeast before.
Other recipes that include nutritional yeast are: Pasta al Limone, One Pot Butter Bean Pasta and Spinach Apéro Tartlets.
These are some products I like and buy:
Absolute Organic Nutritional Yeast*
2. Chickpeas and Aquafaba
Chickpeas are super versatile and we use them multiple times a week whether it be as part of a bigger dish or simply as a snack. While I sometimes soak and cook dried chickpeas, I most often go for the canned version. Not only does it make the cooking process much quicker but you basically get a 2-in-1 deal.
Firstly, you get the chickpeas which can be used for making this delicious Chickpea and Potato Curry, Chickpea-no Tuna- Sandwiches or Chickpea Panzanella. Of course, you could always make homemade hummus too. Personally, I love adding sundried tomatoes and pine nuts to mine.
Secondly, you can use the liquid the chickpeas come in as an egg replacer. Yes, you heard that right! It's called aquafaba and translates from the Latin aqua (water) and faba (bean) to bean water. Appetising, I know.
All jokes aside aquafaba is a game changer when it comes to vegan baking. It can be whipped to stiff peaks just like egg whites. Personally I use aquafaba in cakes, such as this carrot cake. Alternatively, aquafaba can be used as a base to make vegan mayonnaise.
These are some products I like and buy:
Generally, I buy canned chickpeas that only contain chickpeas and water. I find that using the aquafaba from cans with added salt doesn't work as well.
3. Miso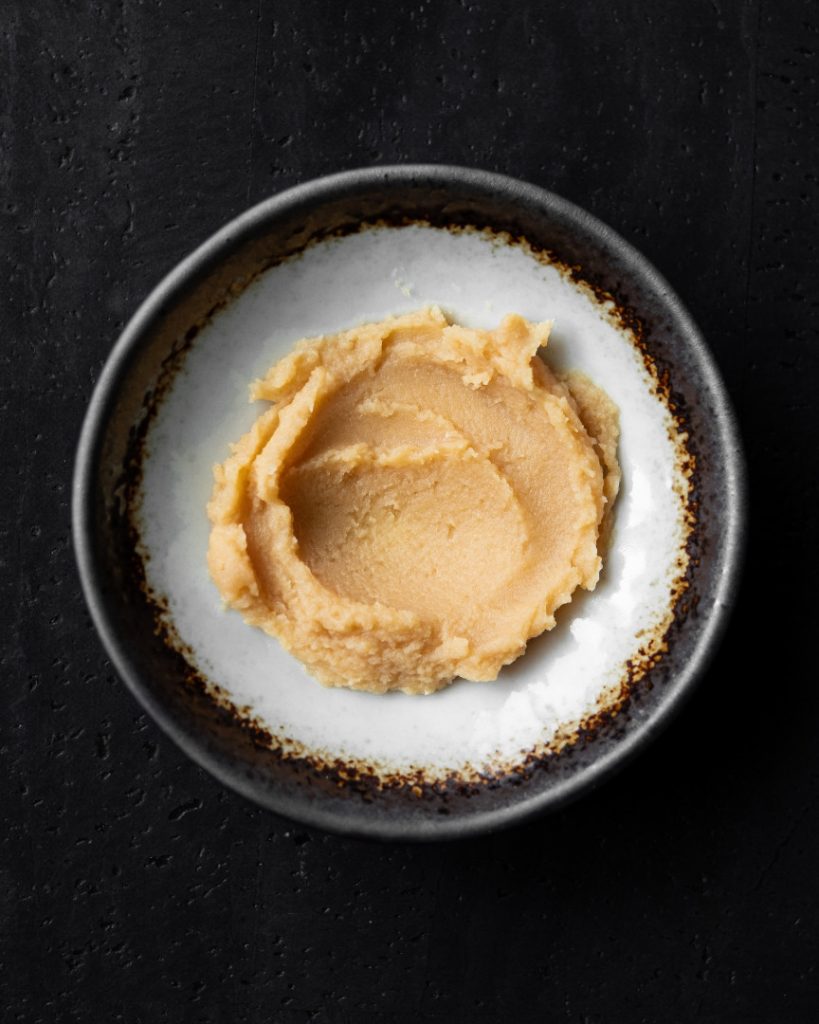 There are so many different types of miso I could (probably should) write a blogpost about miso on its own. Miso is a traditional Japanese seasoning made from soybeans that have been fermented with salt and koji. There's also other misos available that don't contain soy and are made of chickpeas, barley or rice. Miso can be bought as a powder or paste, each has their advantages depending on the recipe/dish.
Some of my favourite recipes using miso are the vegan mac'n'cheese and caramelised onion dip.
These are some products I like and buy:
Meru Miso Sweet Red Miso Sachets
4. Cashews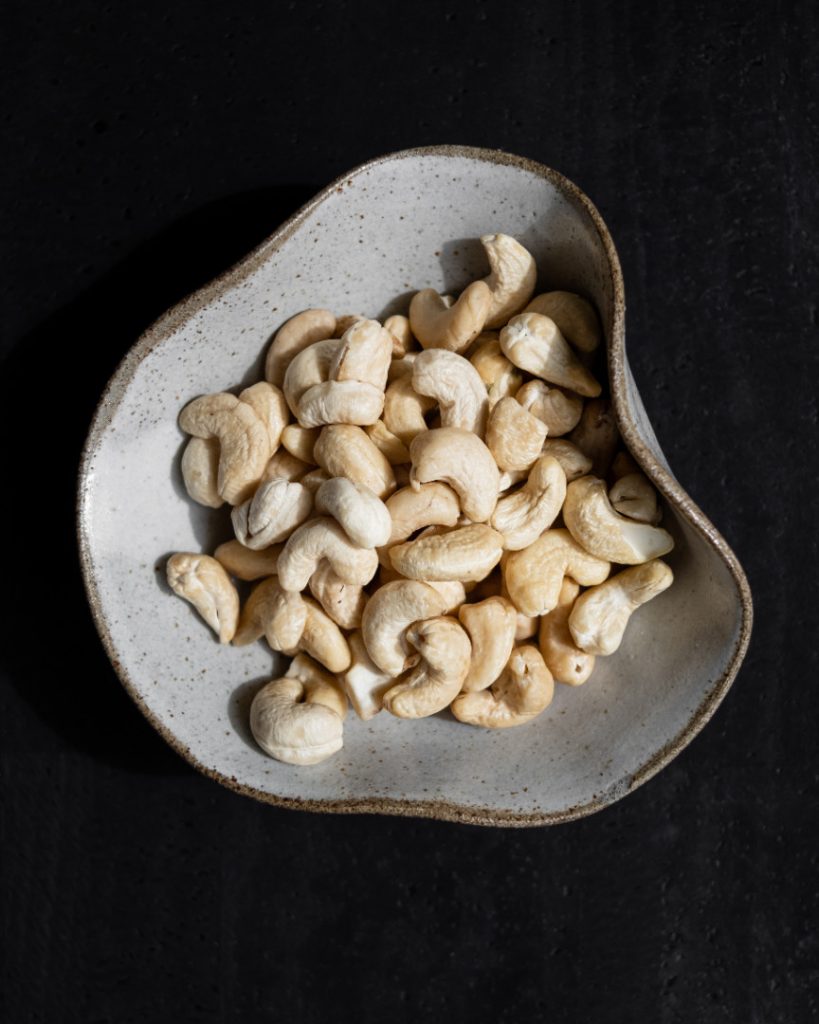 Cashews are used a lot in my kitchen. They're especially good to make sauces with once they're soaked and also really great for making vegan cheese cakes or raw cakes.
I've got a few recipes on this blog using cashews. For example, this Vegan Basil-Ricotta Sauce can be used to make this Creamy Zucchini & Pea Pasta as well as this Rainbow Vegetable Tart.
If you love raw cheesecakes, then you might want to try and make this Raw Vegan Cheesecake.
Of course, cashews are also great for snacking. I love to make a nut mix with cashews, almonds and macadamias like in this recipe here: Roasted Za'atar Nuts.
These are some products I like and buy:
I normally buy raw cashews at the supermarket or bulk food stores.
5. Tofu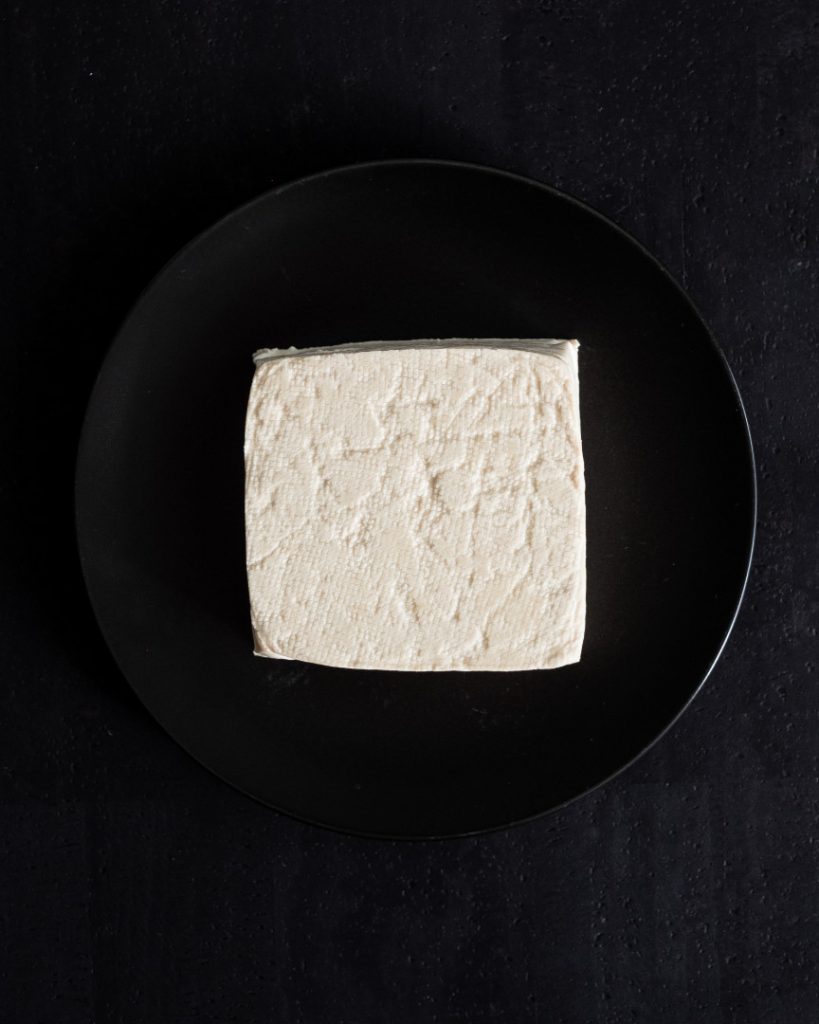 Tofu is a very versatile and protein rich ingredient that we use very regularly in our kitchen. It can be a bit daunting to cook tofu if you haven't used it before, but I promise you it's actually not that hard to get tofu to taste really delicious. Because it's flavour is fairly neutral, it's makes a fantastic blank canvas that you can give various different flavours to.
For example, in my Vegan Breakfast Burrito the tofu is scrambled and somewhat represents scrambled eggs. Whereas, this crispy glazed tofu is crispy, sweet, salty and overall just delicious.
These are some products I like and buy:
I usually buy tofu at my local Asian supermarket. They have a fantastic range of different tofu.
6. Apple Cider Vinegar (ACV)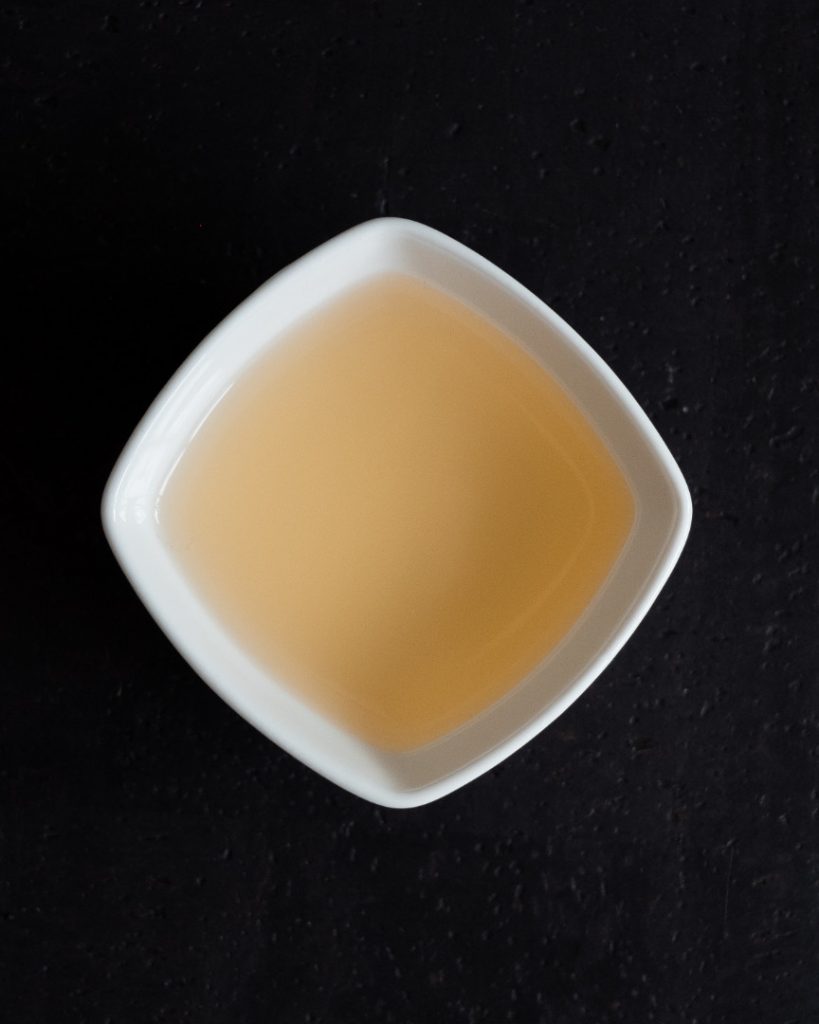 Apple Cider Vinegar or short ACV is a funny one. On the one side I use ACV for salad dressing such as in this Turmeric Roasted Chickpea Nourish Bowl.
On the other hand I often use ACV together with plant based milks to create a vegan buttermilk. Using a vegan buttermilk can be really handy to make pancakes as well as cakes and banana bread. It gives the baked treats a slight tang and makes them fluffier too.
These are some products I like and buy:
Absolute Organic Apple Cider Vinegar*
Apple Cider Vinegar is also available in most supermarkets. I like to buy the ones that have "the mother" in it.
7. Herbs and Spices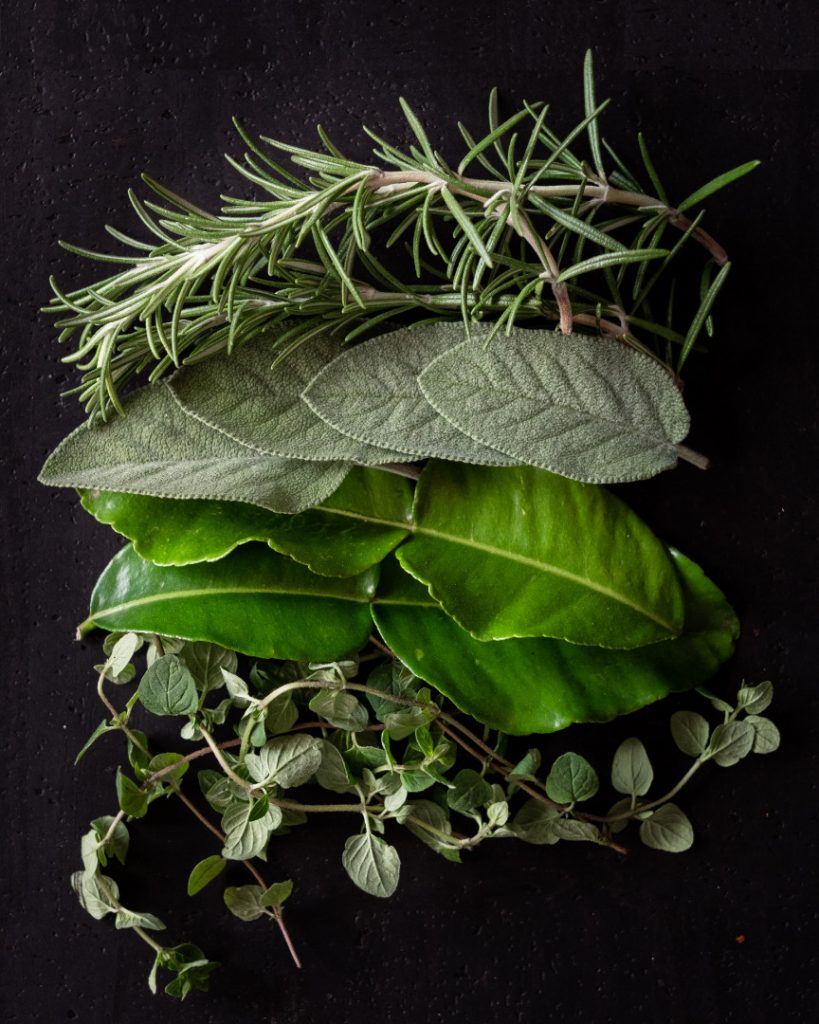 Sometimes there's comments floating around that vegan food doesn't taste like much. In my opinion that usually comes down to these 3 problems: not adding enough salt, not adding enough fat and not adding enough herbs and/or spices.
Using fresh herbs and different spices in your dishes can lift your dish from being an average meal to something delicious and satisfying.
Here are a few recipes that wouldn't even be half as good without herbs and spices: Pumpkin Red Lentil Curry (from my free ebook), Breakfast Burritos, Hasselback Butternut Pumpkin, Roasted Eggplant with Tahini Yoghurt.
These are some products I like and buy:
I buy fresh herbs at my local fresh food market and also started growing some on my balcony.
For dried herbs and spices I like Gourmet Organic* and Herbie's.
8. Flaxseed Meal
Flaxmeal makes an excellent egg substitute in vegan baking. There are many different egg substitutes in baking (aquafaba is another one – see above) but flaxmeal is probably the one I got to know first.
When combining 1 tbsp flaxmeal with 3 tbsp water and let it rest for a few minutes you can create a "flax egg". It's gloopy, thick and a bit gelatinous. It helps holding the cake batter together, just like an egg does.
I use flax meal in quite a lot of my baking such as my Swiss Carrot Cake, White Chocolate Macadamia Cookies and the Lemon Poppyseed Muffins.
These are some products I like and buy:
9. Oats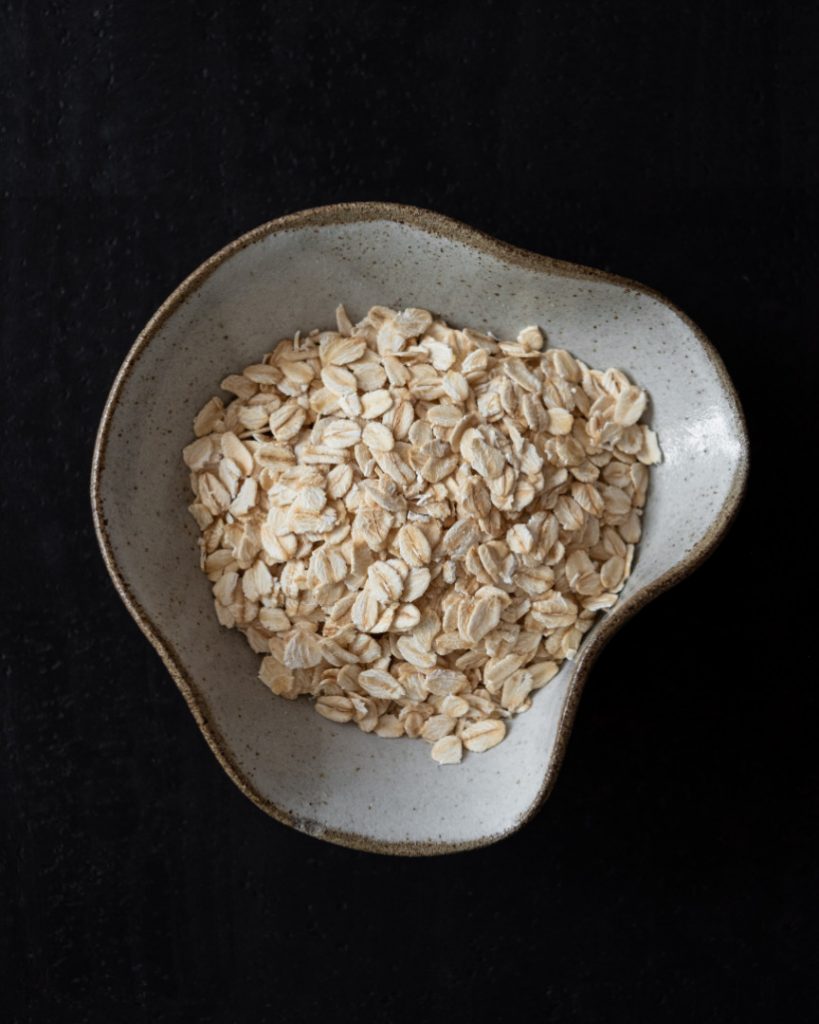 One of my go to breakfast ingredients are oats. I use them to make porridge in winter and overnight oats in summer. They're incredibly nutritious and always give me tons of energy at the start of the day.
Here are a few breakfast ideas including oats: Baked Raspberry-Coconut Porridge, Apple-Cinnamon Porridge, Christmas Birchermüesli, Overnight Oats, Double Chocolate Granola
Of course, these Anzac Cookies include oats too.
These are some products I like and buy:
Kialla Pure Foods Rolled Oats*
Lotus Organic Traditional Rolled Oats*
And as you know, oats can also be found in any type of supermarkets. Probably even petrol stations.
10. Lentils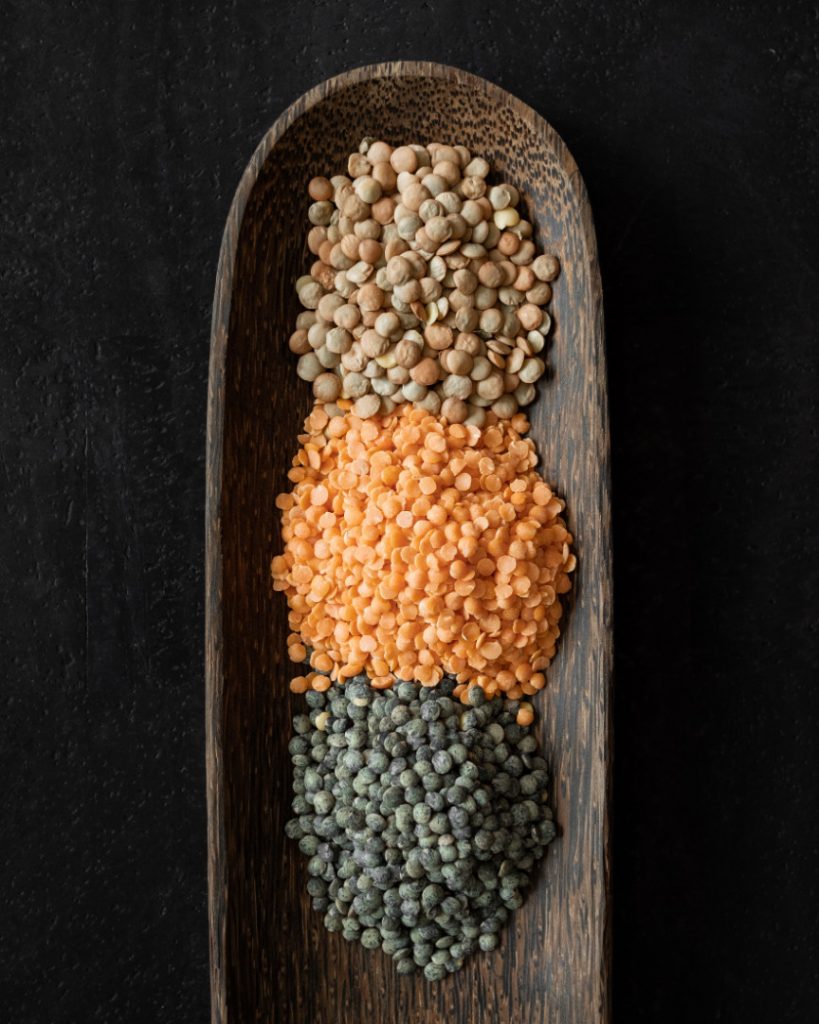 Last but not least, lentils. Probably one of my favourite vegan protein sources. Lentils are incredibly versatile when it comes to cooking and can be used in various different cuisines. Whether they're red, brown, green or French lentils, they're all delicious and have their little place in my kitchen cupboard.
Here are some ideas on how to cook lentils and make them taste amazing: Pumpkin Red Lentil Curry (from my free ebook), Grain and Seed Super Salad and Roasted Carrot and Lentil Salad.
These are some products I like and buy:
Absolute Organic Split Red Lentils*
Absolute Organic Green Lentils*
Chef's Choice Organic Du PUY Style French Lentils*
Global Organics Organic Brown Lentils*
---
That's it. These are the 10 essential vegan ingredients that I use all the time and would miss dearly if they all of a sudden disappeared from the face of the Earth. If you liked this blogpost and would like me to write more of these posts, please let me know in the comments.
And if you make any of the recipes suggested, please let me know how you go and tag me in your creations on Instragam @nothangryanymore. I love seeing them!
Annick