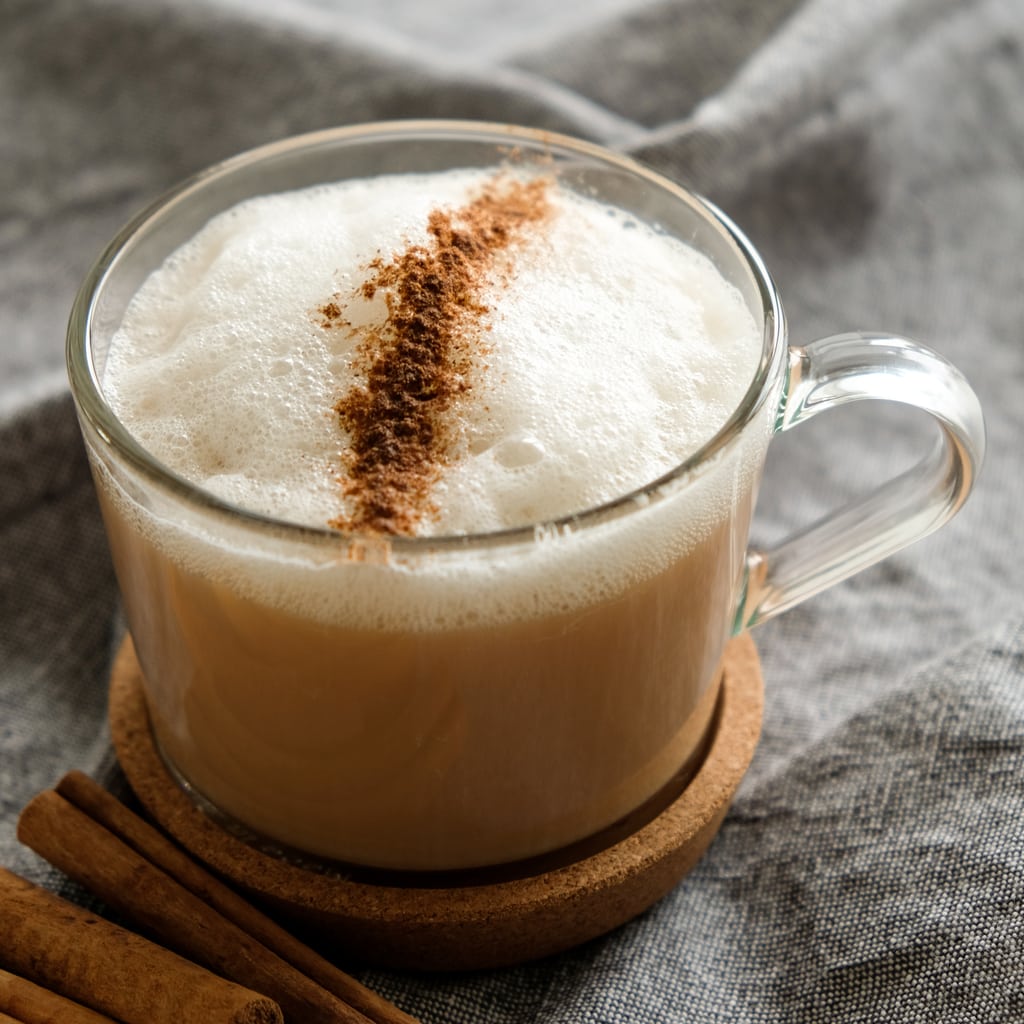 A couple of years ago I didn't like tea at all and only ever drank it when I had to, which was if I had a cold and my mum would make me drink it. However, Jeremy changed my attitude on tea completely and now I love it and drink it all the time. Peppermint or camomile are probably my favourites in the morning, but in the afternoon or evening I really enjoy chai tea or chai latte. With the cold wind that has hit Melbourne this week, I thought I should share my recipe to make chai lattes.
Of course you can just buy chai tea bags (and I won't pretend I haven't done that). Sometimes, however, I really enjoy making tea flavours myself. It's so much more personal, doesn't take a lot of time, and it's fun too. So if you have a spare 10-15 minutes and want to make your own chai tea or chai latte, then this recipe is for you.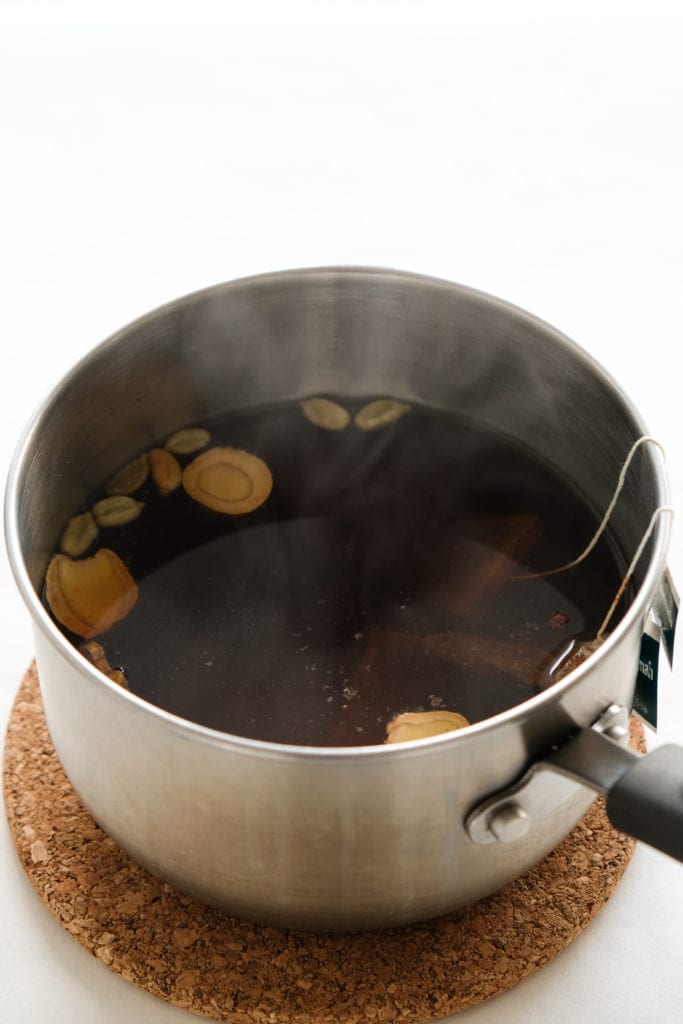 This recipe uses a lot of lovely, warming spices like cinnamon (my absolute favourite in anything and everything!), green cardamon pods, nutmeg, cloves, and fresh ginger. For the tea I used plain black tea bags but of course loose leaf tea works equally well. For the latte I used Bonsoy which is my favourite soy-milk from the ones I've tried in Australia. I'm sure any kind of soy milk (or other plant-based milk) that you use in your tea or coffee will work just fine with this recipe.
I hope you enjoy this recipe and if you do, please tag us on @nothangryanymore on Instagram.
Annick xx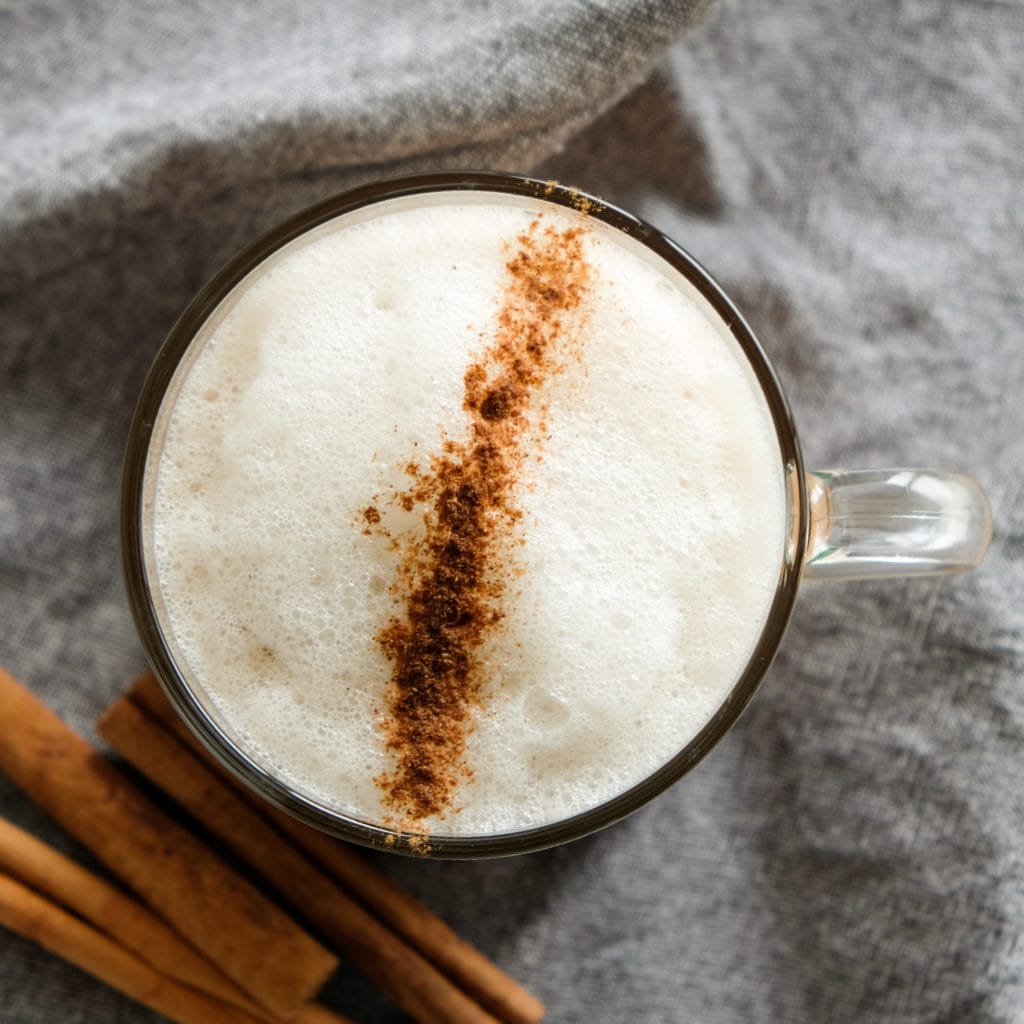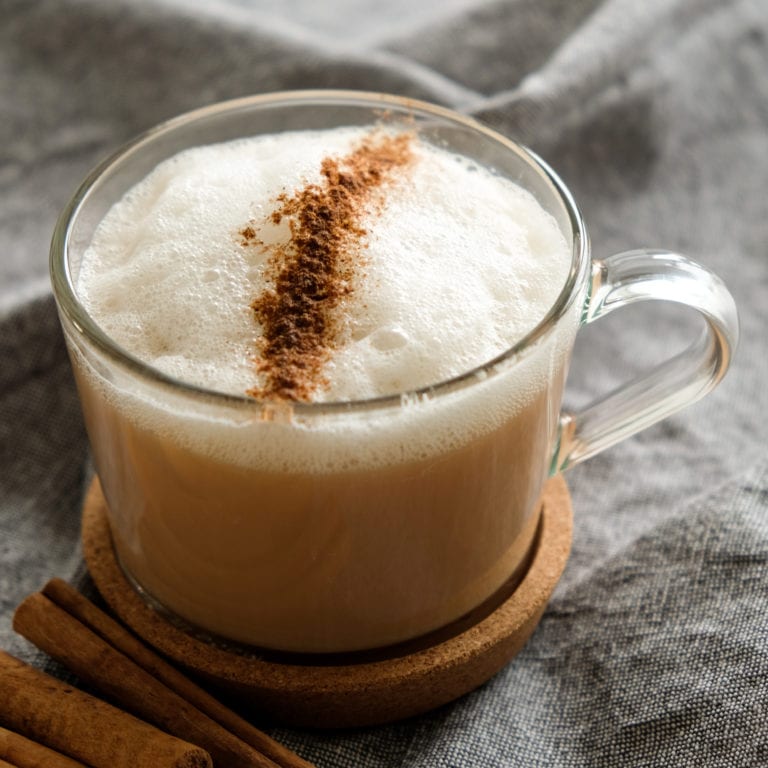 Homemade Chai Latte
Simple and delicious homemade chai latte, perfect for afternoon tea.
(Click on the stars to vote!)
Ingredients
Chai Tea
10

g

Fresh ginger

1

cinnamon stick

10

cloves

1/4

tsp

ground nutmeg

10

green cardamon pods

2

black tea bags

1

litre

water
Optional: Latte
200

ml

Soy milk

(or any other plant-based milk you like to put in your coffee/tea)

Ground cinnamon for decoration
Instructions
Chai Tea
Fill the a medium sized pot with 1 litre of water.

Cut the ginger into slices and put it into the pot together with the cinnamon stick, cloves, ground nutmeg, green cardamon pods and black tea.

Cover the pot and heat up the water until boiling. Leave for 10 minutes, so that the flavours can develop properly.

Put tea through a sieve into your cup or tea pot. If there is any leftover tea, put it into a container and leave it in the fridge for up to a week. Heat it up again and enjoy!
Chai Latte
In a small pot, heat up the soy milk and stir regularly as it will burn otherwise. You can use a whisk and froth the soy milk up a bit as well. Once it's hot, add the milk to the tea, spoon froth on top and add a little ground cinnamon for decoration.
Notes
Nutritional Information
1 serving (250ml chai tea)
Calories: 6 Fat: 0.2g Saturated Fat: 0g Sodium: 11.8mg Carbohydrates: 1.4g Sugar: 0.2g Fiber: 0.5g Protein: 0.1g
1 serving (250ml chai tea + 50ml soy milk)
Calories: 35 Fat: 1.3g Saturated Fat: 0.2g Sodium: 35.3mg Carbohydrates: 4.1g Sugar: 1.3g Fiber: 1.2g Protein: 2.1g