I love poppy seeds in cakes and muffins, especially combined with lemon or orange. It's always been one of my favourite cake flavours, so I had to take the challenge and make my own vegan version of a poppy seed lemon cake. However, I prefer muffins to cake, as they already come in the perfect "pick me up" form and are easy to pack for lunches etc.  So here are my delicious and fluffy, vegan and gluten free lemon poppy seed muffins!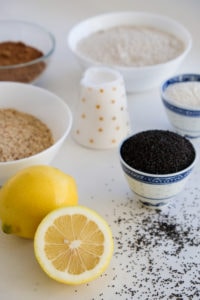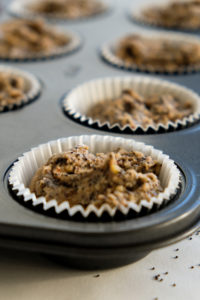 This recipe took me quite a while to figure out and it does use a few more ingredients than my other recipes so far. During the process I decided to make to recipe gluten free as well, so that more people are able to enjoy it. I promise you'll end up with super delicious, fluffy muffins.
If you enjoyed this recipe, please let us know and tag us on @nothangryanymore on Instagram.
xx Annick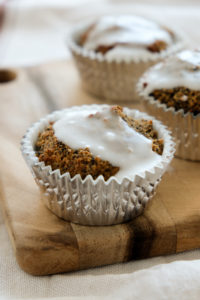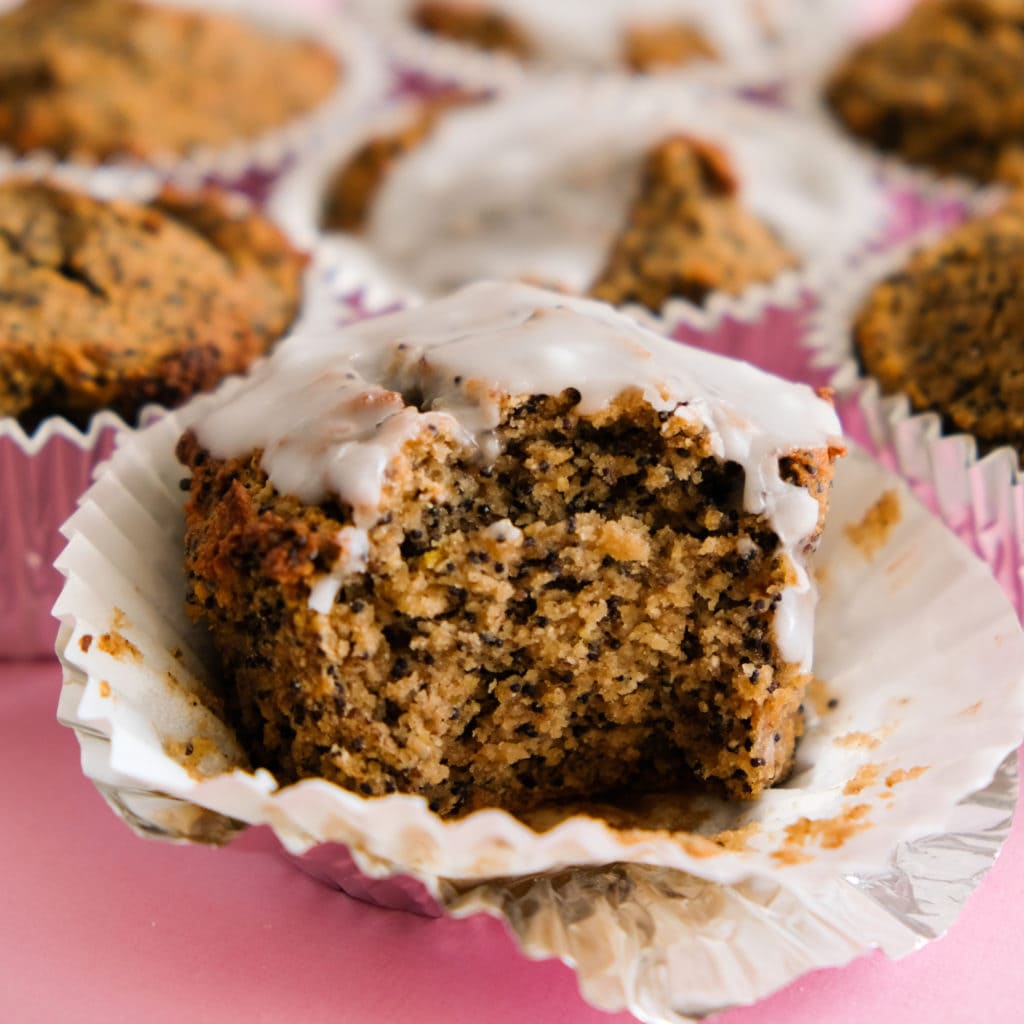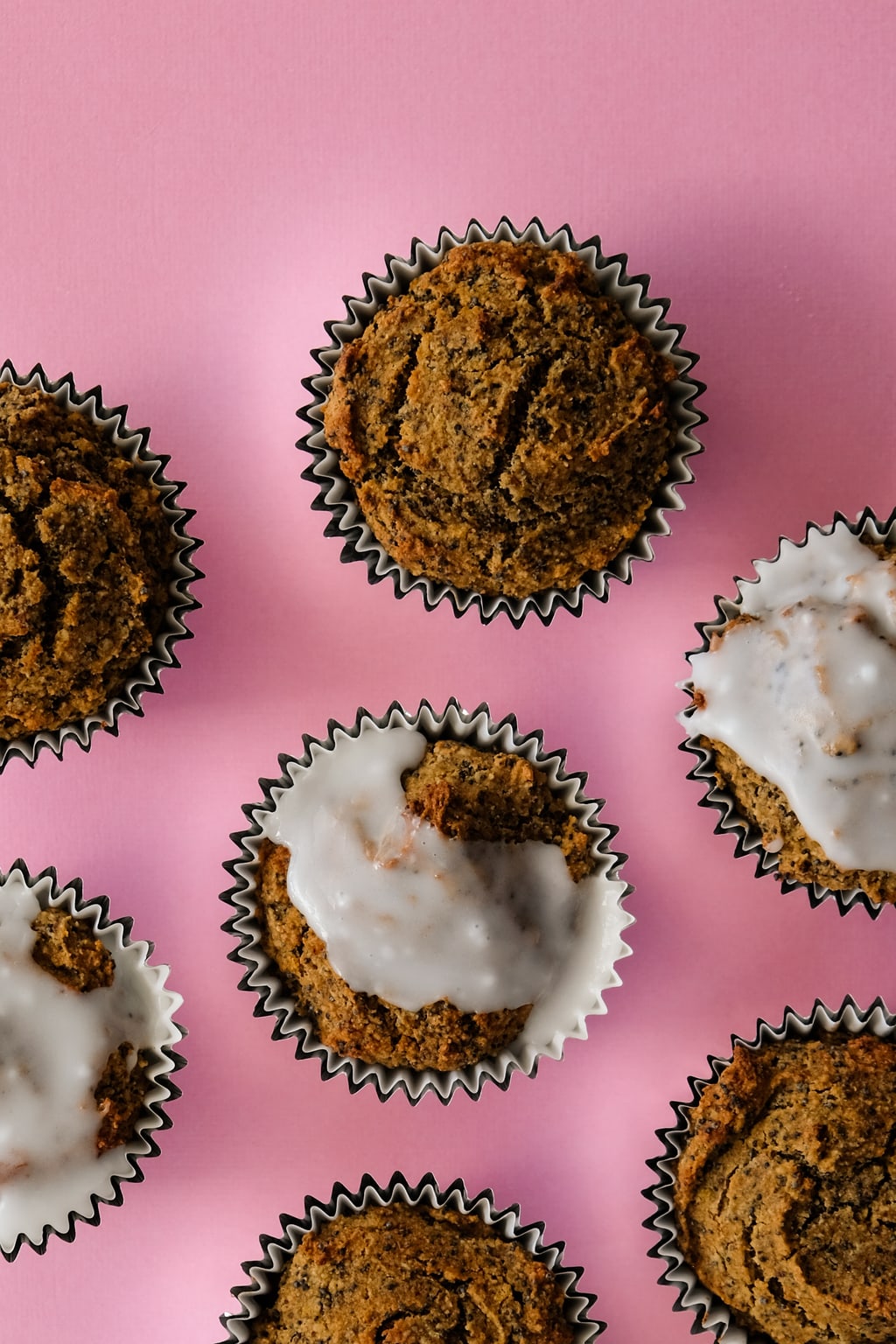 Lemon Poppy Seed Muffin
Vegan and gluten free Lemon Poppy Seed Muffins - a very light, fluffy and wonderfully delicious dessert.

(Click on the stars to vote!)
Ingredients
Lemon Poppy Seed Muffins
lemon zest from 1 lemon

50

g

lemon juice

(approx. from one big lemon or 2 small lemons)

60

g

poppy seeds

100

g

almond meal

30

g

coconut flour

100

g

buckwheat flour

70

g

coconut sugar

25

g

maple syrup

250

g

almond milk

1

tsp

vanilla bean paste

1

tsp

baking soda

1

tsp

baking powder

2

flax eggs

2 tbsp flax meal + 6 tbsp water, mixed and left aside for 5 min

1

pinch

salt

30

g

melted coconut oil
OPTIONAL: Icing
30

g

icing sugar

1-2

tbsp

lemon juice
Instructions
Lemon Poppy Seed Muffins
Heat the oven to 180°C and line the muffin tray with little cups


Grate lemon zest into a small bowl and set aside


Add flax eggs, vanilla bean paste, maple syrup, coconut sugar, coconut oil and 150ml almond milk to a big bowl and mix until combined.


Now add buckwheat flour, coconut flour, almond meal, baking powder and salt to the bowl and stir until combined. Then add the poppy seeds and lemon zest and mix in as well.


Press out the lemon juice and put into a big bowl. Add the left over 100ml almond milk and baking soda and leave aside for a few minutes. Make sure the bowl is big, as the acidity of the lemon and the baking soda will cause a chemical reactions and make the mix rise immediately. Once the reaction slowed down, add it to the other ingredients and stir until just combined. The dough should look very light and fluffy now.


Fill up the 12 muffin sheets with an equal amount of mixture and bake for 20-25 minutes. Then leave to cool down.

Icing
Mix lemon juice and icing sugar and add a little of the mixture on top of the muffins for extra sweetness.
Notes
Nutritional Information
1 muffin (without icing)
Calories: 189 Fat: 11.2g Saturated Fat: 4.1g Sodium: 220.1mg Carbohydrates: 17.1g Sugar: 8.9g Fiber: 3.8g Protein: 4.8g