Oh wow! This is hands down the best pasta dish I've ever made. And let me tell you, I've eaten a LOT of pasta and tried tons of different sauces and styles. This pasta dish will blow your friend's and family's minds, whatever diet they follow. They'll love it! (Well. If your family/friends are following a Keto diet, maybe don't offer them this pasta. There are a lot of carbs involved in this dish!)
The pasta is creamy because it uses our Vegan Basil-Ricotta Sauce and crunchy because of the shaved raw baby beetroots and blanched peas. We also love to add a drizzle of truffle oil on top as it gives it a lovely earthy note.
I understand that you might not have truffle oil in your cupboard and you can certainly make this recipe without using any. But, if you'd like to get some truffle oil and are unsure if you like it, buy the smallest bottle possible. Oil also tastes best when it's fresh, so we always buy small bottles of oil whenever we know we don't use it that often. You will love truffle oil – it's the best thing ever.
Another thing I love about this pasta dish is that it looks so much more difficult than it actually is to make. There's not much chopping involved and if you're short on time you could use frozen peas instead of fresh ones. You'll have dinner ready in 30 minutes and can dig into pasta heaven.
I hope you enjoy making this recipe and please don't forget to tag us on Instagram @nothangryanymore. We'd love to see your creations.
Until next week,
Annick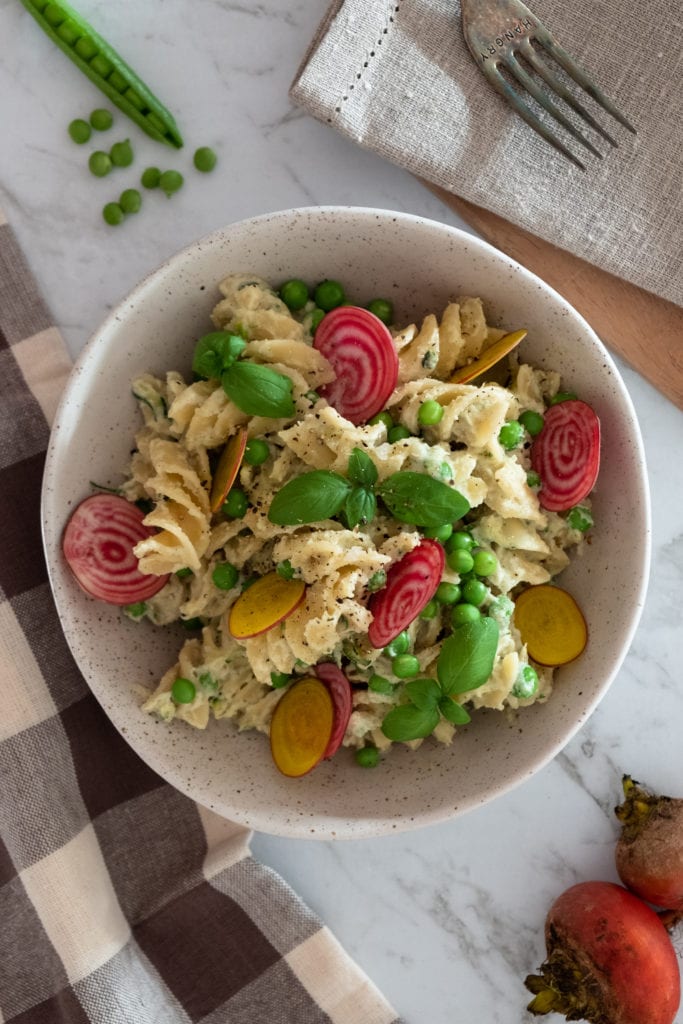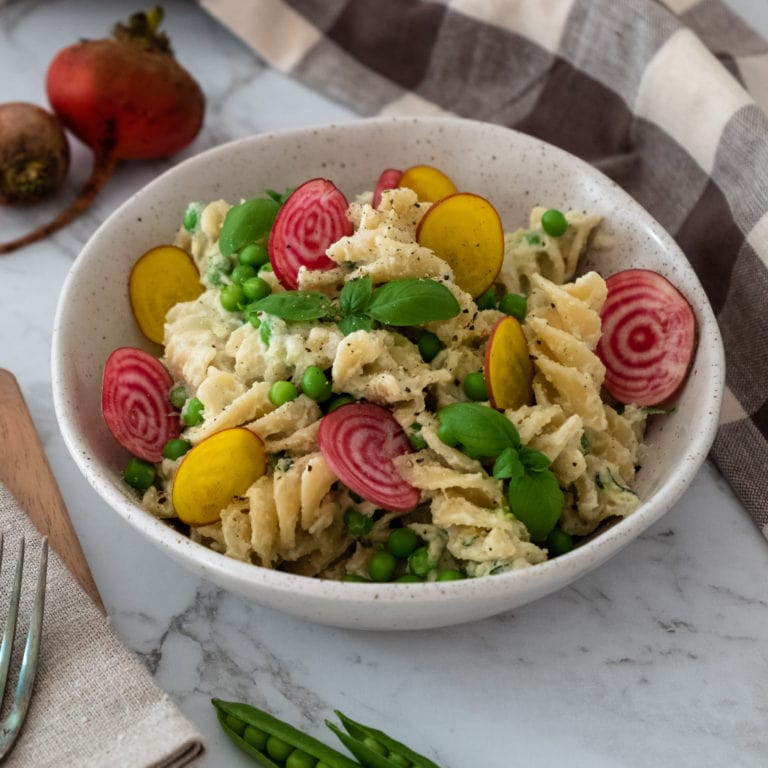 Creamy Zucchini Pea Pasta with Beetroot
Delicious and creamy pasta that is easier to make than it looks!

(Click on the stars to vote!)
Ingredients
Sauce
1

serve

Basil-Ricotta-Sauce*

1

zucchini

2

cloves

garlic

1

tbsp

olive oil

100

ml

water

150

g

fresh peas

(can be swapped for frozen peas if not in seasion)
Pasta
3

L

water

500

g

pasta

2

tbsp

salt
Toppings
1-2

baby beetroot

fresh basil

truffle oil

(optional for drizzling on top in the end)
Instructions
Prepare 1 serve of Basil-Ricotta-Sauce* and leave aside until later.


Remove all the peas from the pods, bring a medium sized pot of salty water to the boil and add the peas once the water is boiling. Drain the water after 1-2 minutes and add the peas into ice cold water to let them cool down completely.


Bring a big pot of water to the boil. Once the water is boiling, add the salt and pasta and cook until al dente. (I usually cook it 2-3 minutes less than recommended on the packaging.)


While the pasta is cooking, grate the zucchini and chop the garlic. Heat up the medium sized pot again, add the olive oil, zucchini and garlic and cook for a few minutes on a medium heat.


Add the Basil-Ricotta-Sauce to the pot and mix it with the zucchini. Add 100ml of water to make the sauce a bit more saucy.


Once the pasta is cooked and add the sauce and the peas and mix it all together in the big pot.


To garnish, add some shaved beetroot (I like to use a mandolin for that), fresh basil and some salt, pepper, and if you have it, truffle oil. Enjoy!

Notes
*you can find the recipe for the Vegan Basil-Ricotta Sauce here
Nutritional Information
1 serve contains:
Calories: 838 Fat: 30.6g Saturated Fat: 5.4g Sodium: 262.6mg Carbohydrates: 106.5g Sugar: 11.6g Fiber: 10.5g Protein: 31.6g
Nutrition Facts
Creamy Zucchini Pea Pasta with Beetroot
Amount Per Serving (0 g)
Calories 0
% Daily Value*
Fat 0g0%
Cholesterol 0mg0%
Sodium 0mg0%
Potassium 0mg0%
Carbohydrates 0g0%
Protein 0g0%
Vitamin A 0IU0%
Vitamin C 0mg0%
Calcium 0mg0%
Iron 0mg0%
* Percent Daily Values are based on a 2000 calorie diet.