Baked Porridge. I don't know if I've been living under a rock, but this is something I've just discovered a few weeks ago and now I'm utterly obsessed and eat it at least a few times per week! Whether you've heard of it, tried it before or are completely new to it, this is your reminder to give it a try. It's the perfect filling, healthy, and delicious breakfast and with a few spices you can make it taste like Christmas too, if that's the kind of thing you're into.
I came across the idea of making a baked porridge recipe after I watched Gordon Ramsay's baked porridge video on YouTube. In the video he used a lot of cow's milk and cream as well as quite a few other ingredients I don't have at home. This made me want to try making my own version of baked porridge, all vegan of course. And oh man, it's good!
There's a few key ingredients that I think make this breakfast as delicious as it is. First, there's flaked almonds and coconut flakes which give it a bit of texture next to the oats and chia seeds that will soak up a lot of the liquid while baking. Then, there's the frozen raspberries that give the porridge just the right amount of fruitiness and tartness that this porridge needs. To add a little bit of sweetness too, I love to use sultanas and maple syrup.
I hope I made you hungry (but not hangry – see what I did there), let's get baking!
If you make this recipe, please let us know what you think and share your creations with us on Instagram @nothangryanymore.
Until next time,
Annick x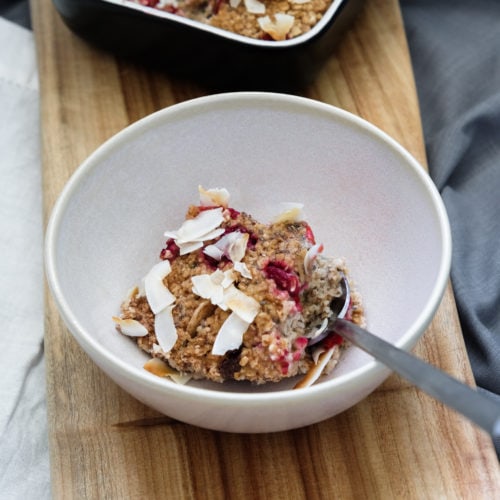 Baked Raspberry-Coconut Porridge
This is an easy, healthy and delicious way to prepare porridge a little different than usual.

(Click on the stars to vote!)
Ingredients
200

g

quick oats

2

tbsp

chia seeds

20

g

flaked almonds

1

tsp

ground cinnamon

1/2

tsp

ground cardamom

1/4

tsp

ground nutmeg

1/8

tsp

salt

40

g

sultanas

60

g

frozen raspberries

500

ml

oat milk

(or any other plant based milk)

2

tbsp

maple syrup

1

handful

coconut flakes
Instructions
Preheat the oven to 180°C or gas 3.


To a small baking dish (mine is 15x22cm), add quick oats, chia seeds, flaked almonds, cinnamon, cardamom, nutmeg, salt, sultanas and raspberries and stir roughly.


Add 500ml oat milk to the dish and stir. Make sure everything is coated nicely. Then put the dish into the oven and bake for 20 minutes.


After 20 minutes, add maple syrup and coconut flakes and put the dish back into the oven for another 5-10minutes or until the coconut flakes are starting to brown.


It tastes great straight out of the oven, but leftovers can easily be stored in the fridge and enjoyed the next day.

Notes
Nutritional Information
1 serving contains:
Calories: 523 Fat: 20.2g Saturated Fat: 1.9g Sodium: 55.6mg Carbohydrates: 69.4g Sugar: 25.1g Fiber: 13.3g Protein: 12.1g
Nutrition Facts
Baked Raspberry-Coconut Porridge
Amount Per Serving (0 g)
Calories 0
% Daily Value*
Fat 0g0%
Cholesterol 0mg0%
Sodium 0mg0%
Potassium 0mg0%
Carbohydrates 0g0%
Protein 0g0%
Vitamin A 0IU0%
Vitamin C 0mg0%
Calcium 0mg0%
Iron 0mg0%
* Percent Daily Values are based on a 2000 calorie diet.