These almond biscotti are delicious, sweet and toasty. I like how crunchy they are and how soft they get when dipped into a good cup of tea.
For me, they definitely are an all-year round kind of biscuit. However, they blend in perfectly with other Christmas cookies. The toasted almonds and the chewy meringue, which comes alive only after you've taken a bite, gives me huge festive vibes.
The biscotti are baked twice. First, they are baked in log shape and then they are baked in slices in order to get them to dry out completely. Make sure to store the biscotti in a sealed container away from the sun, otherwise the biscotti will become soft. They'll still be delicious that way, but it kind of defeats the point of drying them out in the first place.
This recipe uses aquafaba which is the liquid that you find in tinned chickpeas. You can strain the liquid and keep it in the fridge for a few days until you need to use it. Aquafaba is great when making vegan meringue (like we are doing in this recipe), but you can also use it to make vegan mayo. If you're not sure what to do with the leftover chickpeas, make sure to check out my chickpea recipes.
If you love Christmas and love desserts, then you have to try these recipes:
I hope you enjoy making and eating these almond biscotti. Please let me know how you go and don't forget to share your creations with me on Instagram @nothangryanymore. I love seeing them!
Annick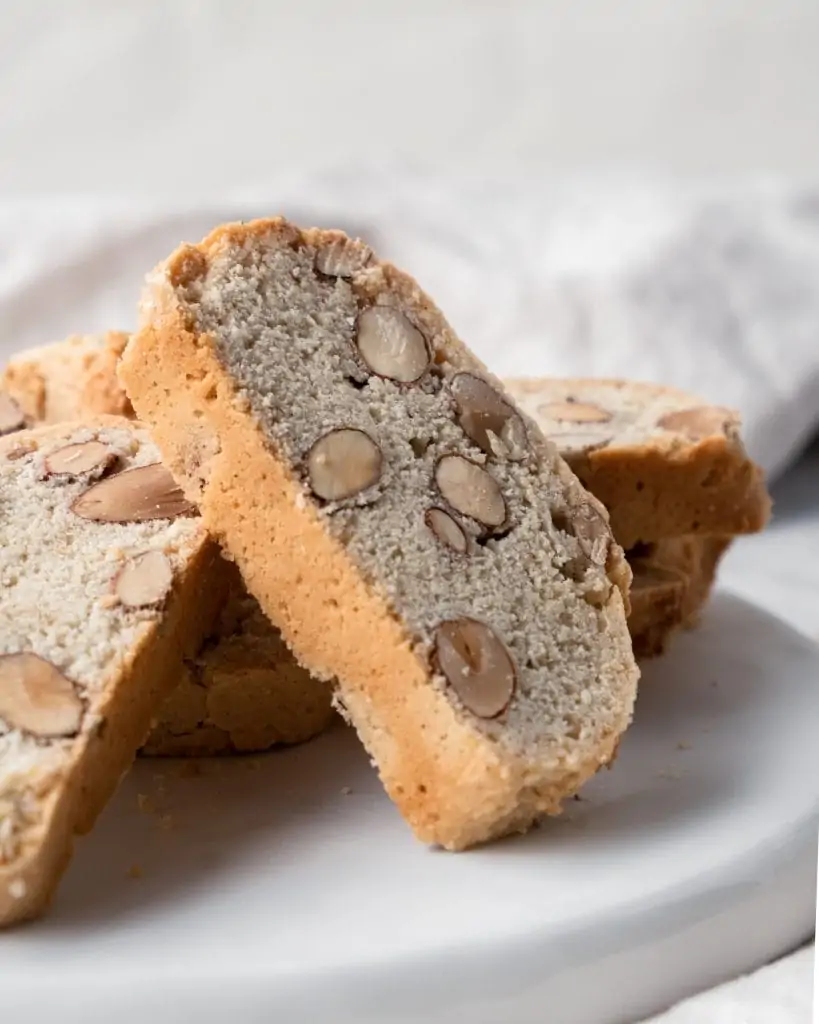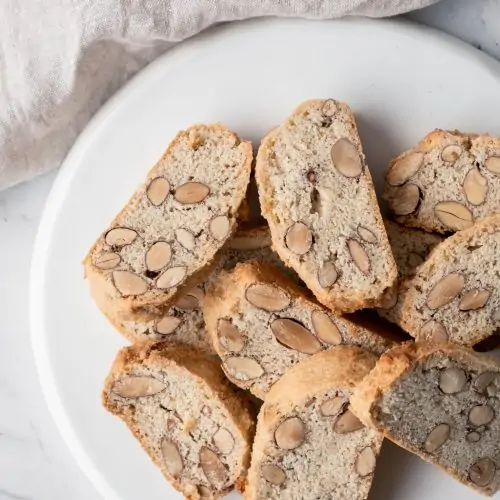 Almond Biscotti
Delicious, sweet and toasty biscuit. Perfect when dipped into a nice cup of tea.
(Click on the stars to vote!)
Ingredients
100

g

almonds

60

g

aquafaba

1/8

tsp

cream of tartar

(optional for faster whipping)

60

g

caster sugar

1/4

tsp

vanilla bean paste

100

g

flour

60

g

almond meal

1

tsp

baking powder

1

small

pinch salt
Instructions
Preheat the oven to 160°C fan.

Toast the almonds for 12 minutes at 160°C fan.

In the meantime, add the aquafaba and cream of tartar into a bowl and whip until the aquafaba is white and you have stiff peaks. This takes 15-20 minutes.

Once the aquafaba has stiff white peaks, add the vanilla bean paste and slowly pour in the caster sugar while continuing to whip. You should have very stiff, shiny white peaks now.

If your meringue collapses, don't worry, you can still make the biscotti and it'll taste delicious. Luckily, you don't need to bake the meringue by itself! This recipe is quite forgiving.

Sift the flour, almond flour, baking powder and salt into a small bowl.

In batches, fold the dry ingredients into the meringue. After adding all the dry ingredients, the dough should be fairly thick and sticky.

Transfer the dough onto a baking tray lined with a silicon mat or baking paper. Shape the dough into a log with about a 5cm width.

Bake the biscotti log for 40 minutes at 160°C fan.

Once baked, cool down the biscotti log completely before cutting the biscotti log into 1cm thick slices.

To dry out the biscotti, bake the sliced biscotti at 120°C fan for 1 hour. Make sure to flip the biscotti upside down after 30 minutes to ensure they dry out completely.

Enjoy the biscotti by themselves or dipped into a cup of tea.
Nutrition Facts
Almond Biscotti
Amount Per Serving (32 g)
Calories 128
Calories from Fat 61
% Daily Value*
Fat 6.8g10%
Cholesterol 0mg0%
Sodium 53mg2%
Potassium 112mg3%
Carbohydrates 14.4g5%
Protein 3.7g7%
Vitamin A 0.4IU0%
Vitamin C 0mg0%
Calcium 59mg6%
Iron 0.7mg4%
* Percent Daily Values are based on a 2000 calorie diet.