These festive little fruit mince pies are the perfect Christmas treat (or gift?) for family and friends. Being from Switzerland, I didn't know about fruit mince pies at all growing up. However, they seem to be a really big deal over here in Australia and New Zealand. Jeremy loves them, so I thought why not share the recipe with all of you so you can treat your loved ones to some sweet Christmassy goodness too!
The dried fruits, fresh orange, and brandy complement each other incredibly well and will make your house smell like Christmas has just moved in. Oh and the crumbly pastry…might even be my favourite bit about it all.
I used A LOT of different dried fruits in this recipe and just wanted to make a quick note here: If you don't have all the different dried fruits or can't find them all at your local shop, please don't worry. This is a very versatile recipe and you can definitely substitute other dried fruits.
If you're looking for more sweet Christmas Recipes, check out these:
Go ahead and give them a try and please don't forget to let me know what you think! I'd love to hear from you in the comments or on Instagram @nothangryanymore.
Annick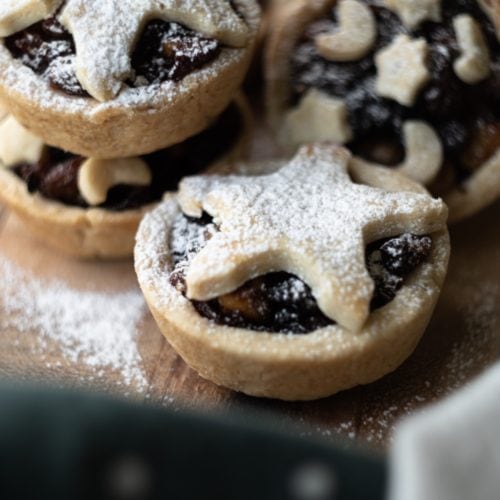 Christmas Fruit Mince Pies
Festive mince pies made vegan
(Click on the stars to vote!)
Ingredients
Pastry
250

g

plain flour

150

g

vegan butter

1/2

tsp

salt

2

tbsp

caster sugar

1/2

tsp

lemon zest

2

tbsp

water
Filling*
30

g

dried cranberries

3

medjool dates

chopped

50

g

prunes

chopped

50

g

dried figs

chopped

50

g

sultanas

50

g

raisins

50

g

currants

50

g

dried apricots

chopped

50

g

dried sour cherries

juice & zest from 1 orange

30

g

raw sugar

2

tbsp

verjuice

(can sub for 2 tbsp white wine vinegar)

1

pinch

salt

1

tsp

ground cinnamon

1/2

tsp

ground cardamom

1/4

tsp

ground clove

1/4

tsp

ground nutmeg

1/2

tsp

fresh ground ginger

3

tbsp

brandy

60ml

2

tbsp

water

40ml

50

g

blanched hazelnuts

roughly crushed
Other
Icing sugar for decorating
Instructions
Pastry
Add flour, salt, sugar and lemon zest into a bowl and mix.

Add vegan butter to the bowl and rub the butter and flour between your fingers until everything is combined.

Add a few tablespoons of water if needed and lightly kneed the dough until just combined.

Wrap the dough in cling film and let it rest in the fridge for at least 30minutes.
Filling
While the pastry dough is in the fridge, add all the filling ingredients into a medium sized sauce pan and heat it up.

Cover the pan and cook the filling for about 10 minutes on low heat. Stir the filling from time to time to make sure that it doesn't stick to the bottom of the pan. After ca. 10 minutes the filling should be nice and thick. Let it cool until the dough has been rested enough to be rolled out.
Bringing everything together
Heat up the oven to 200°C and prepare your muffin tray. Oil the tray and cut out little baking paper strips to lie inside each hole to ensure the pies won't stick to the tray while baking.

Sprinkle a little flour onto a flat surface and roll out the dough. The dough will be slightly crumbly. It has to be like that to be the right texture once baked.

With a round cookie cutter, stencil out pieces of dough and press them lightly into the muffin tray.

Fill each pie with about 1 tbsp of filling.

Decorate the pies with some extra dough, stenciled out into stars or any other shape you like.

Bake the pies for 15-20 minutes. Then take out and let cool down completely before dusting it with icing sugar.
Notes
*you don't need all the different dried fruits to make delicious mince pies. These are the fruits I like to add to mine, but if you can't find some of them then don't worry. Just supplement with different ones. As long as your dried fruit mix is reaching ca. 400g you'll be just fine 🙂