Spicy Maple Brussels Sprouts. They're a little crispy, a little soft, juicy, spicy, sweet, … all the good stuff.
Brussels Sprouts have had a very bad reputation for years and they've finally made a comeback. Why? Because we've learned not to overcook them in boiling water.
I can only speak for myself but I really wasn't a huge fan of Brussels sprouts for most of my life. However, since I developed an interest in cooking I have given Brussels sprouts a second chance and believe it or not, now I love them.
These spicy maple Brussels sprouts are not only very easy to make and spend most of their time in the oven while you prepare the rest of your dinner, they also taste amazing. They're mostly soft, incredibly juicy yet have a little crunch to them too. Plus, they're also sweet with a little kick of spice every now and again. In my opinion they make a perfect side dish.
If you're looking for more delicious side dishes, check out these:
Go ahead and give them a go and please don't forget to let me know what you think! I'd love to hear from you in the comments or on Instagram @nothangryanymore.
Annick x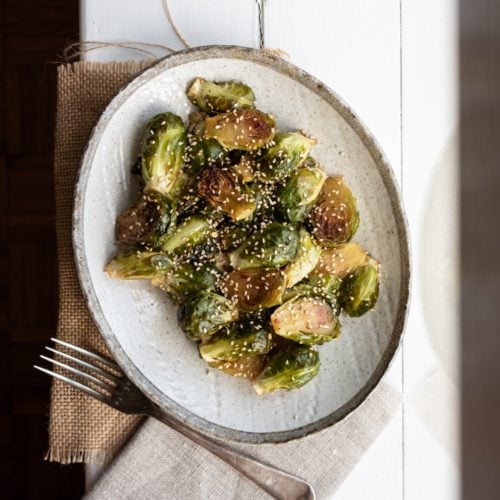 Spicy Maple Brussels Sprouts
Sweet and spicy roasted brussels sprouts. The perfect side for your next dinner party.
(Click on the stars to vote!)
Ingredients
450

g

Brussels sprouts

2

tbsp

extra virgin olive oil

2

tbsp

maple syrup

1/2

tsp

chili flakes

1/2

tsp

salt flakes

1

pinch

pepper

1

tbsp

toasted sesame seeds
Instructions
Preheat the oven to 180°C.

Wash the Brussels sprouts and cut them into halves.

To a large bowl add olive oil, maple syrup, chili flakes, salt and pepper and give the marinade a quick mix.

Add the Brussels sprouts the the bowl and coat thoroughly.

Now put the Brussels sprouts cut side down onto a baking tray lined with baking paper and roast for about 25 minutes at 180°C.

Once roasted, top the Brussels sprouts with some toasted sesame seeds. Enjoy!