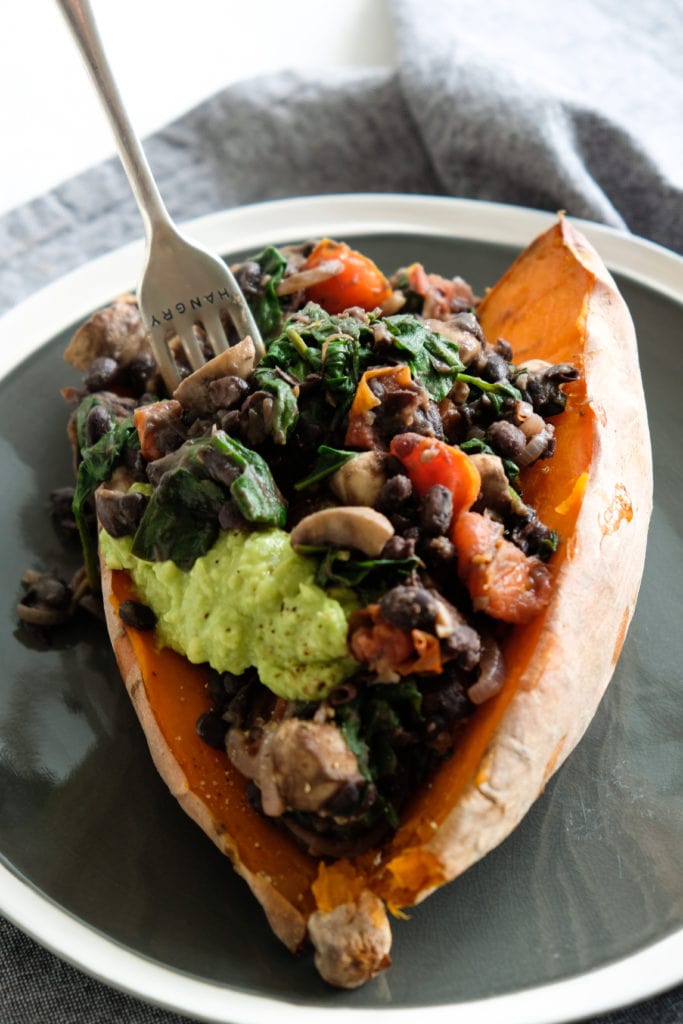 Who doesn't love sweet potatoes?! They're one of my absolute favourite food as they're not only super delicious but also so versatile. You can eat them in savoury or sweet dishes and they're always just YUM!
At the moment I'm obsessed with the combination of sweet potato and black beans. I don't really know why, but I really enjoy eating it and thinking of it makes me hungry…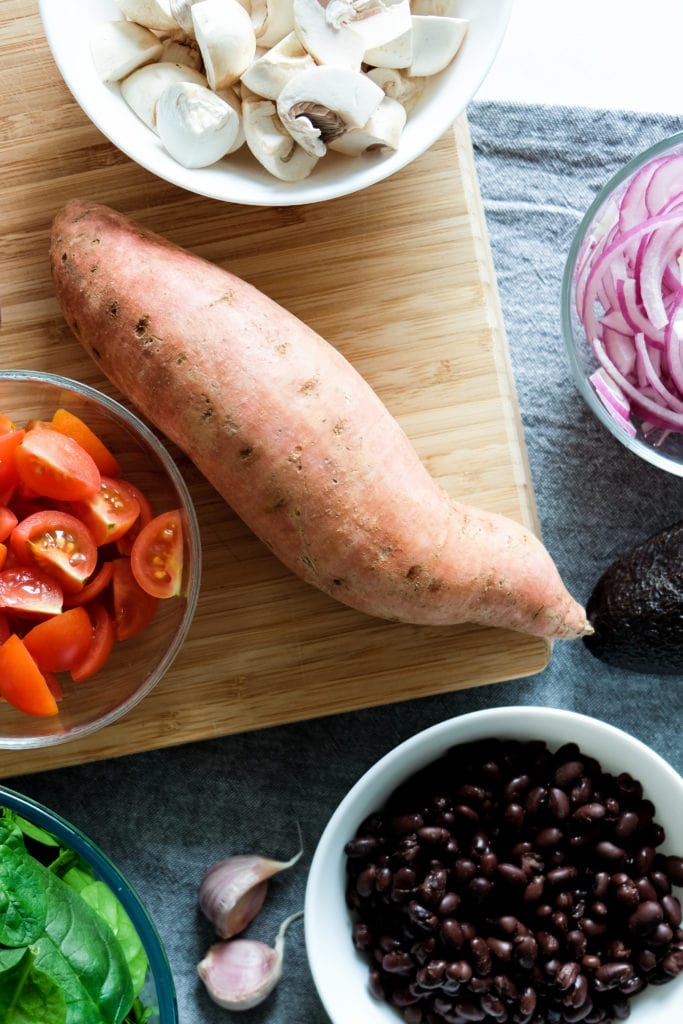 In this recipe we are going to roast the sweet potatoes and stuff them with black beans and vegetables afterwards as well as top them with some smashed avocado. It's a very filling dish which is perfect for a healthy dinner or a big breakfast.
Please let me know if you make this recipe and tag us on Instagram @nothangryanymore.
Enjoy!
Annick xx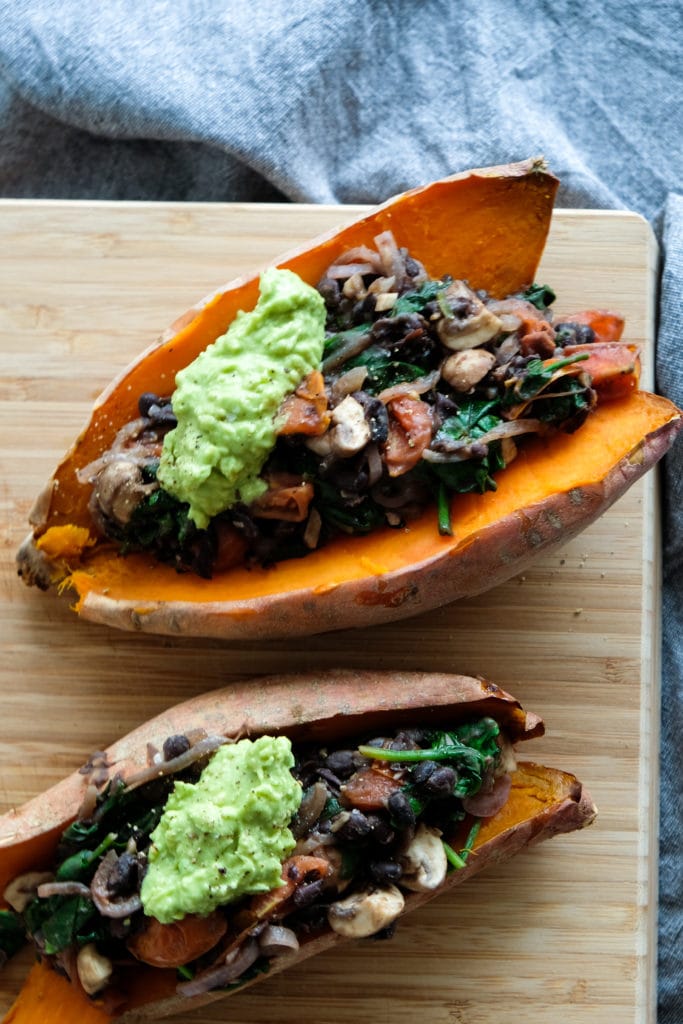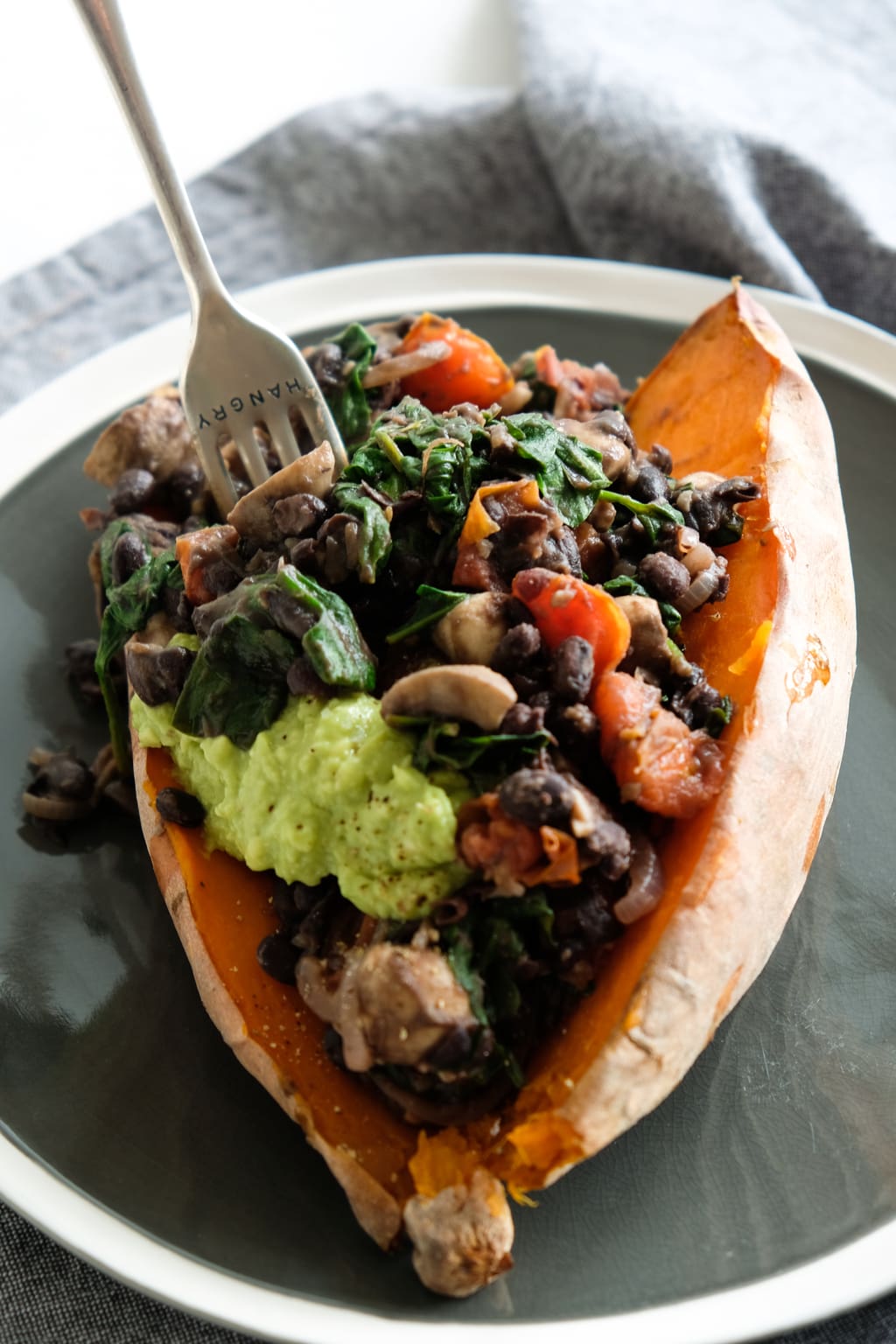 Black Bean Stuffed Sweet Potato
A delicious, healthy and filling meal for breakfast or dinner.

(Click on the stars to vote!)
Ingredients
2

orange sweet potatoes

1

red onion

2

cloves

garlic

1

tbsp

olive oil

1

can

black beans

150

g

cherry tomatoes

100

g

white mushroom cups

100

g

baby spinach

1

avocado

salt, pepper, chili, fresh lemon juice

(for seasoning)
Instructions
Preheat the oven at 180°C and wash the sweet potatoes. With a knife, pierce the sweet potatoes a couple of times. Then place the sweet potatoes on a baking sheet and bake until tender, 45 minutes to 1 hour.


After the sweet potatoes have been in the oven for 30 minutes, start preparing the rest of the meal. Slice the red onion and chop the garlic. Then heat up the fry pan. Once it is hot add some olive oil as well as the onion and garlic.


Drain and rinse the black beans and add them to the fry pan.


Wash and half the cherry tomatoes and add them to the fry pan.


Clean and quarter the mushrooms and add them to the fry pan. Cook everything for a couple of minutes.


Add the baby spinach to the fry pan and cook for another few minutes. Season the black bean mix with salt, pepper and chili for your liking.


In a small bowl, mash up the avocado and season with fresh lemon juice, salt and pepper.


Once the sweet potatoes are tender, take them out of the oven and slice them in half (length wise). Put them on a plate and stuff them with the black bean mix. Add the smashed avocado on top. Enjoy!

Notes
If you're in a hurry and don't mind if the sweet potatoes are stuffed or not, slice the sweet potatoes into cubes. They will be tender a lot faster this way (about 30 minutes).
Nutritional Information:
One stuffed sweet potato with black bean filling and avocado
Calories: 788 Fat: 11.9 Saturated Fat: 2g Sodium: 776.8mg Carbohydrates: 148.9g Sugar: 28.6g Fiber: 33.6g Protein: 31.3g