In case you don't know this about me: I love organising travel and I'm the sort of person that writes a list of all restaurants and places I would like to visit before I've even boarded the plane. I guess this is somewhat necessary if you're vegan, because there's definitely not as many vegan places around depending on where you go. Plus I'm sort of fussy too, I like to eat delicious food and if I didn't like the food I ate, you'll notice…
As you may have seen on our Instagram stories(@nothangryanymore), Jeremy and I have been to Singapore and Malaysia recently. Actually my mum joined us for the trip also, but I won't share any photos of her on this post because she doesn't share photos of herself online and so I won't either.
Anyway, this is part one of a two part series that is all about what we did and ate on our two-week trip in Singapore and Malaysia. In this post it'll be all about our stay in Singapore and in the next post, I'll share everything about our trip in Malaysia.
In this blog post I'll share my favourite foodie spots in Singapore that we've tried, tested and approved as well as some of our favourite places that we explored. Of course, you might be into different foods or don't like walking as much as we do (I think we averaged about 15km of walking a day while in Singapore), but I hope this blog post none the less gives you some ideas about what to do, see and eat. We landed in Singapore late on a Thursday evening and left early on the Sunday morning, so had three full days to explore the city, which I think was just right for us.
Alright, let's start with the food (my favourite topic to talk about EVER). There's one thing I'd like to mention before we get into our favourite food spots in Singapore. Most of the restaurants or cafes are located inside shopping centres. Which may sound weird for anybody who has never visited Singapore. Singapore has more than 100 shopping centres (!) and it's probably where you'll spend a lot of your time in while visiting this city. It's crazy humid outside and once you're outside all you wanting to do, is to get back into an air-conditioned place. Hence why most restaurants are located inside shopping centres.
Here's a list of our favourite places to eat in Singapore:
We ate lunch here on our first full day in Singapore and then also had some late lunch/early dinner together with our good friend Ajay on our last full day in Singapore. We really liked this place. The interior is absolutely gorgeous and I would like to have most of the furniture in my flat…The staff was really friendly and they're a fully vegetarian café with a tonne of vegan options. They serve everything from breakfasts, to pasta, to Asian noodle soups, salads and cakes. And let me tell you, the food is DELICIOUS!They're portions have a really good size. However, if you have just been walking as if you were training for a marathon, then I would suggest you get a starter too. And I would highly suggest to share a cake in the end, because they were divine. They have different flavours everyday and my favourite was by far the earl grey cake we had the second time we ate there. Unfortunately Ididn't take a photo of it because…well I just was too excited. I took a photo of the chocolate cake however, which was super yummy too. The food is not super cheap, but also not crazy expensive. I'd probably say it's around the same as you'd pay when going to a café in Melbourne.
The café also has a small retail store on the side, which had a lot of cool vegan products and also fruity vegan ice creams that were really refreshing.
This was the first place we ever ate at in Singapore. It'slocated in Fortune Centre, which is basically a shopping centre full of vegetarian restaurants. This one definitely looked like it was very much up our street and it didn't disappoint. We actually had dinner here twice in a row because we ended up being super tired at the end of our first day and Fortune Centre was only a short walk from our AirBnB that we stayed at.
Herbivore is a vegetarian Japanese restaurant, serving different types of sushi, bento boxes, ramen and other noodle soups. Most of the menu is vegan unless stated otherwise and you order your food from an iPad that's attached to your table. They don't serve any alcohol, but instead have a nice selection of teas.
The food was really good and I had the best miso soup I've ever tasted there. I'm usually really not a fan of miso and usually give miso soups to Jeremy to eat, because I don't like the taste. But this one was delicious!I think I'd mainly recommend the soups at Herbivore, because they're just really really good. But I also loved their gyoza. We tried one of their deep fried sushi too. I wasn't the biggest fan of that one, but I'm usually not a huge fan of deep fried foods anyway. In general the flavours at Herbivore were great and I'd definitely recommend to give it a go if you're in that area.
This is not a restaurant but more a stand outside a shopping centre with the most delicious coconut water soft serve. The staff was really friendly and are up for a chat about life and why coconut water is so good and hydrating. It's the perfect afternoon treat while visiting Singapore as the humidity in this place is absolutely crazy for somebody who normally lives in a rather dry place.
Orange Juice Dispensers
This is not a restaurant or a café, but something I really loved about Singapore. On nearly every street corner there are these orange juice dispensers that make you freshly pressed orange juice for $2. It's delicious and refreshing and we had one every single day while staying there.
This little shop is situated on close to the entrance of the botanical gardens in Singapore. They serve different types of delicious and refreshing smoothie bowls, which were a God sent in the humid and hot weather that we experienced there. It's also the only good option in the botanical gardens that we found.
This little restaurant is located in Changi Business Park, which is a shopping centre close by the Expo MRT station just outside Changi airport. We ate both times just before flying out of Singapore to Penang respectively when we flew back home to Melbourne.They're food is really fresh, definitely on the healthy side and perfect before getting on a flight. I loved their Miso Sesame Soba Salad. Jeremy and my mum both really enjoyed the Sweet and Sour Rice Bowl. They also make these delicious Yam Rolls that make the perfect sweet dessert. Their prices are really fair too and cheaper than inside the city.
This was definitely the most expensive place we ate at in Singapore. They are more of a fine dining restaurant but in a more casual setting. The restaurant is located in Downtown on the top floor of a shopping centre, right next to a very pretty looking yoga studio. I really liked the interior of the place. It has a roof top bar outside, is very green and they made use of a lot of darker wood which made it feel very modern without making it feel cold. They have some pretty interesting food combinations on their menu and I was very excited to try them out. The food was good, but it didn't blow me away. The portions were really small,which I expected because it's a fine dining restaurant. However, the food lacked a bit in flavour, which when the portions are already rather small,getting the flavours right is critical. I'd recommend this place more forgetting a drink rather than having dinner because the cocktails they made looked incredible! (I didn't try them, I had wine instead, which was very good too.)
Alright, these are all of our favourite places that we ate at in Singapore. Now there's a few more tips I thought I'd share before we wrap this blog post up. Here are a few of our favourite things to do while in Singapore:
I really enjoyed the Gardens by the Bay which to be honest are kind of a must-see while in Singapore. You'll have a great view of the Marina Bay Sands building (that famous hotel that looks like a ship and has an infinity pool on top of the building). There's no entrance fee to the gardens unless you want to go into the glasshouses, which we didn't' do. I was really impressed by the Supertrees and just really enjoyed the stroll through the gardens.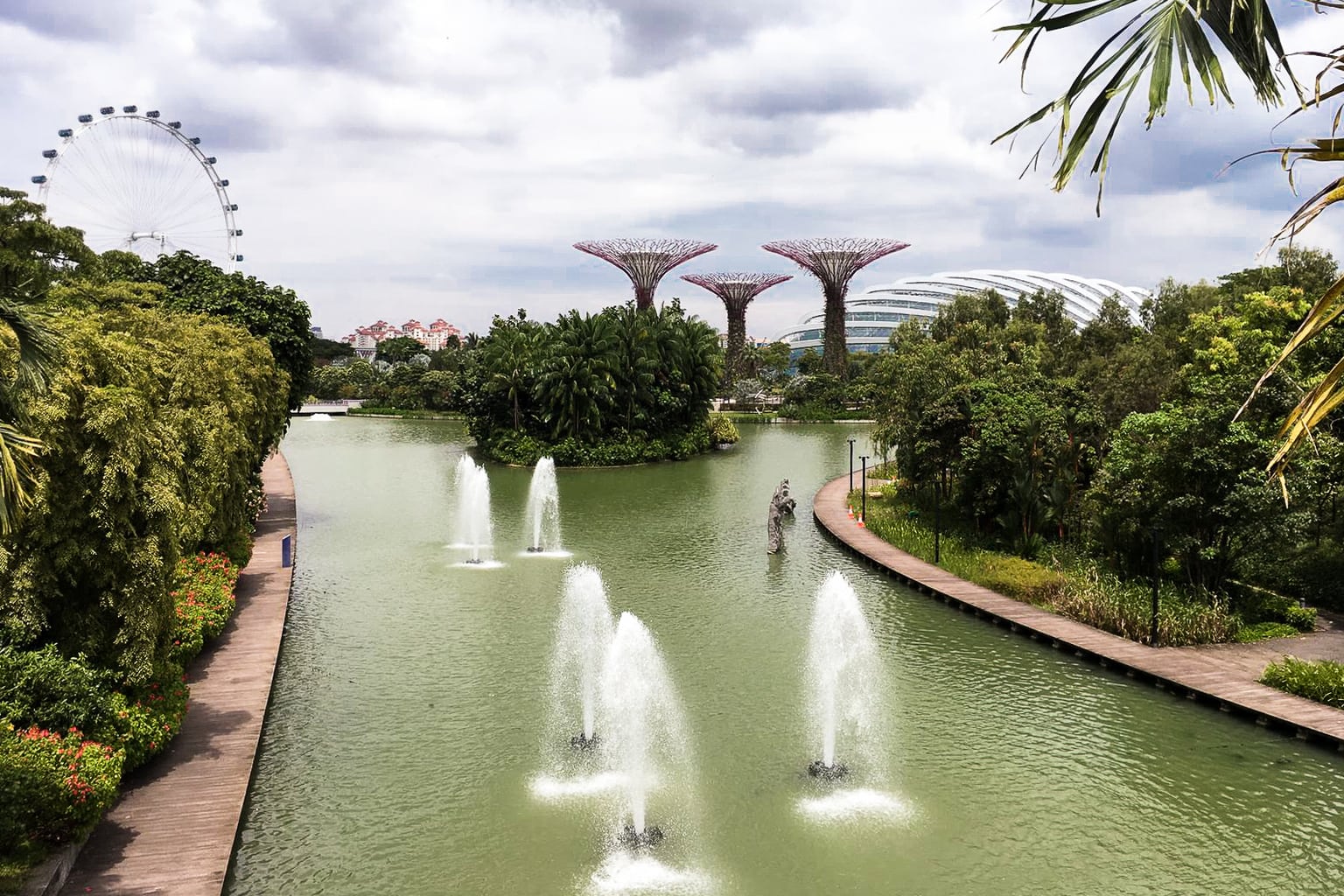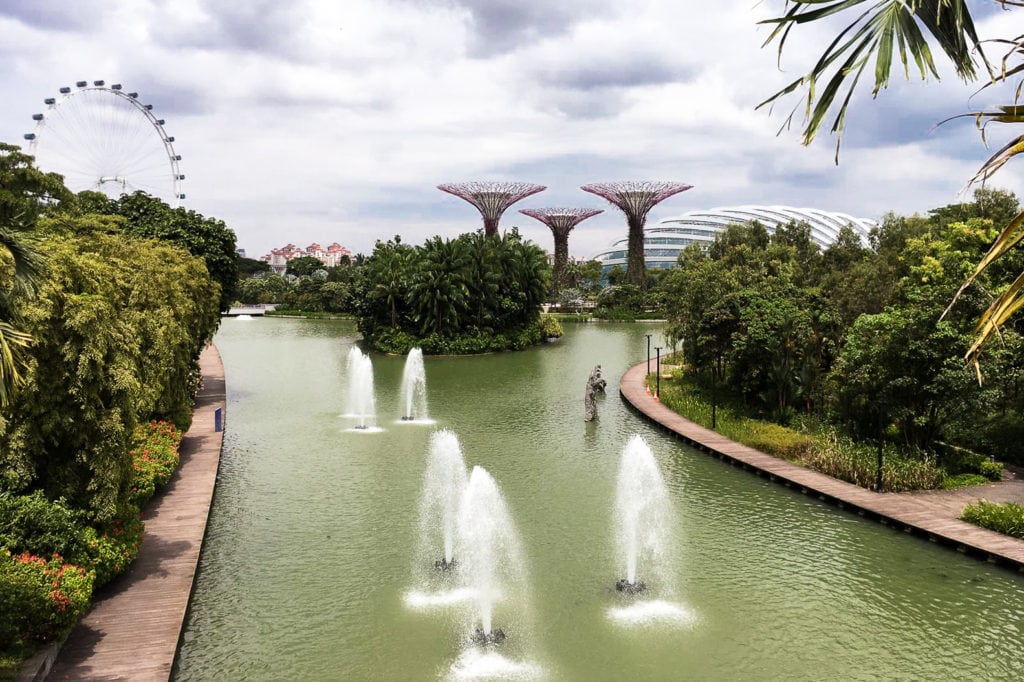 Well, I have to say, Marina Bay Sands is a really impressive building. Seeing a ship on top of three huge skyscrapers does certainly blow ones mind. Now, what blew my mind even more was the price you'd pay if you wanted to go to the top of the building. It costs $23/adult to go to the observation desk or otherwise you could also go to one of the restaurants and enjoy a glass for $20+. In the end we decided not to go to the top of the building, because paying this amount of money for a view is just a bit much. And there's lots of other places and high buildings where you don't need to pay this amount of money to get a nice view. Plus, you'll have the Marina Bay Sands building in your view too, because you're not standing on it.
This was probably my highlight of our trip in Singapore. This museum was so much fun! It makes you feel like you're a child in a big dream world, playing, exploring and creating. In this museum you'll get help virtually create a city, completely hide away and go down slides. We enjoyed ourselves so much visiting this museum and I would highly recommend you check it out. You'll also get a pretty good view of the city outside the museum and it's the perfect thing to do after a stroll in the Gardens by the Bay as it's just next to them.
We really enjoyed strolling through the Botanical Gardens in Singapore. You'll be able to see some really cool and big lizards, lots of orchids and if you're lucky you might also spot some otters in the ponds. I'd like to add that I'd highly recommend bringing enough water and snacks, because there's not a lot of vegan options around (except Juju which made delicious smoothie bowls, see above).
Okidoki, that's it. These are all our favourite places to eat and things to see in Singapore. I really hope you enjoyed this blog post and that, if you ever end up in Singapore, it might help you out when choosing where to eat or what to do. I'll write a second part to the blog post, which is going to be all about our trip in Malaysia, so stay tuned for that!
Until then you can keep in touch with us on Instagram @nothangryanymore if you like.
And if you read until here, THANK YOU!
Annick x