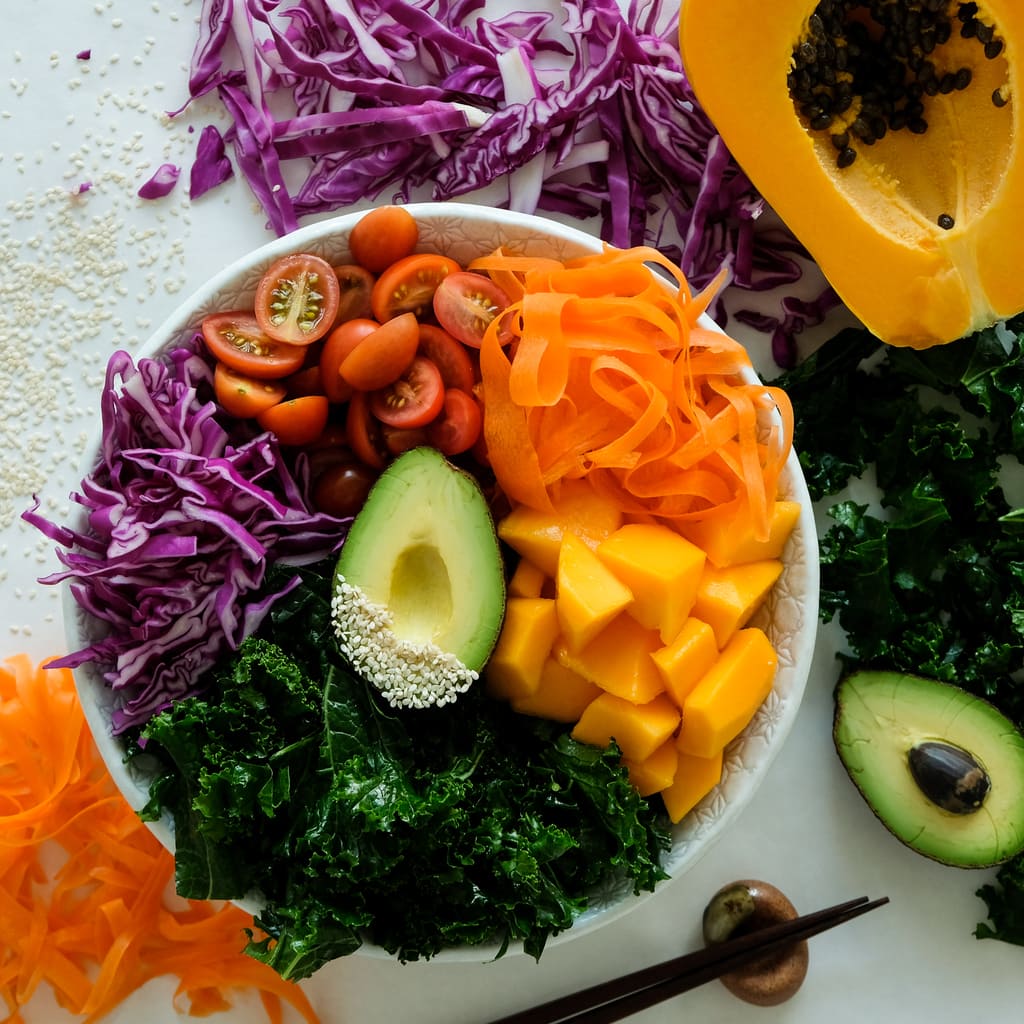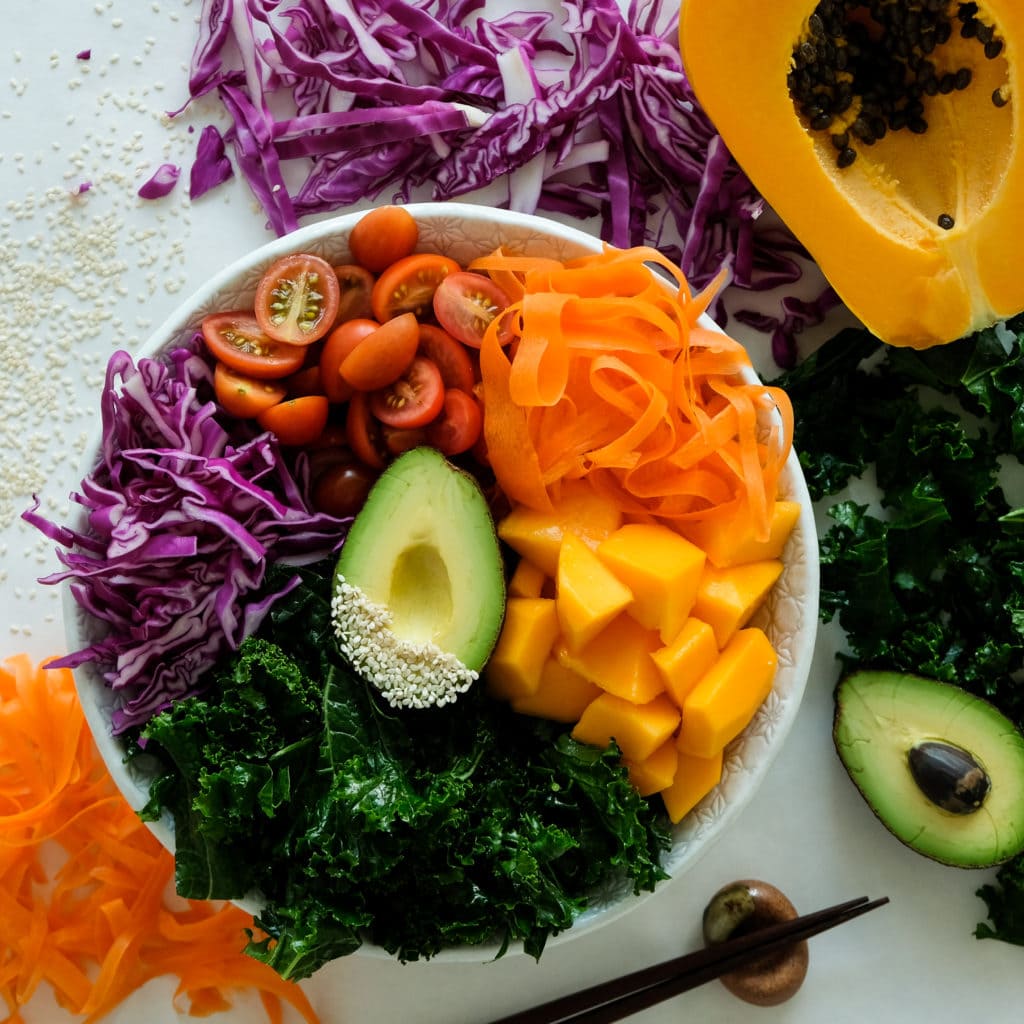 Eat the rainbow! After this motto I have created the ultimate rainbow salad recipe. This salad is packed with goodness. Not only does it look awesome but I promise you, you'll be full of energy afterwards.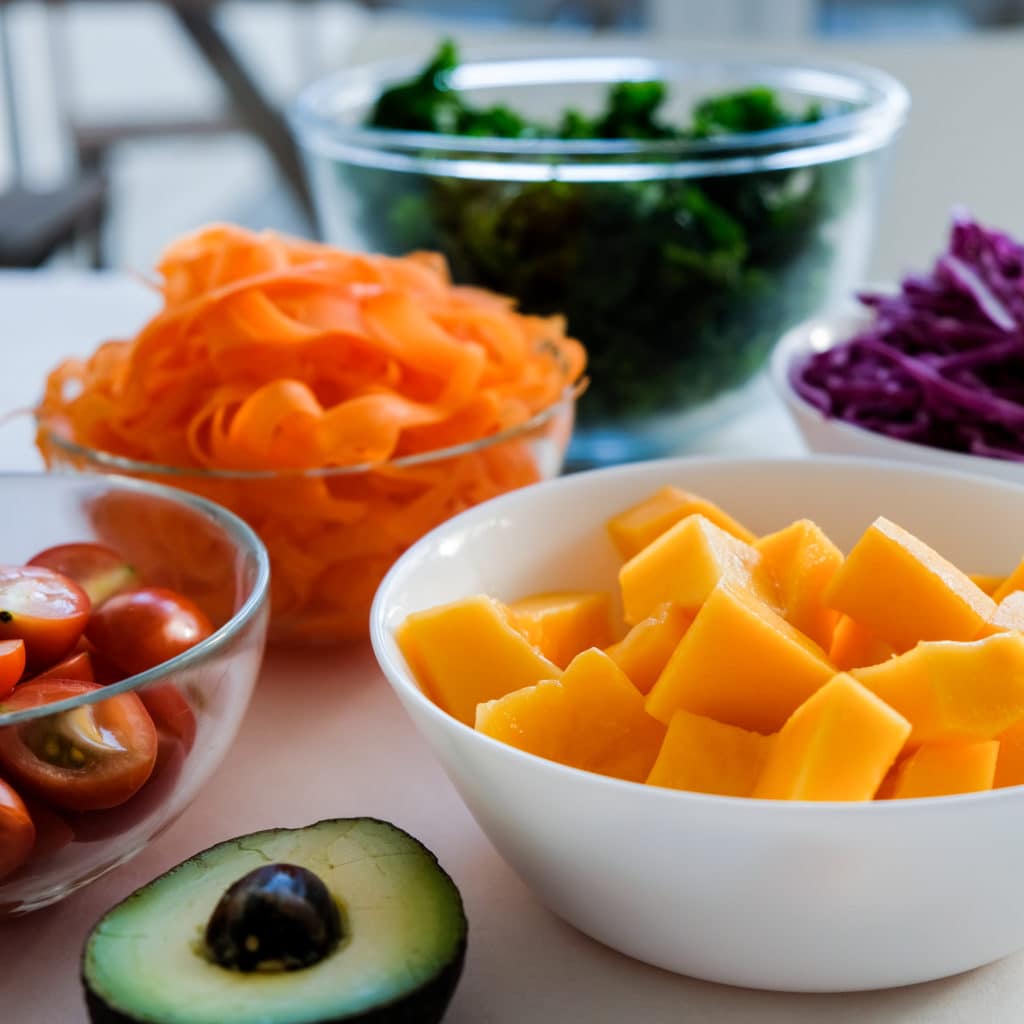 It's extremely simple to make and takes next to no time. It's also quite versatile as you can easily swap out ingredients if they're not in season wherever in the world you are. Jeremy and I love it on its own as it makes a really healthy and fresh lunch but it works just as well as a side dish.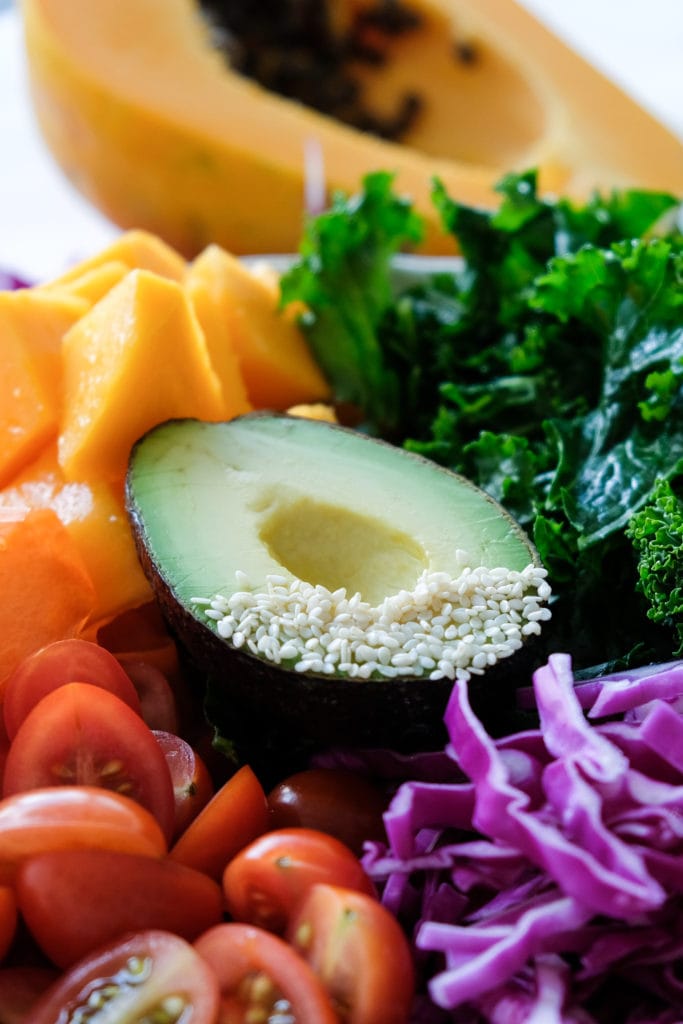 We usually eat it straight out of the bowl together. It's fun to eat a salad while fighting with chopsticks over the best bits and most of the time we're so excited to eat that we don't want to waste time serving up on extra plates.
I really hope you enjoy this recipe. Please let me know how it goes and tag us on Instagram @nothangryanymore.
Annick xx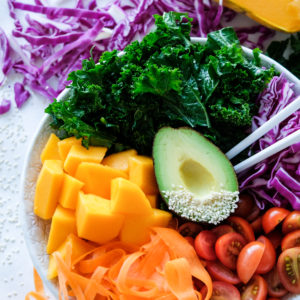 Rainbow Salad Bowl
Easy, fast and super healthy salad that gives you a ton of energy!

(Click on the stars to vote!)
Ingredients
110

g

Carrots

(about 2 small carrots)

150

g

Cherry Tomatoes

150

g

Red Cabbage

(about 1/8 of a cabbage)

250

g

Paw Paw

(1/2 of a large paw paw)

1

Avocado

60

g

Kale

1/2

tsp

Olive Oil

2

tsp

Juice from a fresh Lemon

1

tsp

Sesame seeds

Salt, Pepper to taste
Instructions
Peel half of a paw paw and chop it into chunks. Put it into the salad bowl.


Peel the carrots and keep peeling them to get small carrot peels for your salad and add them to the bowl.


Slice the cherry tomatoes in half and add them to the bowl.


Chop up the red cabbage and add to the bowl.


Cut the kale into pieces, wash it and add it to a separate, smaller bowl. Add 1/2 tsp of olive oil to it and massage the kale for 1-2 minutes. Then add it to the big salad bowl as well.


Cut the avocado in half, take out the stone and add in on top of the salad. Top the avocado with some sesame seeds. Then season it with some fresh lemon juice, salt and pepper or any salad sauce you like.

Notes
This recipe is great for two people having the salad as a light main, but works just as well for 4 people having it as a side.
Nutritional Information:
1 serve (as a main)
Calories: 249 Fat: 12.8 Saturated Fat: 1.6g Sodium: 257mg Carbohydrates: 32.7g Sugar: 18.3g Fiber: 11.4g Protein: 6.5g
Nutrition Facts
Rainbow Salad Bowl
Amount Per Serving
Calories 249
* Percent Daily Values are based on a 2000 calorie diet.