"Rüeblitorte" or carrot cake is made all over the world. However, the Swiss version of it is a little different. Instead of adding different types of chopped nuts and sultanas, the Swiss keep the batter simple. Instead they go all out with the cuteness of their marzipan carrot decorations (which in Switzerland can be bought ready-made at any conventional supermarket).
This recipe is based of a few different carrot cake recipes from my surprisingly large collection of old Swiss cookbooks lying around in my apartment. I've also eaten this type of carrot cake many times as a child. To make this traditional cake vegan, the most important part was to replace all the eggs which I did with the help of flax eggs, olive oil and aquafaba. Because the original cake usually uses anything between four and six eggs that are also being separated, I find it best to use different types of vegan egg replacers in a recipe. I used aquafaba to imitate the egg whites and flax eggs and olive oil to imitate the egg yolks.
This carrot cake is kept in the fridge and does not dry out at all. It's a really moist and delicious cake that tastes even better the next day.
I you love making cake, then you might also like this zingy vegan lemon cake.
I hope you enjoy making and eating carrot cake. Please let us know what you think of it and tag us on Instagram @nothangryanymore. We'd love to see your creations!
Annick x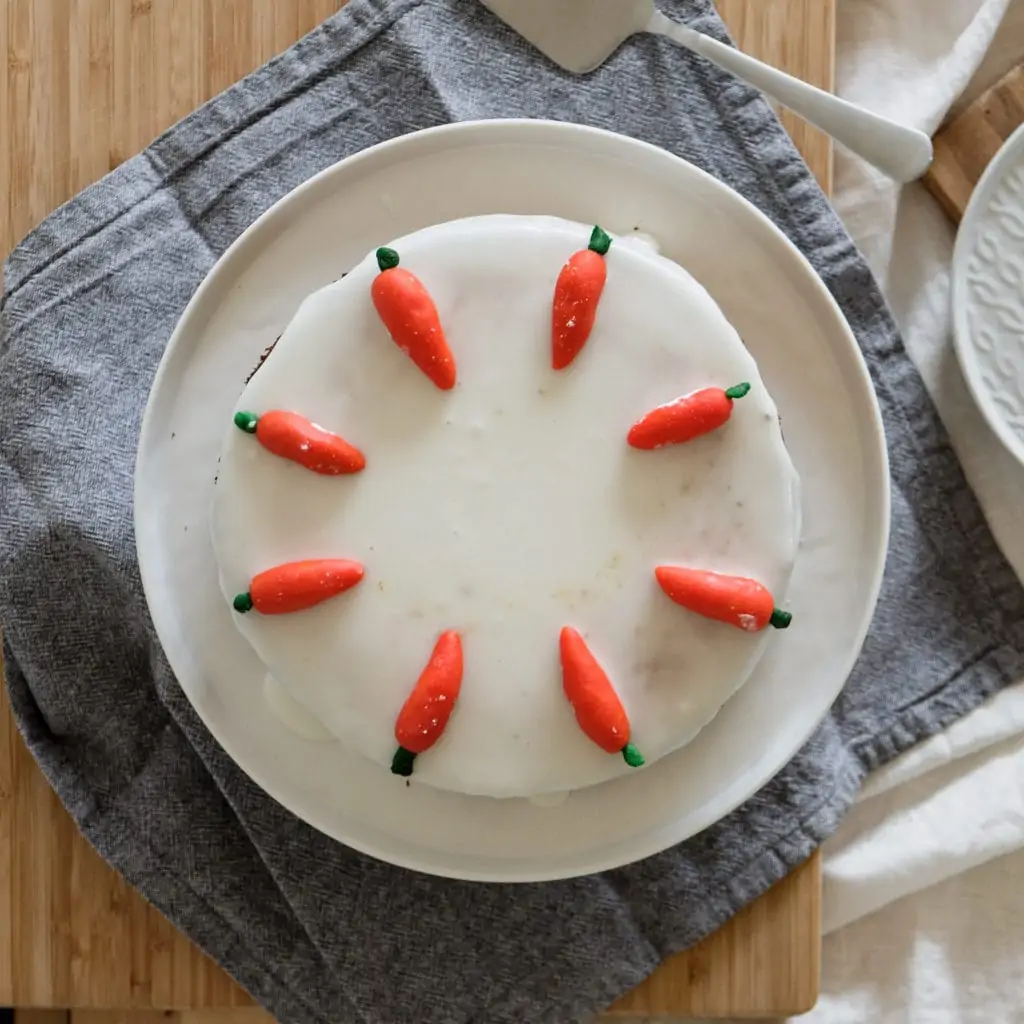 Rüeblitorte – Swiss Style Carrot Cake (vegan)
This carrot cake is a delicious, moist cake with super cute decorations.

(Click on the stars to vote!)
Ingredients
Cake (make a day ahead)
250

g

raw sugar

2

flax eggs

2tbsp flax meal + 6 tbsp water, mix and leave aside for 5min

3

tbsp

olive oil

juice from ½ lemon

zest from 1 lemon

½

vanilla essence

250

g

raw carrots

finely grated

250

g

almond meal

100

g

white unbleached flour

1

tbsp

baking powder

1

pinch

salt

10

tbsp

aquafaba

the water from a can of unsalted chickpeas

¼

tsp

cream of tartar
Glaze
200

g

icing sugar

1

tbsp

lemon juice
Rüebli / Carrots
100-150

g

Marzipan

Yellow food colouring

Red food colouring

Blue food colouring
Instructions
Cake
Preheat the oven to 180°C and line baking paper on the bottom of a large round cake tin. Grease the sides of the cake tin to ensure that the cake won't stick when it comes out of the oven.

In a big bowl add the sugar, olive oil, flax egg, lemon juice, lemon zest and vanilla essence. Using an electric mixer on high speed, blend until creamy and light.

Add the grated carrots, almond meal, flour, salt and baking powder and mix on a slow speed or with a spatula.

In a separate bowl, add aquafaba and cream of tartar and whip on high speed with a clean mixer until the aquafaba forms stiff peaks. It should have a similar look and feel to whipped egg whites.

Once the aquafaba has been whipped, gently fold into the cake mixture with a spatula. Try to keep as much air and lightness to the batter as possible by mixing only until it has just combined do not over-mix at this stage or you'll only be knocking air out of the batter.

Pour the batter into the greased cake tin and bake it for one hour at 180°. To check if the cake is done, insert a baking needle or skewer. If it comes out clean, the cake is done. The cake should also bounce back a little to the touch and be pulling inwards from the edges of the tin.

After the cake has cooled completely, put it in the fridge to rest for a while. It can be decorated and served immediately however this recipe tastes best from the second day onwards because the flavours continue to develop in the fridge and it will become even more moist and delicious.
Rüebli / Carrots
To make the marzipan carrots, add a little more than ¾ of the marzipan to a bowl together with a drop of yellow and a drop of red food colouring. Knead the marzipan and adjust the colouring if necessary until you're happy with the orange colour.

To a separate bowl, add the remaining marzipan together with a drop of yellow and a drop of blue food colouring and knead until the marzipan turns an even bright green colour.

To form the carrots, roll the orange marzipan into a carrot shape on a surface dusted with icing sugar and add a small roll of green marzipan to decorate the top end.
Glaze
To make the glaze, add the icing sugar and lemon juice to a bowl and mix thoroughly until it forms a smooth, shiny icing. If it is too dry, carefully add more lemon juice but be careful not to thin out the mixture too much

Pour the glaze on top of the cake and decorate with the marzipan carrots.
Nutrition Facts
Rüeblitorte – Swiss Style Carrot Cake (vegan)
Amount Per Serving (0 g)
Calories 0
% Daily Value*
Fat 0g0%
Cholesterol 0mg0%
Sodium 0mg0%
Potassium 0mg0%
Carbohydrates 0g0%
Protein 0g0%
Vitamin A 0IU0%
Vitamin C 0mg0%
Calcium 0mg0%
Iron 0mg0%
* Percent Daily Values are based on a 2000 calorie diet.