These 3-ingredient chocolate truffles are very indulgent and delicious but still pretty quick to make.
It's Valentine's Day tomorrow and I thought I'd share with you an easy last minute chocolate treat that you could gift your Valentine (or just treat yourself, because that's always good).
The main truffles are made of only three ingredients: chocolate, coconut cream and vanilla extract. The coating is super versatile. You can adjust whatever you roll them in according to your or your loved one's preferences. For this recipe I used three different coatings: roasted hazelnuts, pistachio and freeze dried strawberries. I've previously also coated the truffles in desiccated coconut and cacao powder. As you can imagine there's really no limits regarding toppings (as long as it can stick to chocolate of course).
And of course, you can eat these any time of the year… at least that's what I'm doing.
If you'd like more easy dessert recipes, make sure to check these out:
I hope you enjoy making (and eating!) these little truffles. Please don't forget to tag us on Instagram @nothangryanymore – we love to see your creations!
Until next week,
Annick x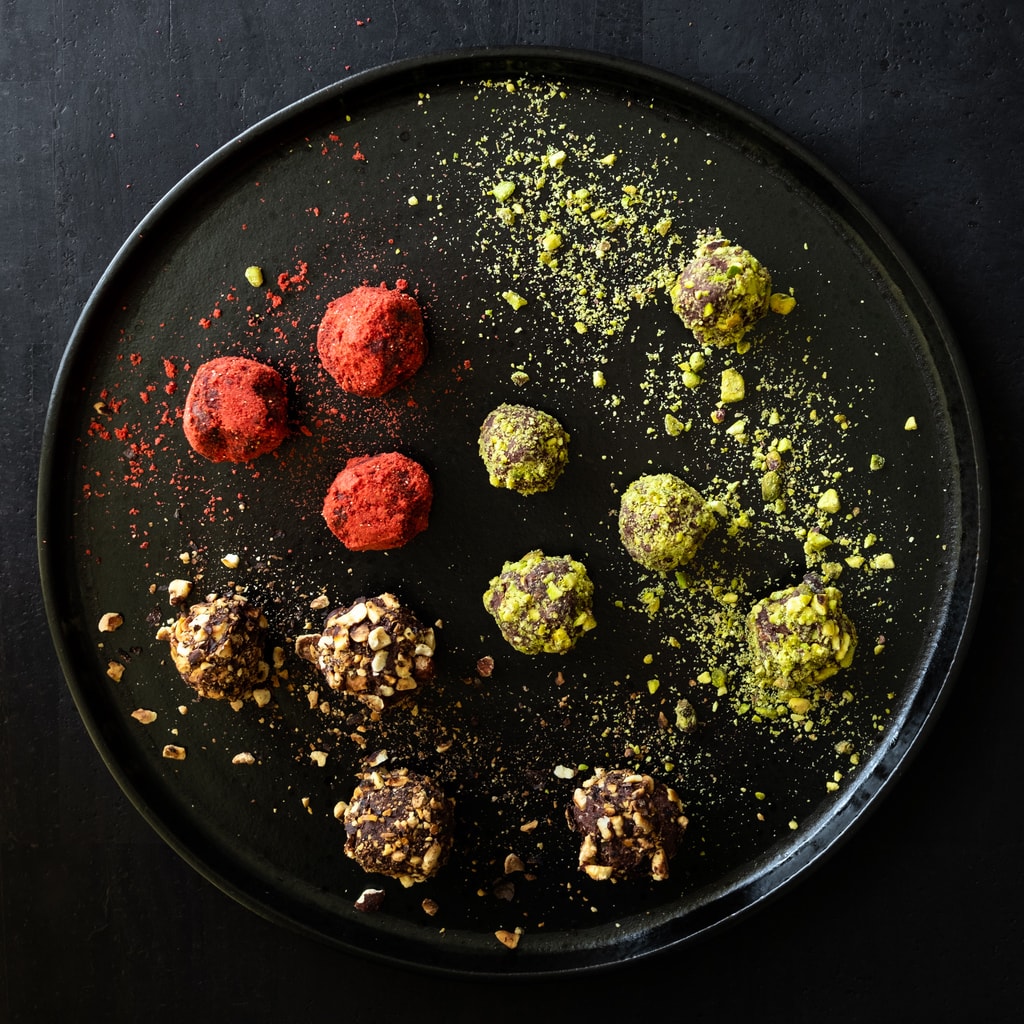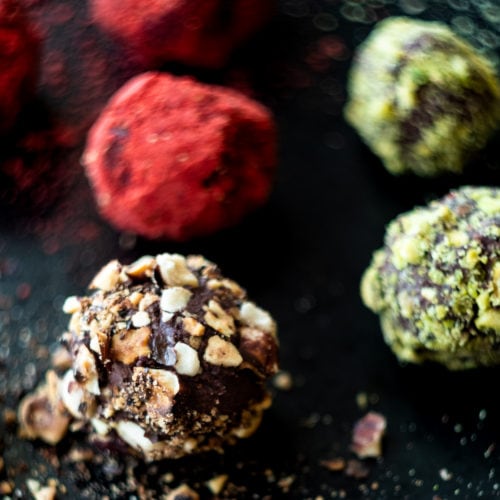 3-Ingredient Chocolate Truffles
Super indulgent and delicious chocolate treat for you and your loved ones.

(Click on the stars to vote!)
Ingredients
Truffles
150

g

vegan dark chocolate

100

g

full cream coconut cream

1/2

tsp

vanilla bean extract
Topping options
hazelnuts

pistachios

freeze dried strawberries
Instructions
Finely chop the chocolate and add it to a small to medium sized bowl.


Heat up the coconut cream in a small sauce pan and pour over the cut up chocolate in the bowl.


Cover the bowl with a lid and let sit for a few minutes, then add the vanilla bean extract and stir the mixture with a spatula. All the chocolate should easily melt together with the coconut cream.


Once the chocolate and coconut cream are fully combined, cover the bowl in cling film and let rest in the fridge for at least 4 hours or overnight.


After the truffle mixture has set, take the bowl out of the fridge. Lightly toast some chopped up hazelnuts and grind some pistachios as well as freeze dried strawberries in a mortar and pestle.


With a teaspoon take out some of the mixture and roll it in your hands until it forms a ball. The mixture can be quite solid sometimes. To make life easier, heat up the teaspoon with hot water before digging into the chocolate.

Roll the truffles in your preferred toppings and enjoy!

Nutrition Facts
3-Ingredient Chocolate Truffles
Amount Per Serving (0 g)
Calories 0
* Percent Daily Values are based on a 2000 calorie diet.
This recipe was inspired by Jamie Oliver