This amaranth porridge is a beautiful breakfast that highlights the nutty flavours of amaranth. The pseudograin is paired with macerated strawberries or in other words, strawberries that have been soaked in balsamic vinegar and sugar. The strawberries add sweetness to the porridge which is perfectly balanced by the tangy coconut yoghurt. Personally, I also like to add a drizzle of maple syrup on top, but feel free to skip that if you find that the porridge is sweet enough as is.
I count myself lucky that my mum always used lots of different seeds and grains in her cooking. I regularly ate amaranth, quinoa, millet etc. ever since I was a child, way before they became popular as "health foods". However, amaranth may be completely new to you so here's a brief introduction:
Amaranth are the seeds of the amaranth plant which has been cultivated for more than 8000 years (!). The seeds have been a staple for many Indigenous people in North and Central America. Amaranth is gluten-free and high in manganese and iron which are important minerals for brain health and the production of haemoglobin, respectively.
If you're looking for more delicious breakfasts, make sure to check out these recipes:
I hope you enjoy this amaranth porridge. Please let me know how you go in the comments and don't forget to tag @nothangryanymore in your creations on Instagram. Seeing your cooking makes my day!
Annick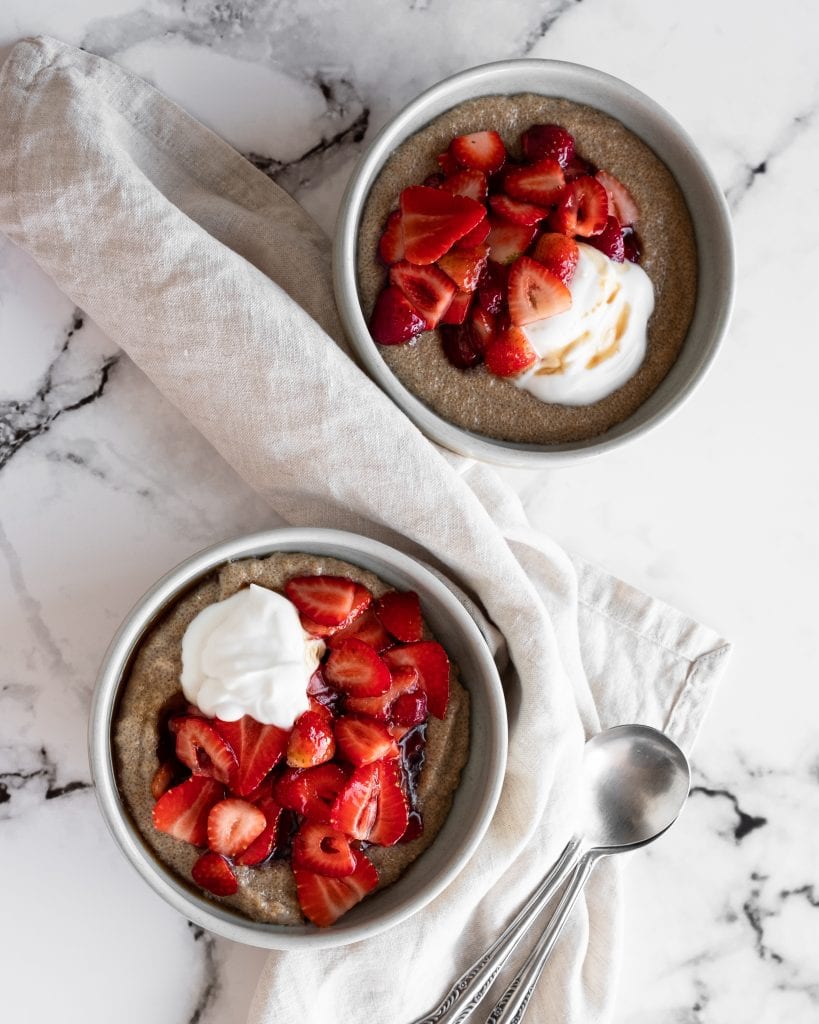 Amaranth Porridge with Macerated Strawberries
A beautiful breakfast celebrating an ancient seed. So delicious and easy to make.
(Click on the stars to vote!)
Ingredients
Macerated Strawberries
250

g

fresh strawberries

1

tbsp

caster sugar

1/2

tbsp

balsamic vinegar
Amaranth Porridge
100

g

amaranth

250

g

soy milk

125

g

water

1/4

tsp

ground cinnamon

1/4

tsp

vanilla bean paste
To serve
2

tbsp

coconut yoghurt

2

tsp

maple syrup

optional
Instructions
Macerated Strawberries
Wash the strawberries and remove the green tops. Slice the strawberries into thin slices (2-3mm thick).

Add the sliced strawberries, caster sugar and balsamic vinegar into a bowl and mix until combined. Let the strawberries macerate until the amaranth porridge is cooked.
Amaranth porridge
Combine the amaranth, soy milk, water, ground cinnamon and vanilla bean paste in a saucepan.

Bring the mixture to the boil and simmer the amaranth for 22-25 minutes. Stir regularly to ensure that the seeds don't stick to the bottom of the pan.
Assembly
Divide the amaranth porridge into serving bowls and top it with the macerated strawberries. Make sure to add some of the macerating liquid too – it's delicious.

To finish, serve the porridge with a tablespoon of coconut yoghurt and a drizzle of maple syrup. Enjoy!
Nutrition Facts
Amaranth Porridge with Macerated Strawberries
Amount Per Serving (400 g)
Calories 323
Calories from Fat 70
% Daily Value*
Fat 7.8g12%
Cholesterol 0mg0%
Sodium 60mg3%
Potassium 620mg18%
Carbohydrates 54.4g18%
Protein 12g24%
Vitamin A 77.5IU2%
Vitamin C 76mg92%
Calcium 267mg27%
Iron 5mg28%
* Percent Daily Values are based on a 2000 calorie diet.
---
FAQ
I don't like soy milk. Can I use a different milk instead?
Absolutely. You can use a different plant-based milk such as oat, almond or macadamia milk.
Is amaranth safe for people with celiac disease?
Yes, amaranth is gluten-free and safe for people with celiac disease or gluten sensitivity. However, it's always best to check the packaging for allergen information.
What is the purpose of macerating strawberries, and how does it change the texture and flavour?
The purpose of macerating strawberries is to enhance its flavour and texture. The sugar and balsamic vinegar (the acid) in the maceration liquid help to draw out the fruit's natural juices, creating a syrupy sauce that adds sweetness and flavour. The strawberries also become softer and more tender, making them easier to eat and digest.
Can I make the macerated strawberries ahead of time, and how long do they last in the fridge?
Yes, you can macerate strawberries ahead of time and store them in the fridge for several days. The strawberries will continue to release their juices and become more tender over time.