I understand that making your own pastry dough may be a little in intimidating at first. However, I hope that this recipe will help you see that making pastry doesn't need to be complicated. While making some types of pastry can be difficult (I'm looking at you Puff Pastry!), the pastry dough I'm sharing with you today is really easy to make. Better yet, it doesn't lack any deliciousness despite being simple.
As I hope you've gathered by the title, this dough only requires 4 ingredients: flour, plant-based butter, salt and water. That's it. You can use this pastry to make both sweet and savoury pies, quiches or tarts. For example, you can make a delicious cherry tomato summer quiche with this dough.
To make the dough, simply mix the flour and salt. Then rub the flour/salt and plant based butter between your fingers until they're combined before adding the water. Now, you need to knead the dough until it just comes together. You don't want to over-knead the dough as it can become tough due to the gluten in the flour over-developing.
After that, the dough needs to rest for at least 30 minutes in the fridge. However, you can also make your dough ahead of time and leave it in the fridge overnight. When you're ready to use it the next day, just let it soften slightly at room temperature (the dough will be quite firm because it's been in the fridge for a while) before rolling out. The dough doesn't need to be the same temperature as the environment, but you want it to be pliable so it's easy to roll out.
I hope this recipe is helpful to you and you enjoy making your own pastry dough. Please let me know how you go in the comments and don't forget to tag me in your creations on Instagram @nothangryanymore. I love seeing them!
Annick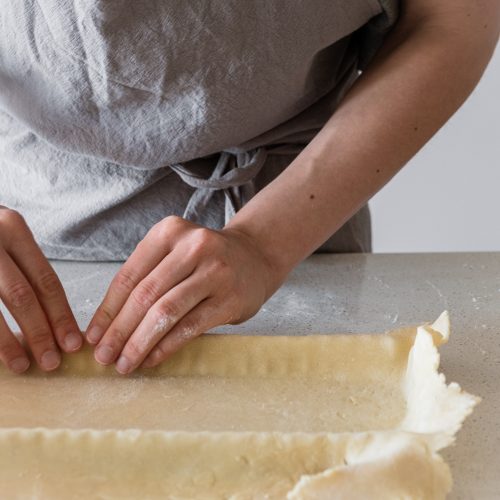 4-Ingredient Pastry Dough
A simple and easy pastry dough. Suitable for both sweet and savoury pies.
(Click on the stars to vote!)
Ingredients
200

g

flour

1/8

tsp

salt

40

g

cold vegan butter

(I like to use the vegan block from Naturli)

55

g

water
Instructions
Mix the flour and salt in a bowl.

Cut the vegan butter into small pieces and add it to the flour.

Rub the butter and flour between the fingers until combined.

Now, add the water and mix it into the flour.

Transfer the loose dough onto a flat surface and knead the dough until just combined. Do not overknead the dough as it will get tough otherwise.

Cover the dough in cling film and put it into the fridge to rest for at least 30 minutes. Alternatively, the dough can be left in the fridge overnight and used the next day.

If left in the fridge for only 30-60 minutes, the dough will be ready to roll out and use immediately. If you have left the dough in the fridge for more than an hour or overnight then it is important to allow it to soften slightly at room temperature before rolling it out. It should be pliable so it's easy to roll out.

Once the dough has been rolled out to your desired thickness (for most uses I aim for 2-3mm), drape it over your pie dish and trim off any overlapping dough.

Stab base with a fork in a few areas. This allows any trapped air to escape while baking, ensuring that your base remains flat and even. Now, you can now add your filling. For best results, make sure your filling is cold or at room temperature.

It's best to bake the dough at 180°C fan for about 30 minutes, based on 2-3mm dough thickness . However, the baking time does depend on what the filling is and how thick you've rolled the dough.
Nutrition Facts
4-Ingredient Pastry Dough
Amount Per Serving (300 g)
Calories 1014
Calories from Fat 301
% Daily Value*
Fat 33.4g51%
Monounsaturated Fat 14.5g
Cholesterol 0mg0%
Sodium 600mg26%
Potassium 214mg6%
Carbohydrates 153g51%
Protein 21g42%
Vitamin A 0IU0%
Vitamin C 0mg0%
Calcium 36mg4%
Iron 2.3mg13%
* Percent Daily Values are based on a 2000 calorie diet.