These Chai Spiced Scones are simply delicious and make a wonderful weekend breakfast. Prepare yourself for a delightful treat that will transport your taste buds to a world of warmth and comfort. Aromatic spices such as cinnamon, cardamom and clove shine through in every bite and with just a handful of ingredients, you can whip up these heavenly scones in no time.
Whether enjoyed as a take-away breakfast or served at brunch, these scones are sure to bring joy. The scones are perfect on their own, but you can also get creative with toppings. Try adding some apricot or strawberry jam alongside a dollop of vegan whipped cream or creamy coconut yogurt.
The preparation is a breeze. You can use plain flour and baking powder or swap both for self-raising flour in a 1:1 ratio. Shaping the dough into a circle and cutting it into triangles saves time and remember that minimal handling of the dough ensures a light and fluffy texture.
Imagine starting your day with these irresistible Chai Spiced Scones. The aroma of spices in the air, and each bite creating a delightful explosion of flavours and textures. So, grab your ingredients, preheat the oven, and let the enticing flavours of Chai Spiced Scones brighten your mornings. Get ready to savour the warmth, the spice, and the sheer delight that these treats bring to your taste buds.
I hope you enjoy these Chai Spiced Scones. Please let me know how you go in the comments and don't forget to tag @nothangryanymore in your creations on Instagram. I love seeing them!
Annick
Looking for more delicious breakfast ideas?
Make sure to check out these recipes!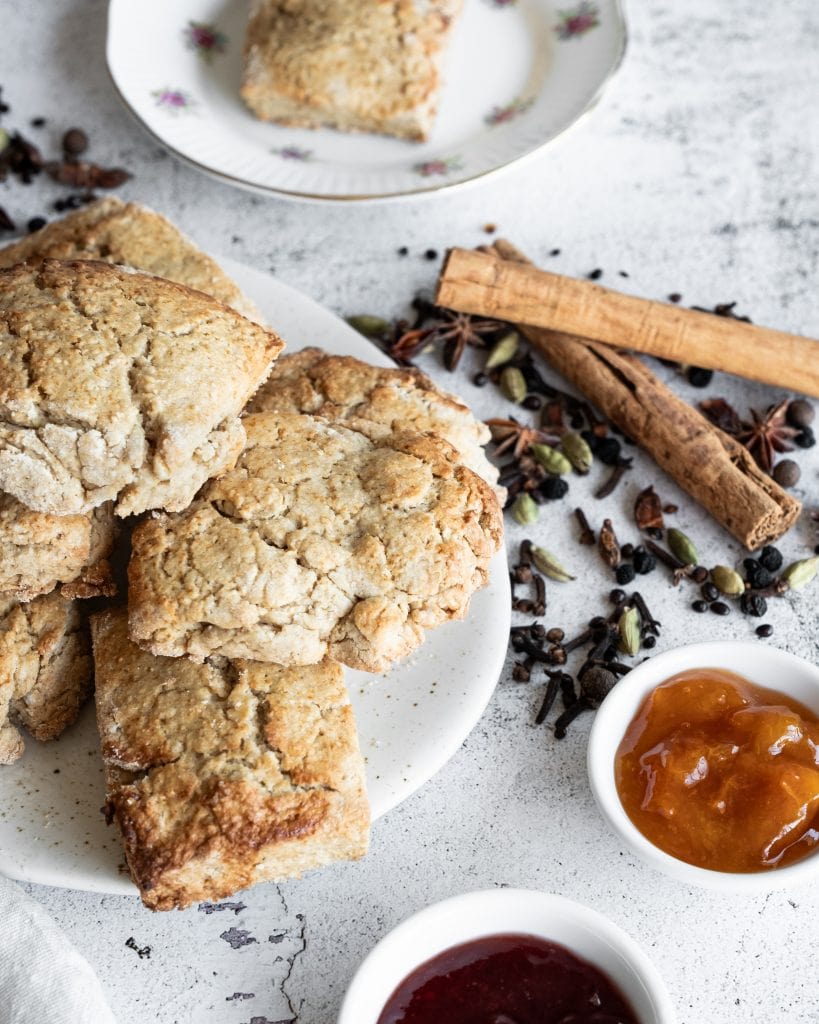 Easy Chai Spiced Scones
Beautiful aromatic scones – perfect for brunch!
(Click on the stars to vote!)
Ingredients
Dough
700

g

all purpose flour

6

tsp

baking powder

1/2

tsp

salt

60

g

raw sugar

60

g

brown sugar

1/8

tsp

allspice, ground

1/8

tsp

cardamom, ground

1/8

tsp

cinnamon, ground

1/8

tsp

clove, ground

1/8

tsp

nutmeg, ground

If you are missing one or two spices don't let that hold you back, swap whatever is missing for more cinnamon or leave them out entirely

200

g

vegan butter

e.g. naturli vegan block

300

g

soy milk
Wash
1

tsp

maple syrup

3

tsp

soy milk
Instructions
Preheat the oven to 220°C

Into a bowl, add the flour, baking powder, salt, sugars and spices. Mix everything together.

Cut the butter into small pieces and add it to the flour. With your fingers, rub the butter into the flour.

Add the milk and mix with a spoon until the dough is just combined.

Empty the bowl onto a flat surface and lightly shape the dough into a rectangle. The dough should stay together but does not need to be kneaded until smooth like a bread dough. A bit of flakiness is exactly what we want.

Cut the dough circle into 16 pieces and place the scones onto two baking trays lined with baking paper.

Turn the oven down to 200°C and bake the scones for 15 minutes.

Once baked, serve the scones warm – either by themselves or with jam and/or coconut yoghurt. Enjoy!
Nutrition Facts
Easy Chai Spiced Scones
Amount Per Serving (87 g)
Calories 282
Calories from Fat 88
% Daily Value*
Fat 9.8g15%
Cholesterol 0mg0%
Sodium 380mg17%
Potassium 40.8mg1%
Carbohydrates 41.6g14%
Protein 6.6g13%
Vitamin A 10.9IU0%
Vitamin C 0mg0%
Calcium 34.1mg3%
Iron 0.2mg1%
* Percent Daily Values are based on a 2000 calorie diet.