Lately I've been slightly obsessed with peanut butter. Whether crunchy or smooth (I have my favourite in each an every situation), peanut butter is something I eat nearly every day. May it be in a satay sauce, in a smoothie or on it's own as an afternoon snack, peanut butter works in a lot of meals. And it works incredibly well in cookies too! Which is what we're here for today. Peanut Butter Choc Chip Cookies.
These Peanut Butter Choc Chip Cookies are sweet and delicious while still being on the on the healthier side of the dessert spectrum. When you bite into the cookies you'll be able to taste delicious peanut butter, chocolate and banana. The texture will be different to most cookies as we're using coconut flour. It's a soft cookie that doesn't crumble like crazy but it's also a cookie that you can break into pieces very easily.
I find that coconut flour can make baked goods extremely dry if used the wrong way, so it's important to always use enough liquid when using coconut flour. In this recipe, I think I've nailed the ratio of coconut flour to liquid and these cookies have for sure become one of my go-to's. They only contain a small amount of ingredients and are really easy and quick to make too.
If you're looking for more delicious dessert recipes, make sure to also check these out:
If you like this recipe, please let us know in the comments below or tag us @nothangryanymore on Instagram with your creations.
Until next week,
Annick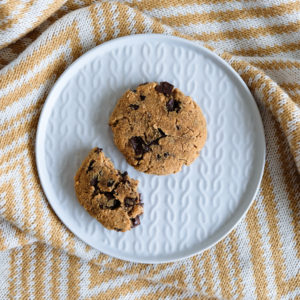 Peanut Butter Choc Chip Cookies
The best cookie to satisfy your peanut butter and chocolate cravings.

(Click on the stars to vote!)
Ingredients
100

g

ripe banana

1

tbsp

flax meal

50

g

peanut butter*

100

ml

almond milk

50

g

coconut sugar

75

g

coconut flour

1

tsp

baking powder

60

g

chocolate
If unsalted peanut butter is used, add 1 pinch of salt to the dough too
Instructions
Preheat the oven to 180°C and line a sheet of baking paper on your baking tray.


Mash the banana together in a medium-large sized bowl.


Add the flax meal, peanut butter and almond milk and mix to combine.


Now add coconut sugar, coconut flour and baking powder (and optionally a pinch of salt) to the dough and combine everything together.

The dough might feel a little weird, this is because of the coconut flour. Don't worry, it's going to taste delicious.


To finish of, chop the chocolate into small pieces and mix it into the dough.


Form the cookies with your hands and lightly press them onto the baking sheet. This dough makes about 8 cookies.


Bake the cookies for 15-20 minutes, then take them out, let them cool down for a few minutes and enjoy!

Notes
*Smooth and crunchy peanut butter both work, but make sure to choose a good quality one. My favourite is Pic's Peanut Butter.
Nutritional Information
1 cookie contains:
Calories: 150 Fat: 6.7g Saturated Fat: 2.9g Sodium: 54.9mg Carbohydrates: 18.5g Sugar: 11.7g Fiber: 4.3g Protein: 3.5g
Nutrition Facts
Peanut Butter Choc Chip Cookies
Amount Per Serving (0 g)
Calories 0
% Daily Value*
Fat 0g0%
Cholesterol 0mg0%
Sodium 0mg0%
Potassium 0mg0%
Carbohydrates 0g0%
Protein 0g0%
Vitamin A 0IU0%
Vitamin C 0mg0%
Calcium 0mg0%
Iron 0mg0%
* Percent Daily Values are based on a 2000 calorie diet.