These double chocolate and hazelnut cookies are mind-blowingly delicious. Seriously, they make my mouth water even thinking about them. I don't think there is a much better combination of flavours than chocolate (especially melted chocolate pieces) and roasted hazelnuts. While it may take you a little longer to make these cookies because you need to roast the hazelnuts before making the cookie dough, you won't regret this extra step. Roasting the hazelnuts is the reason why these cookies are superior to others.
Even with the extra step, making the cookie dough only takes 20 minutes. You can cream the vegan butter and sugars while the hazelnuts are roasting in the oven. Then it's only a matter of combining all of the 10 ingredients. And let's not forget that you can store the cookie dough in the freezer and bake the cookies on demand. How great is that?!
If you're looking for more delicious cookie recipes, make sure to also check out these:
I hope you enjoy these double chocolate and hazelnut cookies. Please let me know how you go in the comments and don't forget to tag @nothangryanymore in your creations on Instagram. I love hearing form you!
Annick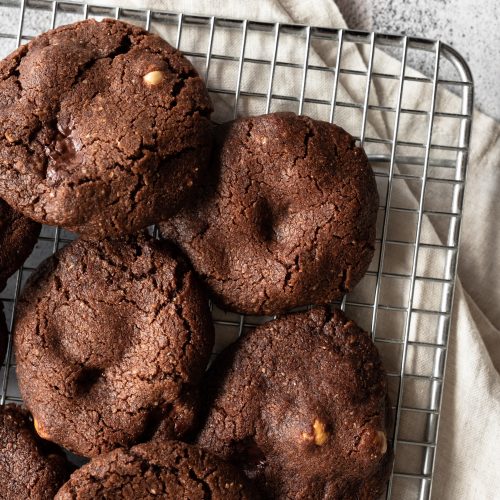 Double Chocolate and Hazelnut Cookies
The most delicious chocolate cookies paired with roasted hazelnuts. Bake on demand and enjoy.
(Click on the stars to vote!)
Ingredients
50

g

blanched hazelnuts

(sub with whole hazelnuts – see instructions in FAQ section)

100

g

vegan butter, softened

(e.g. Naturli vegan block)

1/4

tsp

vanilla bean paste

50

g

caster sugar

100

g

brown sugar

20

g

cocoa powder

80

g

all purpose flour

1

tsp

baking powder

50

g

hazelnut meal

50

g

dark chocolate
Instructions
Preheat the oven to 180°C fan.

Add the hazelnut onto a baking tray and roast for 8-9 minutes until they are golden brown and you can smell them in your kitchen. Once roasted, remove the hazelnuts from the oven and let them cool down.

In the meantime, add the softened vegan butter, vanilla bean paste, caster sugar and brown sugar into a mixing bowl. Using a stand mixer or electric mixture, cream the ingredients until the mixture is soft and fluffy. This takes about 10 minutes.

Next, sift the flour, cocoa powder and baking powder into the creamed butter and sugar. Fold until just combined.

Now, fold in the hazelnut meal.

Lastly, roughly chop the chocolate. Fold the chopped chocolate and roasted hazelnut into the cookie dough.

Take 1 tablespoon of cookie dough and roll the dough in your hands to from a ball. Then, lightly press the dough to form a disk.

Place the cookie disk into a container and continue shaping the rest of the cookies. Once all the cookies are shaped, store the cookies in an airtight container in the fridge for up to 4 days and in the freezer for 2-3 months.

To bake the cookies, place the desired amount of cookies onto a baking tray lined with baking paper. Make sure there is sufficient space around each cookie as they will expand during the baking process.

Bake the cookies at 180°C fan for 10 minutes. Let them cool down slightly and enjoy.
Nutrition Facts
Double Chocolate and Hazelnut Cookies
Amount Per Serving (51 g)
Calories 256
Calories from Fat 148
% Daily Value*
Fat 16.4g25%
Cholesterol 0mg0%
Sodium 128mg6%
Potassium 156mg4%
Carbohydrates 26.2g9%
Protein 3.1g6%
Vitamin A 0.2IU0%
Vitamin C 0.6mg1%
Calcium 54.2mg5%
Iron 1.6mg9%
* Percent Daily Values are based on a 2000 calorie diet.
---
FAQ
Can I use whole hazelnuts instead of blanched hazelnuts?
Yes, absolutely. You can roast the whole hazelnuts the same way (180°C fan, 8-9 minutes). However, I recommend you remove the dark skin before you add the hazelnuts into the cookie dough as the skin is quite bitter. The easiest way to remove the skin is to rub the hazelnuts in a dry tea towel – if the nuts have been roasted properly the skins should fall off easily.
Can I make cookie dough ahead of time and store it in the fridge or freezer?
Yes, you can make cookie dough ahead of time and store it in the fridge for up to 3-4 days or in the freezer for up to 2-3 months.
How long can I store baked cookies and how do I store them properly?
You can store baked cookies in an airtight container at room temperature for up to a week. However, I highly recommend baking the cookies on demand. It doesn't take much time and a freshly baked cookie is so much more delicious.
Why are there two different types of sugar in this recipe?
Caster sugar and brown sugar play different roles in this recipe. Brown sugar makes the cookies more moist and chewy, while granulated sugar makes them crispier. These cookies have both a crispy and chewy element to them which means that neither sugar should be left out.