These hazelnut amaretti are simply divine. They're fluffy and a little chewy thanks to the meringue base while also being sweet and nutty due to the chocolate and hazelnut. Oh, and there is Frangelico in it too which is only the most delicious liquor that has ever been produced on the face of this Earth.
Seriously, these amaretti are amazing. They make a wonderful Christmas cookie or Valentine's Day dessert. Of course, you can also eat them as a treat with a cup of tea on a regular Tuesday afternoon – I've done this countless of times and it's *chef's kiss*. Personally, I think that they also make a great present if you like gifting people homemade treats.
As you may (or may not) know, amaretti are Italian biscuits traditionally made with egg whites and almond meal. A very specific type of amaretti – amaretti di Saronno – is made of apricot kernels which I just find very fascinating. In this recipe I decided to use hazelnut meal because it's delicious and I felt like creating a recipe using hazelnuts.
Not only are these hazelnut amaretti very tasty, they're also surprisingly easy to make. You only require 6 ingredients to make these amaretti and about 15 minutes to prepare the cookies before they go into the oven.
If you're looking for more delicious cookies and biscuits, make sure to also check out these:
I hope you enjoy these hazelnut amaretti. Please let me know how you go and don't forget to tag me (@nothangryanymore) in your creations on Instagram. Seeing them makes my day!
Annick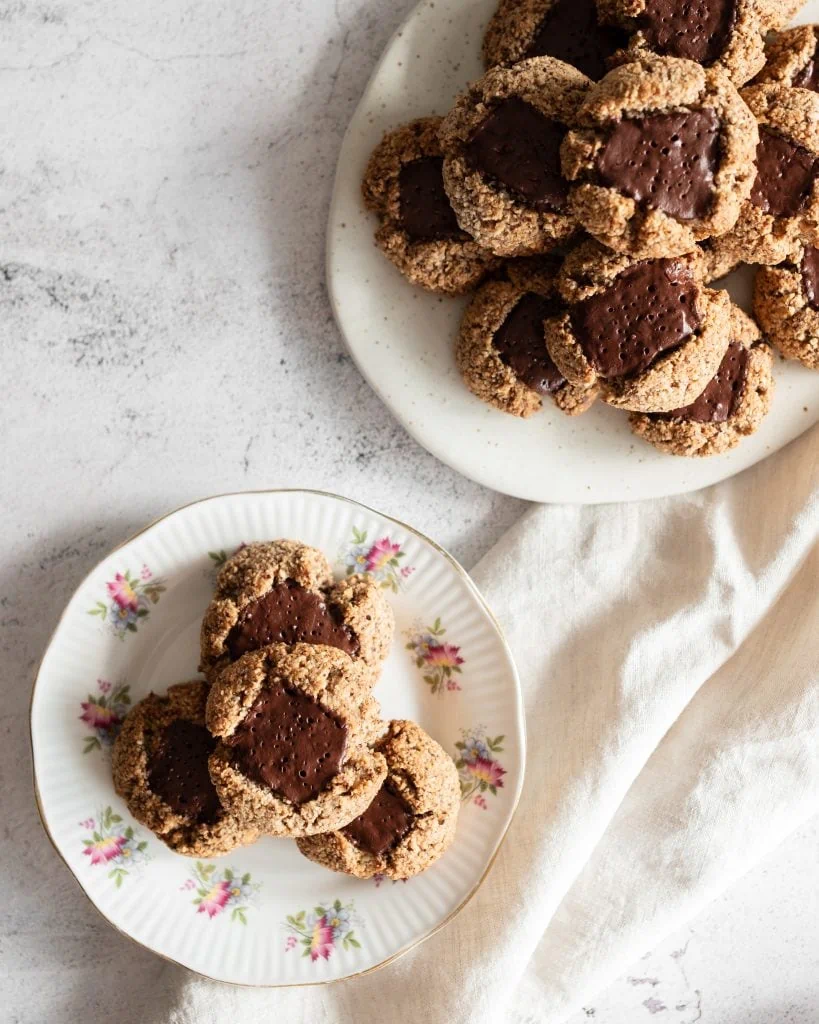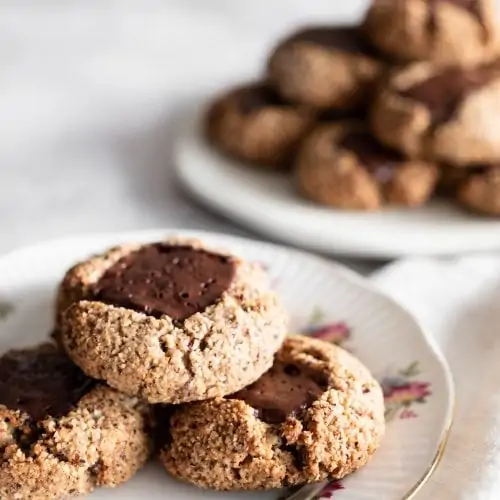 Hazelnut Amaretti with Frangelico and Chocolate
A delicious dessert, perfect for sharing with love ones.
(Click on the stars to vote!)
Ingredients
120

g

aquafaba

1/8

tsp

cream of tartar

120

g

caster sugar

320

g

hazelnut meal

40

g

frangelico

50

g

dark chocolate
Instructions
Add the aquafaba and cream of tartar into a bowl and use an electric stand mixer or hand mixer to whip the aquafaba until it reaches soft peaks. This takes about 8-10 minutes on medium-high speed.

Add the sugar and whip for about 1 minutes on high speed until the aquafaba forms stiff and shiny peaks.

Add 1/3 of the hazelnut meal and fold it into the meringue.

Add the frangelico and fold it into the meringue.

Add another 1/3 of the hazelnut meal and fold it in. Repeat this step once more.

Once all the hazelnut meal has been combined with the meringue, preheat the oven to 160°C fan.

Put 1 tablespoon of amaretti dough into your hands, roll the dough into a ball and lightly press it onto a baking tray lined with baking paper. Repeat this step until all the dough has been used up.

Break the chocolate into small pieces and press one piece of chocolate onto each amaretti.

Bake the amaretti for 30-32 minutes at 160°C fan. Once they're done, they should hold their shape when lifting up from the baking paper.

Let the amaretti cool down and enjoy!
Nutrition Facts
Hazelnut Amaretti with Frangelico and Chocolate
Amount Per Serving (36 g)
Calories 162
Calories from Fat 109
% Daily Value*
Fat 12.1g19%
Cholesterol 0mg0%
Sodium 5.4mg0%
Potassium 3.5mg0%
Carbohydrates 12.7g4%
Protein 3.5g7%
Vitamin A 0IU0%
Vitamin C 0mg0%
Calcium 17mg2%
Iron 0.4mg2%
* Percent Daily Values are based on a 2000 calorie diet.