These simple, delicious and very satisfying flatbreads have been our go-to for a while now and I thought it's about time to share the recipe with you. We love to eat them with various curries as well as dipped into hummus. Or you could also eat it with my Vegan Basil-Ricotta Sauce… yum!
They require only four ingredients: flour, coconut yoghurt, salt and some olive oil to fry them in. The recipe is easily scalable for any of you who cook for lots of people or have a huge appetite.
Anyway, I don't want to ramble, let's get cooking!
If you like making and eating these flatbreads. Please don't forget to tag me in your creations on Instagram @nothangryanymore. I love seeing them!
Annick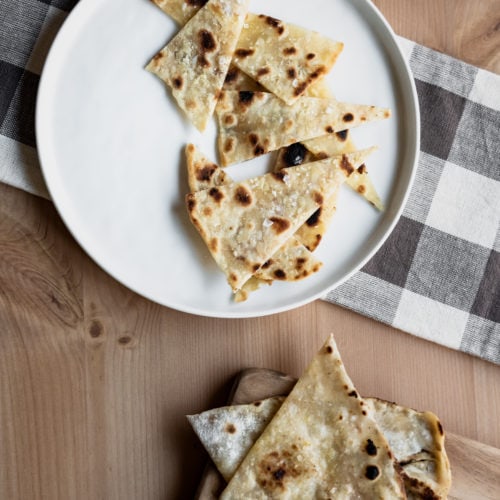 4 Ingredient Flatbreads
Very easy, delicious and satisfying flatbread that goes perfectly with curries or dipped into hummus.

(Click on the stars to vote!)
Ingredients
200

g

white unbleached flour

100

g

coconut yoghurt

1

pinch

salt

olive oil (for cooking)
Instructions
Mix flour and salt in a bowl. With a wooden spoon, stir in the coconut yoghurt until it gets really hard to stir anymore.


Take the dough out of the bowl and kneed on a flat surface until everything comes together. If the dough is too dry and you are unable to incorporate all the flour, add some water (one tablespoon at a time).


Once the dough has been formed into a ball, cover it and let it rest in the fridge for a minimum of 30 minutes.


After 30 minutes, take the dough out of the fridge and dust a flat surface with flour. Divide the dough into eight pieces and with a rolling pin, roll out each piece into a thin, flat oval.


Heat up a fry pan and add olive oil once hot. Add one flatbread at a time and drizzle a little olive oil on top of the bread. Cook them for about 1-2 minutes on each side or until golden brown "dots" appear on the bread.


Take the cooked flatbread out, season it with a finishing salt (eg. sea or rock salt flakes) and cut it up into pieces, if desired.


Repeat the last two steps until all the flatbreads are cooked.


Eat them with a curry, hummus or on its own. Enjoy!

Nutrition Facts
4 Ingredient Flatbreads
Amount Per Serving (0 g)
Calories 0
% Daily Value*
Fat 0g0%
Cholesterol 0mg0%
Sodium 0mg0%
Potassium 0mg0%
Carbohydrates 0g0%
Protein 0g0%
Vitamin A 0IU0%
Vitamin C 0mg0%
Calcium 0mg0%
Iron 0mg0%
* Percent Daily Values are based on a 2000 calorie diet.