This easy homemade dukkah is incredibly versatile, fragrant and one of those spice mixes you don't want to live without anymore once you've tried it. I used to buy dukkah at my local grocery store – mainly out of convenience. However, now that I made my own I don't think I'll go back to buying it. Making dukkah at home is so incredibly simple and you get to choose exactly what you want to put in it.
Dukkah is a popular Egyptian/Middle Eastern spice mix that usually contains salt, black pepper, sesame, cumin and coriander seeds but I love adding roasted pistachio and toasted fennel seeds because I think they accompany the flavours and aromas of the other spices beautifully. This dukkah also contains roasted hazelnuts which is quite a common ingredient in most dukkahs.
I often add dukkah to hummus and avocado toast. However, it's also delicious on roasted vegetables, especially pumpkin and zucchini.
If you're looking for more simple and flavourful recipes to easily improve your meals, make sure to check out these:
I hope you enjoy making this easy homemade dukkah. Please let me know how you go in the comments and don't forget to share your creations on Instagram and tag @nothangryanymore. I love hearing from you!
Annick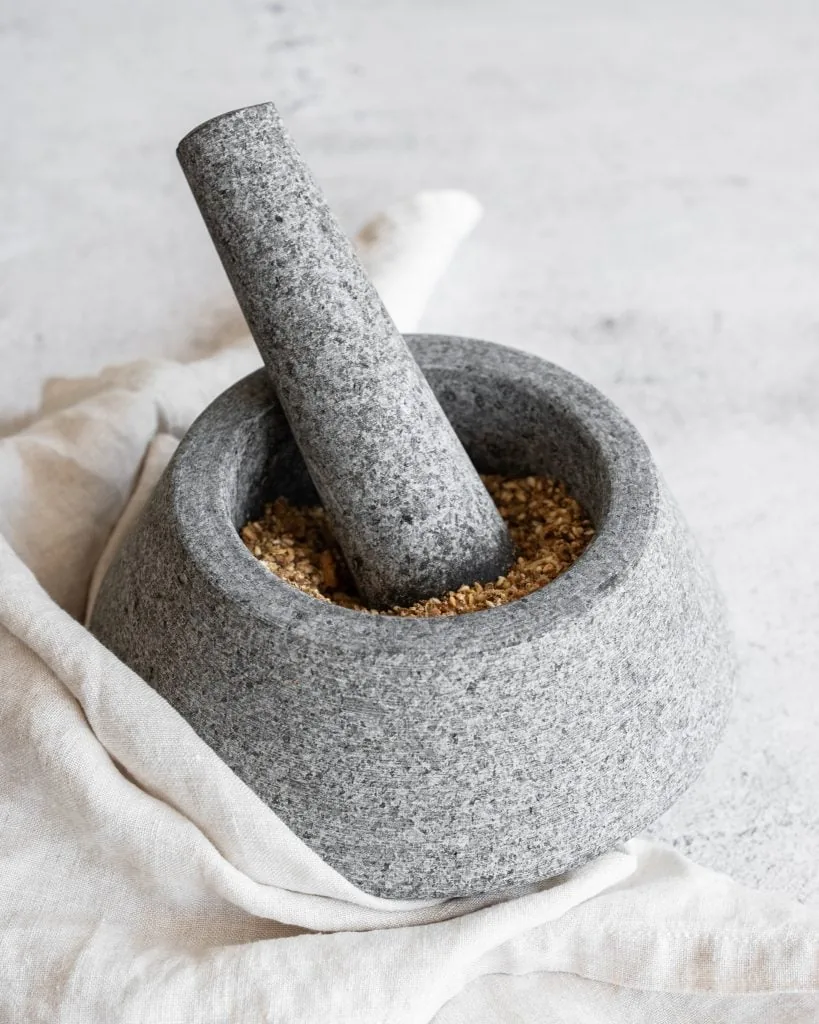 Easy Homemade Dukkah
A fragrant spice mix, perfect for topping hummus, avocado toast and roasted vegetables.
(Click on the stars to vote!)
Ingredients
30

g

blanched hazelnuts

15

g

hulled pistachios

1/2

tbsp

black peppercorns

1

tbsp

coriander seeds

1

tbsp

cumin seeds

1/2

tbsp

fennel seeds

2

tbsp

sesame seeds

1

tsp

salt flakes
Instructions
Preheat the oven to 180°C fan.

Roast the hazelnuts and pistachios for 8 minutes at 180°C fan.

Heat up a fry pan and add the coriander seeds and peppercorns. Toast them for about 2 minutes until fragrant. Shake the pan occasionally to ensure even toasting.

Transfer the toasted coriander seeds and peppercorns into a mortar and pestle. Crush and grind the seeds.

Once roasted, add the nuts into the mortar and pestle. Crush and grind the nuts until they're made up of small pieces and are combined with the coriander and peppercorn pieces.

Add the cumin seeds, fennel seeds and sesame seeds to the heated fry pan. Toast for 2-3 minutes, shaking the pan every now and again. Once toasted, add the seeds to the mortar and pestle. Roughly the seeds and mix them with the rest of the ingredients.

Finally, add the salt flakes and combine them with the rest of the ingredients.

Transfer the dukkah into a sealable glass jar and store it in a cool, dry area.