You know those mornings when it's really really hard to get up and all you want to do is stay in bed and sleep for just another minute or two…and then once you get up, you realise you have to be out of the house in like 10 minute and there is no time for breakfast anymore? These Healthy Blueberry Breakfast Muffins are perfect for those days when time is not your friend.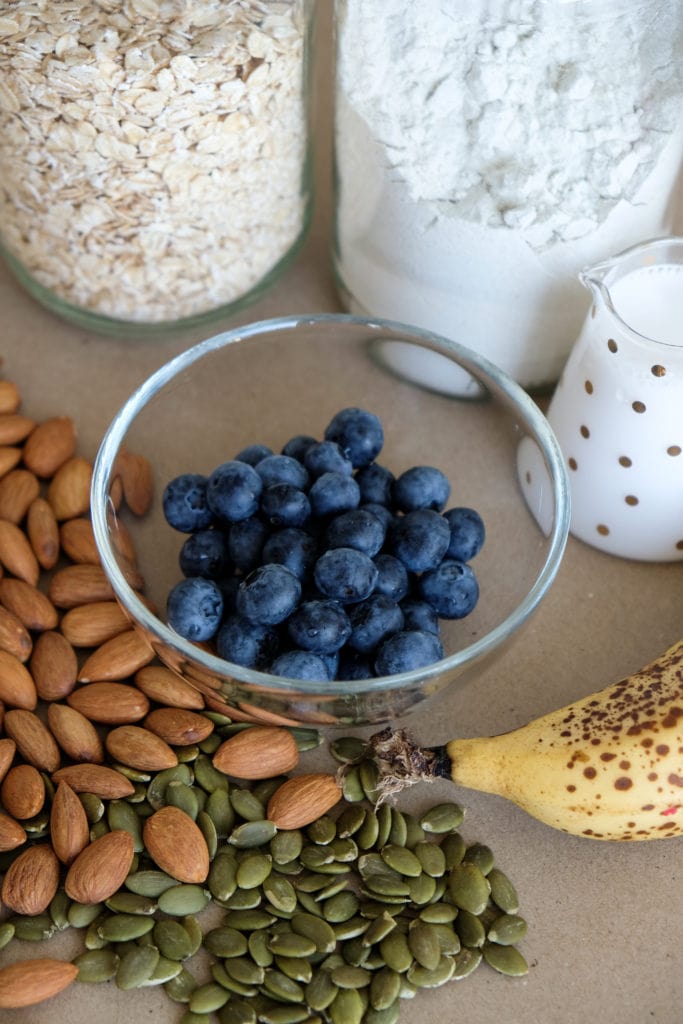 I love making them in the evening before work and Jeremy and I usually just take two or three each with us whenever we have to rush out of the house quickly in the morning. They also are a really tasty and healthy snack during the day whenever you feel a little peckish.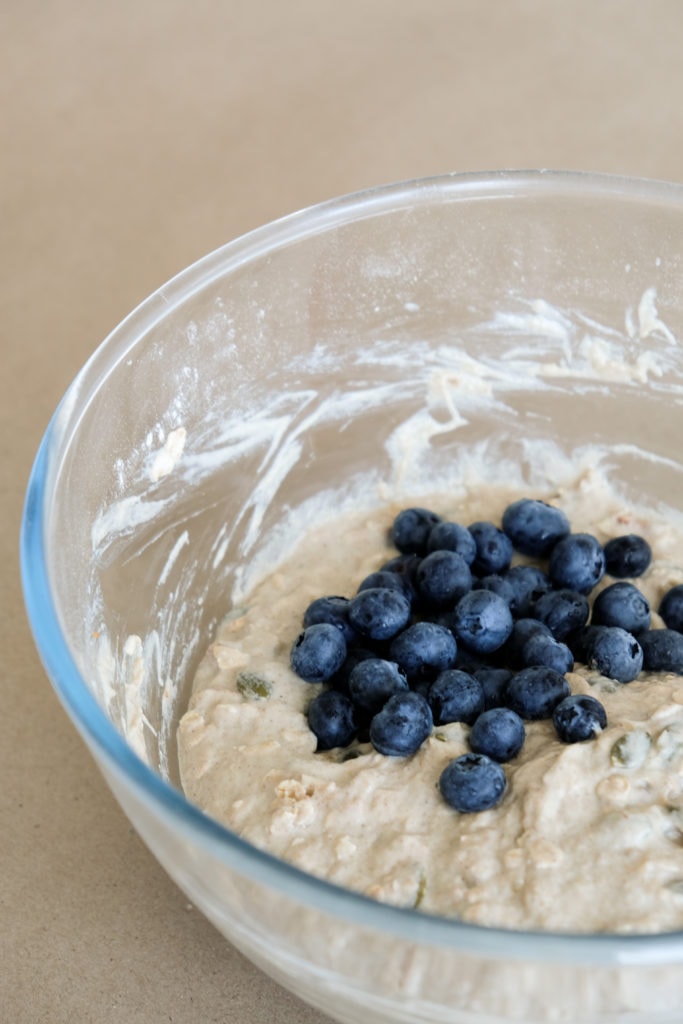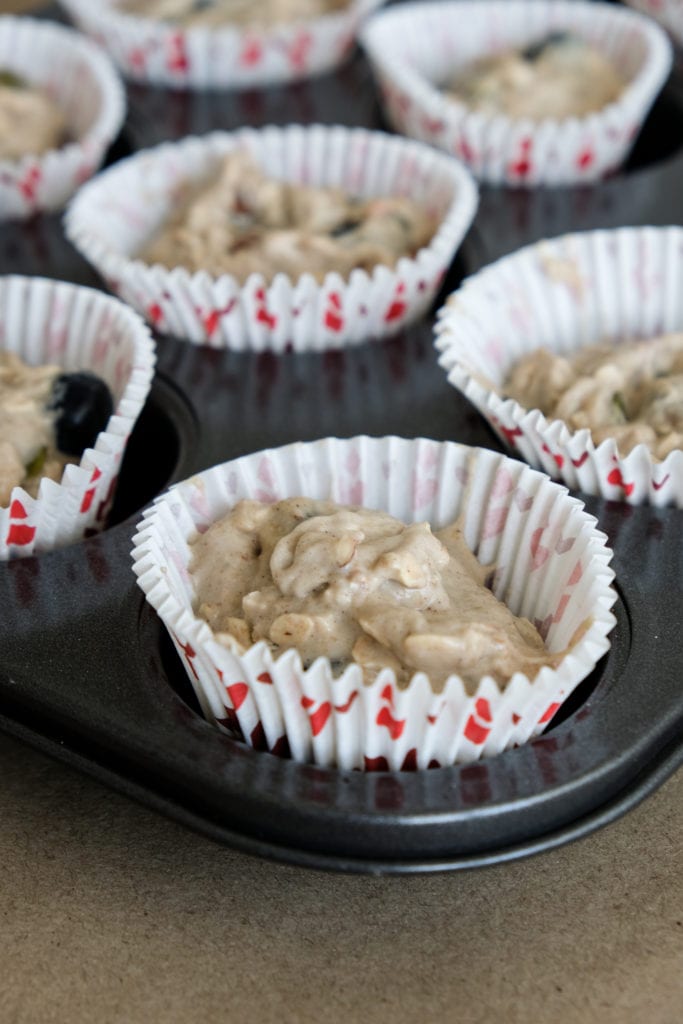 These muffins are super easy to make and healthy too. They're not overly sweet which I really like, as this is supposed to be breakfast and not a dessert. The muffins get their sweetness mainly from the rice malt syrup and the banana. They also taste quite nutty thanks to the almonds and the buckwheat flour. And obviously blueberries and cinnamon are in there too, which make the whole thing a little more interesting.
This recipe is very easily adaptable to make a gluten free version. Just use gluten free rolled oats and you're all good to go. I prefer my muffins with fresh blueberries as they're currently in season here in Australia, however, if blueberries are not in season wherever you are, frozen ones work just as well.
I hope you like this recipe and if you do, please let us know and tag your creations on Instagram @nothangryanymore.
Enjoy!
Annick xx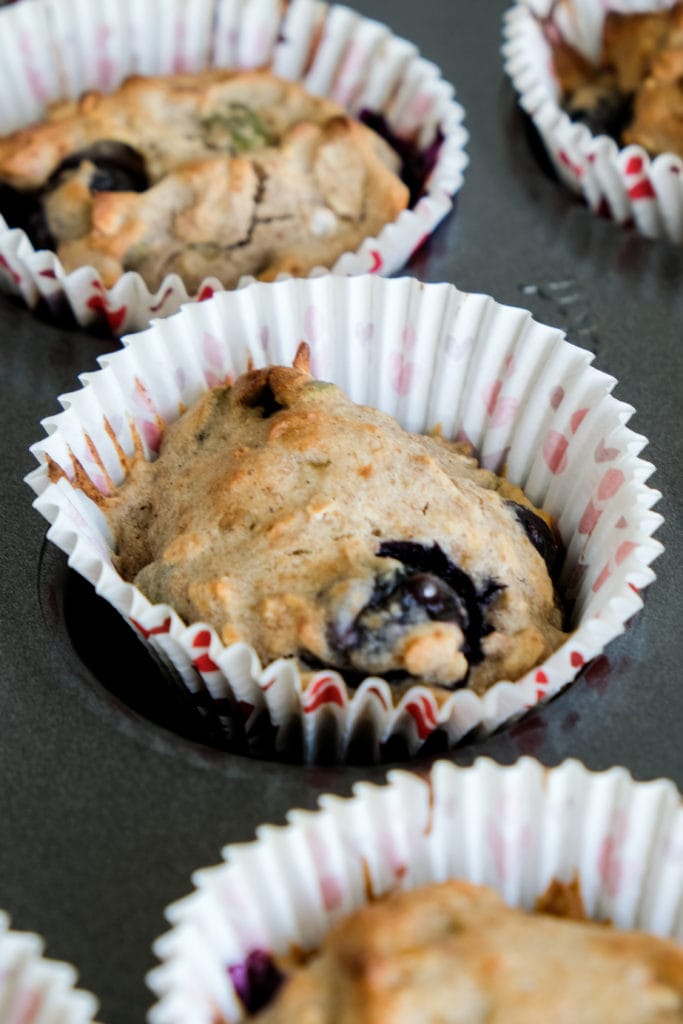 Healthy Blueberry Breakfast Muffins
Easy, healthy and delicious muffins, perfect for those days when time is not your friend.

(Click on the stars to vote!)
Ingredients
1

large

very ripe banana

(around 140g)

1/2

tsp

vanilla bean paste

2

tbsp

rice malt syrup

(about 35g)

1

tbsp

extra virgin olive oil

(about 10g)

200

g

almond milk

1

tbsp

peanut butter

(about 30g)

150

g

buckwheat flour

50

g

rolled oats*

1

tsp

ground cinnamon

1

tsp

baking powder

1

pinch

salt

50

g

pumpkin seeds

50

g

almonds, chopped

80

g

fresh or frozen blueberries
Instructions
Line a muffin tray with 12 muffin forms and preheat the oven to 180°C.


Mash the banana in a big bowl.


Add vanilla bean paste, rice malt syrup, olive oil, almond milk and peanut butter to the bowl and mix until combined.


Now add buckwheat flour, rolled oats, ground cinnamon, baking powder and salt. Mix everything together thoroughly.


Add pumpkin seeds and chopped almonds and fold into the mix.


Last but not least add blueberries and gently fold into the mixture.


With a tablespoon divide mixture evenly between 12 muffin forms. Bake muffins at 180°C for 25 minutes. Once finished baking, let them cool down for a couple of minutes and enjoy!

Notes
* use gluten free rolled oats for a gluten free breakfast muffin
Nutritional Information
1 muffin contains
Calories: 154 Fat: 6.7g Saturated Fat: 1.0g Sodium: 48.3mg Carbohydrates: 18.9g Sugar: 4.9g Fiber: 2.4g Protein: 4.7g