I always enjoyed carrot cake a lot, especially the smooth ones without the sultans and chunks of nuts inside. What I love even more is eating carrot cake in cupcake form. Cupcakes just have a nice size and kind of prevent me from eating the whole cake at once (and regretting it afterwards).
These carrot cupcakes are extremely fluffy and moist and they're incredibly cute to look at. And for all my gluten-free friends out here, guess what, you can enjoy them too!
The original recipe comes from Minimalist Baker – but to make them more sweet than savoury: we have iced and decorated them, ground the oats to get a smoother cupcakey texture, and used buckwheat flour because we love the nutty flavour. We've also measured the ingredients out in grams because we prefer to work with the metric system (ever since Jeremy started baking bread we have found it easier and more accurate to keep a digital scale on-hand for everything we do in the kitchen). The original recipe can be found here: minimalistbaker.com/
Because the cupcakes are based on carrot, apple and banana they have a healthy touch to them. So if you're not a huge fan of icing, you can easily leave it out and enjoy a healthy and delicious snack or dessert.
I hope you enjoy this recipe, if you do make it, don't forget to take a photo and tag #nothangryanymore on Instagram so we can see your creations!
Annick xx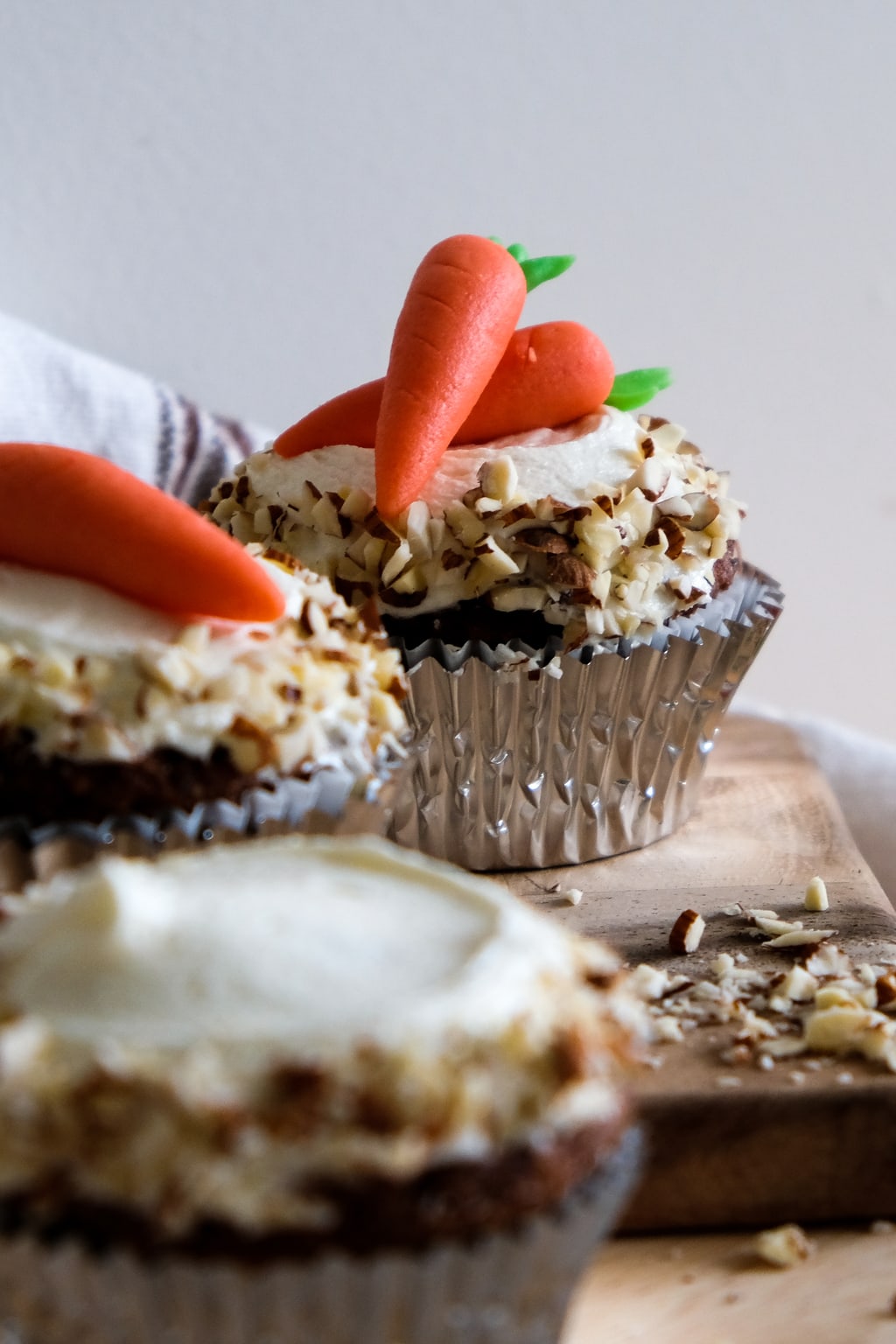 Easy Fluffy Vegan Carrot Cupcakes (+GF)
Vegan and gluten-free carrot cupcakes. A moist and fluffy dessert with a colourful and appetising decoration. Without the icing and marzipan carrots, they're still delicious and healthy too!
(Click on the stars to vote!)
Ingredients
The cupcakes
1.5

flax eggs

(= 1.5 tbsp flax meal + 4.5 tbsp water)

60

g

rolled oats (or oat flour)

50

g

olive oil

150

g

maple syrup

95

g

mashed banana

(1 ripe banana)

90

g

grated apple or apple sauce

(approx. 1 apple)

65

g

light brown muscovado sugar

1/2

tsp

salt

1/2

tsp

cinnamon

1.5

tsp

baking soda

145

g

buckwheat flour

45

g

almond meal

125

g

unsweetened almond milk

190

g

grated carrots
The icing
200

g

icing sugar

1/2

tsp

vanilla bean paste

50

g

vegan margarine (I used Nuttelex)
The carrots
125

g

store bought, ready-to-roll marzipan

1-2

drops

yellow vegan food colour gel

1-2

drops

orange vegan food colour gel

1-2

drops

red vegan food colour gel
Instructions
The cupcakes
Preheat the oven to 190°C (fan) then prepare flax eggs in a large bowl and leave aside for 5 minutes.

Prepare the muffin tin with liners.

Add olive oil, mashed banana and maple syrup to the flax eggs and whisk to combine.

Now add grated apple, sugar, cinnamon, baking soda and salt to the bowl and mix until combined.

Blend rolled oats and almond meal in food processor until finely ground and add to the bowl. Stir everything together. Alternatively add oat flour and almond meal to the bowl and stir.

With a spoon fill up the 12 cupcake liners evenly with the mixture. Fill them up to the top.

Bake the cupcakes for 35-40 minutes or until a toothpick inserted to the centre comes out clean. Once baked, leave aside to cool down.
The icing
Whisk vegan margarine, icing sugar and vanilla bean paste in a big bowl until fluffy.

Put icing on top of the cooled cupcakes however you desire (with piping bag or spatula or knife...)

OPTIONAL: Add chopped almonds to the outside of your icing.
The carrots
With the yellow and red food colour gel, colour around 4/5 of the marzipan orange. Start with one drop of each colour and knead the marzipan. The gels are usually very strong, so it's better to repeat this step a couple of times until satisfied with the colour than having too much colour in the marzipan.

Divide orange marzipan into 12 pieces for the little carrots. Take one piece and roll it between your hands until the marzipan is carrot shaped. With a knife, make a couple of fine cuts into the top of the carrot to give it more structure.

Repeat this step until all 12 carrots are done.

With the green colour gel, colour the last fifth of the marzipan green. Again, start with one drop of the gel, knead it into the marzipan and repeat until satisfied with the colour.

Divide green marzipan into 36 pieces. Take each piece and roll between your hands until it makes about a 1cm long worm. Attach these to each other in groups of three, so that they look like little carrot greens then carefully place them on top of the carrots.

Repeat this step until all 12 carrot greens are done.


Add one carrot to each cupcake.
Notes
The cupcakes hold well for about 4 days in an airtight container in the fridge. They'll be finished in that time anyway, I promise.
Thanks again to Dana from http://www.minimalistbaker.com for the inspiration!
Nutritional Information:
Serving size: 1 cupcake with icing and carrot
Calories: 340
Fat: 11.7g
Saturated Fat: 2.1g
Carbohydrates: 52.8g
Sugar: 40.3g
Sodium: 178mg
Fiber: 2.8g
Protein: 4.8g
Nutrition Facts
Easy Fluffy Vegan Carrot Cupcakes (+GF)
Amount Per Serving
Calories 340
* Percent Daily Values are based on a 2000 calorie diet.