It's no secret that I love working with dough. I said it before and I'll say it again, working with dough, kneading it and watching it bake is one of my favourite things. Ever. The smell of freshly baked focaccia – please someone make a perfume with it already! 😂
I've made this focaccia multiple times to develop the recipe and I swear, the last time I made it, we ate the whole thing within the same day. It's that good!
I love to top my focaccia with vegetables and of course, tomatoes. If you can't currently find any of the vegetables used in this recipe, just use something else. Most things you'd put on top of a pizza will work just fine on top of a focaccia in my opinion.
One thing I wanted to mention, before we get started: Be patient, the dough is very wet, so make sure you oil your hands before handling it and have fun!
Want to pair this focaccia with something else? Why not make my Tomato-Avocado-Peach Salad or my Strawberry-Fennel Salad.
I hope you love making this focaccia as much as I loved creating the recipe. You're home will smell amazing! Please don't forget to share your creations with me on Instagram @nothangryanymore.
Annick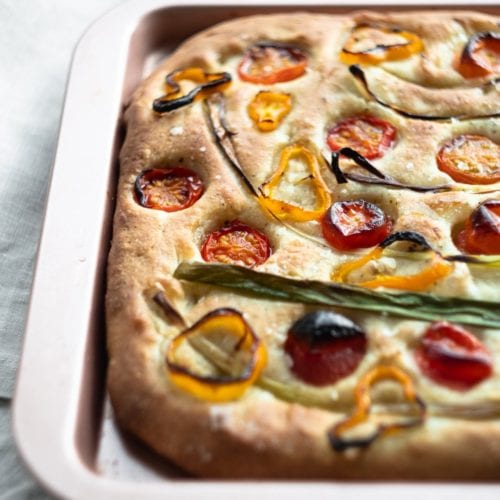 Cherry Tomato, Spring Onion and Capsicum Focaccia
Delicious focaccia – the perfect side dish to share
(Click on the stars to vote!)
Ingredients
Focaccia Dough
5

g

active dried yeast

210

g

lukewarm water

1/2

tsp

sugar

300

g

"00" flour

5

g

salt

1

tbsp

oregano

15

g

extra virgin olive oil
Toppings
125

g

cherry tomatoes

1

baby capsicum

(sub. with 1/2 capsicum)

2

spring onions

2

tbsp

extra virgin olive oil

flaky salt
Instructions
To make the dough
To a small bowl or measuring cup, add the lukewarm water, active dried yeast and sugar. Give it a stir and let sit for a few minute until a foam or bubbles form on top of the liquid.

Into a large bowl, add the flour, salt and dried oregano and mix.

Now, add the liquid to the dry ingredients and stir with a wooden spoon until mostly combined.

Empty the dough onto a flat surface. Before kneading, pour 15g olive oil into a small dish. Continue to oil your hands from that dish whenever the dough gets too sticky. Do not be tempted to add more flour, it will get easier to handle after kneading and resting for a while. Knead the dough for about 5 minutes before letting it rest for 10 minutes. Then knead again for another 5 minutes until the dough is smooth.

Lightly oil the big bowl used earlier, then add the kneaded dough back into the bowl. Cover the bowl with a damp tea towel and let it rest for about 1 hour or until it has doubled in size.

Once the dough is rested, add 2 tbsp of olive oil onto a baking tray or baking dish and gently stretch the dough on top of it. Let the dough rest for another 30 minutes, covered with a damp towel or plastic wrap.
Toppings and Baking
Preheat your oven to 220°C fan-bake.

For the toppings, wash the cherry tomatoes and cut them in half. Thinly slice the capsicum and wash and trim the spring onions.

After the dough has finished resting, gently stretch out the dough a little more to cover as much of your tray as possible. Add the toppings, a generous drizzle of extra virgin olive oil and flaky salt.

Bake the focaccia for 15-17 minutes at 220°C. Once baked, take the focaccia out and enjoy!
Nutrition Facts
Cherry Tomato, Spring Onion and Capsicum Focaccia
Amount Per Serving (160 g)
Calories 270
Calories from Fat 69
% Daily Value*
Fat 7.7g12%
Cholesterol 0mg0%
Sodium 401mg17%
Potassium 188mg5%
Carbohydrates 44g15%
Protein 6.2g12%
Vitamin A 219IU4%
Vitamin C 13.6mg16%
Calcium 28.7mg3%
Iron 1mg6%
* Percent Daily Values are based on a 2000 calorie diet.