Welcome to our newest addition on this blog: the Vegan Guide
In this section we share our favourite vegan places in different cities/regions that we have been to, so that you can find good vegan food easier and faster. It's basically a review of different vegan cafes, restaurants and supermarkets.
We hope you enjoy reading this and that it is useful to you on your next adventure.
Let's start with Auckland!
Auckland is very close to both of us. Jeremy grew up here and we met in Auckland when I was on an exchange for six months. Although we weren't vegan for any of the time that we actually lived in Auckland, we come back to this city a couple times each year to see Jeremy's family and our friends. During the last few trips we tried many different vegan or vegan-friendly cafés and restaurants, which we'll share with you here.
This café in Devonport has a lovely, quirky interior with lots of different tables and chairs and gorgeous plates and bowls. It's not a vegan café but they have a lot of vegan options. The staff are very friendly and the food is delicious. We had the daily special which was a vegan lentil, chickpea and spinach curry with brown rice and zoodles. It was delicious and for only $12 we were very impressed. This was the daily special, most of their other meals are between $18-22 which we'd have been happy to pay too considering the quality and portion size. Their Buddha bowls are delicious – we had them at a second visit. They also had a vegan brownie, which was really dense and tasty. We loved the addition of dried apricot but it was quite rich and best for sharing.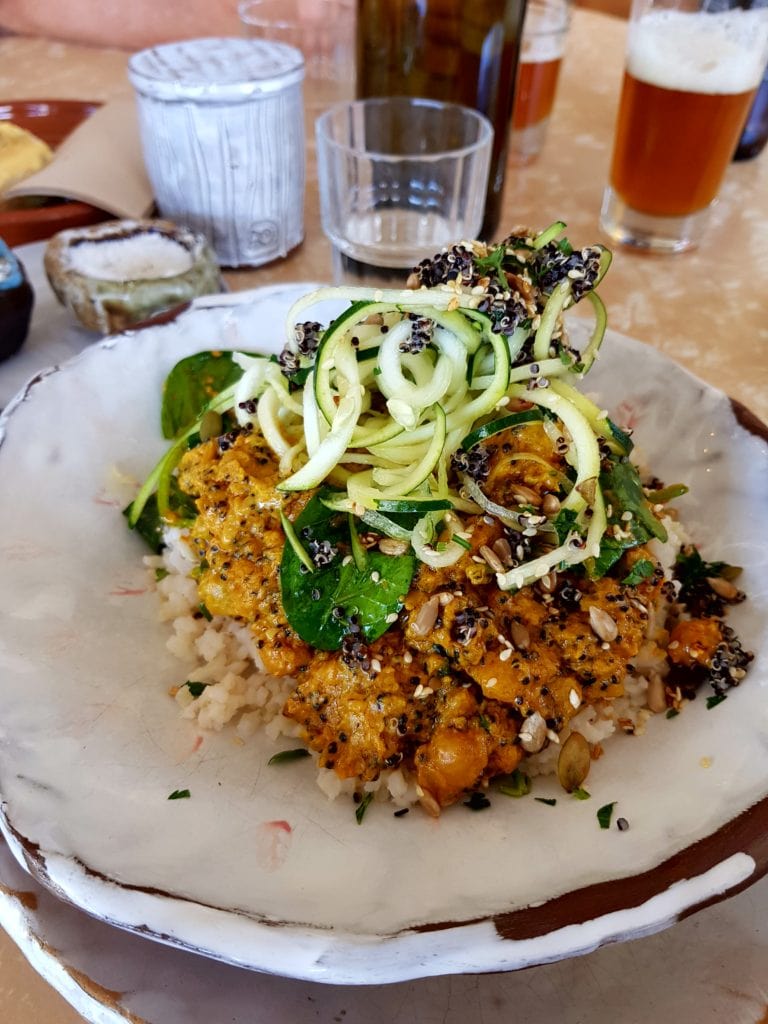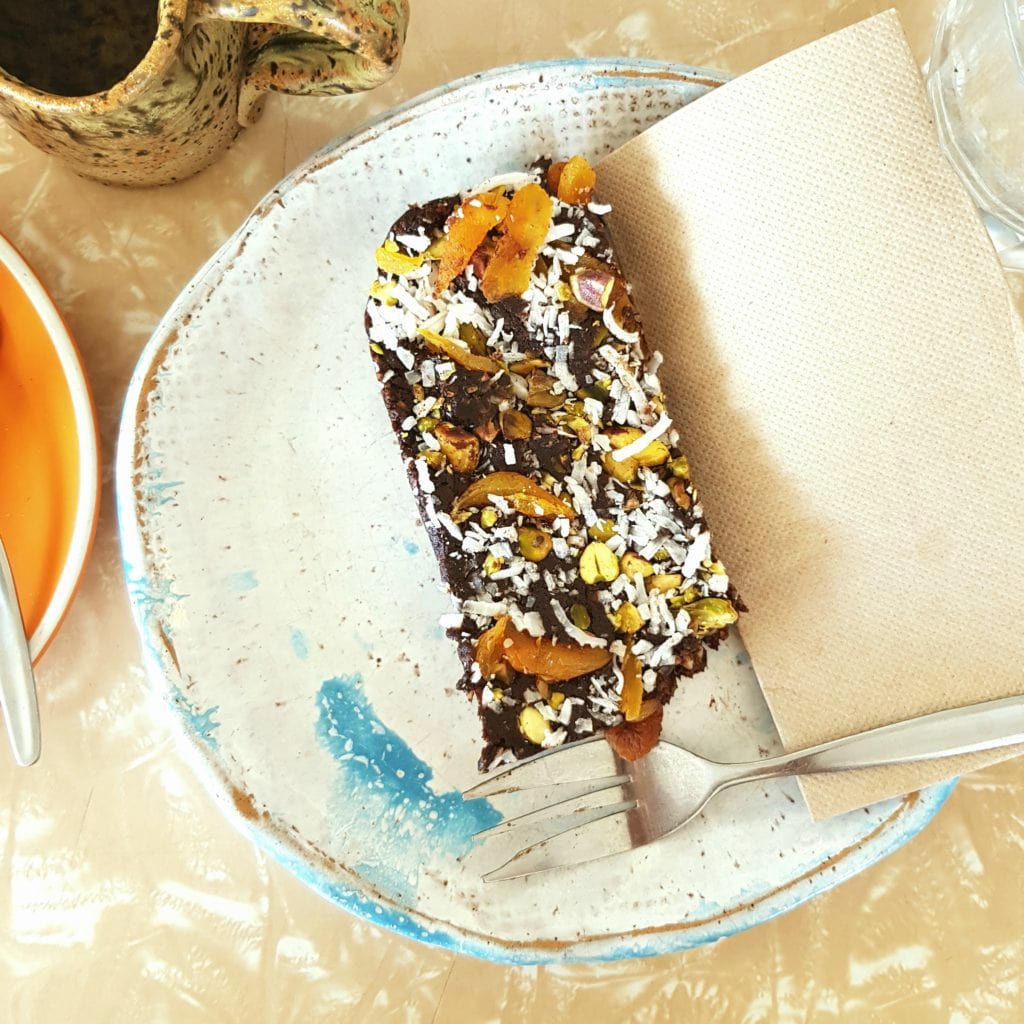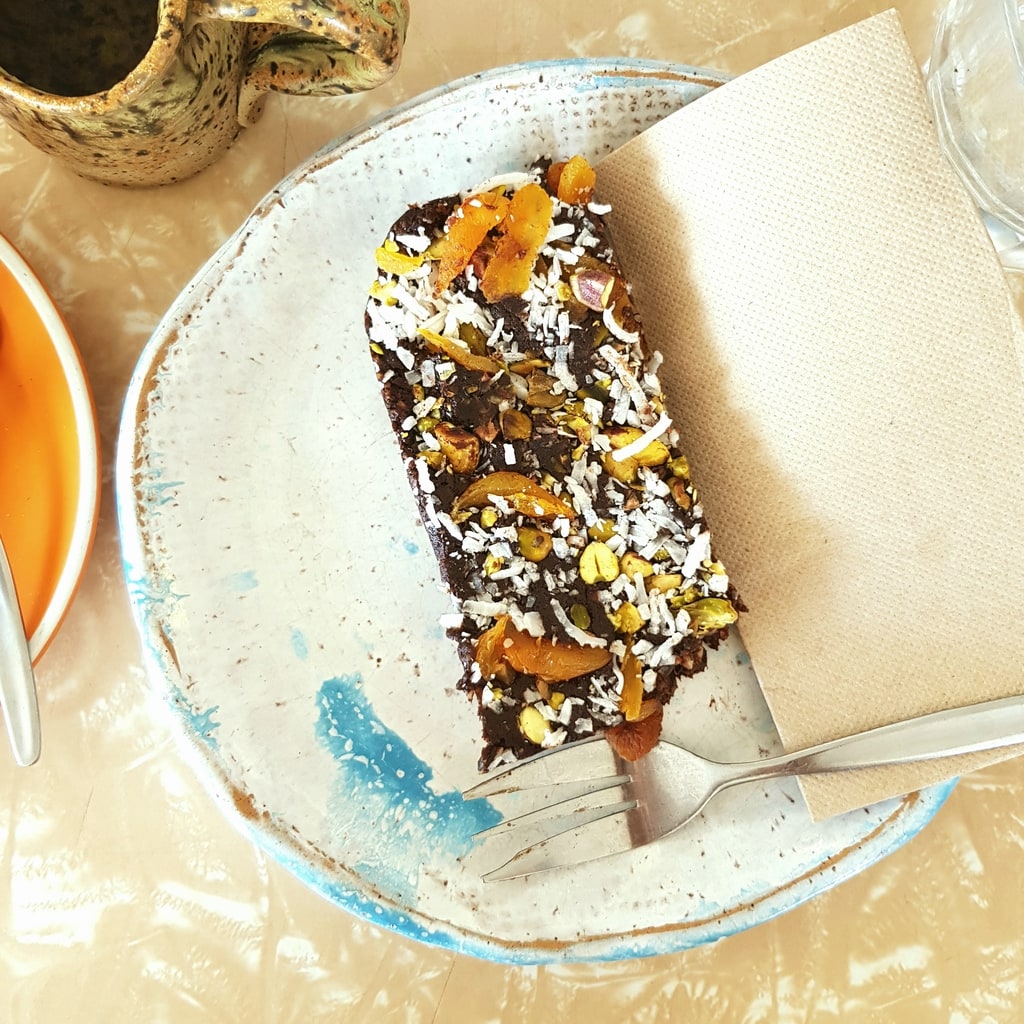 This is a stylish and cool vegan-friendly café in Takapuna. They try to use organic produce wherever possible and are very much focused on making healthy but yummy food. To be honest we only had coffee and a beetroot brownie there but they were both really good and when we glanced at the menu we decided that this was definitely a place we would like to go back to for a meal when we're in Auckland again.
Soul Bar and Restaurant (Auckland CBD)
This is more of a special occasion restaurant but well worth the visit. It's located on the Viaduct Harbour and all the tables had white tablecloths, overall the place had a refreshing classic vibe. Next to their normal omni menu they have a fully vegan menu with some really interesting options. We went there for Jeremy's mum's birthday and asked to pre-order a cake (vegan of course). They don't usually do vegan cakes but were very helpful, communicated exceptionally well and made a delicious vegan orange-polenta cake with coconut cream especially for us. The food was delicious, we both went for a pasta dish but they had lots of other, different vegan options too. The staff were well-trained and friendly. We had a very special evening here and would highly recommend it for any evening you want to remember.
A great place to stop by for lunch when you're in the CBD. The space is quite open and they have a lot of options and everything is vegan. We loved the art on the walls telling the story of why the café was opened. We had the slider platter and were really happy with it. I think Jeremy would clean out most of our savings account on their burgers if we lived anywhere near this place. It's not the most fancy of places, but the food is delicious which is the most important thing.
Little Bird Unbakery (Ponsonby)
If I had to choose only one restaurant/café to go to in Auckland then it would be the Unbakery in Ponsonby. The interior is really cool, the menu is completely vegan and the food is AWESOME! I especially like the Vietnamese crepe and would highly recommend you try it as well. They have cakes and treats which were all yummy. If you don't end up in Ponsonby or are in town and need a little snack or lunch, the same owners have a smaller Unbakery shop in Britomart too (take out only).
This place opened only eight days before we visited and we were really happy to see how busy it was. It's a fully vegan café, their interior is really funky (looks like it's straight out of Melbourne) and they have a great selection of different dishes from nourish bowls to burgers to falafel and flatbread. We went with Jeremy's parents and we all just about had to roll out the door. Oh! And their cakes are amazing, most of which we had to take away and eat at home after we got a bit carried away with our awesome breakfasts.
We really enjoyed having brunch at this place with our omni friends. They only had two vegan options on the menu, we got two Vegan Super Bowls, which were huge and I was barely able to finish mine but Jeremy was really happy to finally have a big vegan breakfast option that was actually big. We were really impressed with the presentation and the flavours were great. They also had a vegan panna cotta and I definitely want to try that one next time (check it out on their instagram it looks amazing). They have a very impressive counter section with lots and lots of cake. Unfortunately most of them weren't vegan but they did have a vegan brownie.
Literally next to Winona Forever, this little but fully vegan café is a great option to get a healthy lunch a little cheaper or for something to take with you on a road trip. They only serve cabinet food, smoothies and coffee but they have a wide range of yummy quiches and sandwiches and even cannelloni to choose from. Definitely a place where I'd get my lunch from if I worked in the area. Bonus points for having some of the friendliest staff we've come across in Auckland!
This is not only a fully vegan café but also an organic grocery store located in Newmarket. The food is yum, but the cakes are even better. I had a slice of vegan banoffee pie last time and it was delicious. I think this is one of the older vegan cafes in Auckland and deserves a visit, especially if you want to pick up some groceries after your breakfast.
This is our favourite bakery in Auckland. Their bread is delicious – Full stop. We especially like the Kumara Sourdough, which is something we haven't found anywhere else before. Not only do they sell their bread in their bakery on Mt Eden Road but you can also get it from Farro's. Definitely worth a try and a good way to save some money by making your own avocado toast (as long as the avocados are in season of course!).
---
These are all the places in Auckland that we've been to and I would recommend going as a vegan. But in case you're travelling a little outside Auckland or going on a road trip to Taupo, here are some other vegan-friendly places in New Zealand's North Island that we've discovered.
The Hungry Elephant (Matakana)
This place is not exactly in Auckland, but is in Matakana which is a gorgeous place that I'd definitely recommend going to and not too far for a day trip. The café is situated just off the main road between Warkworth and Matakana and is not only a vegan-friendly café, but also has an organic shop attached to it. We shared the platter together, which was a satisfying feed with lots of interesting flavours.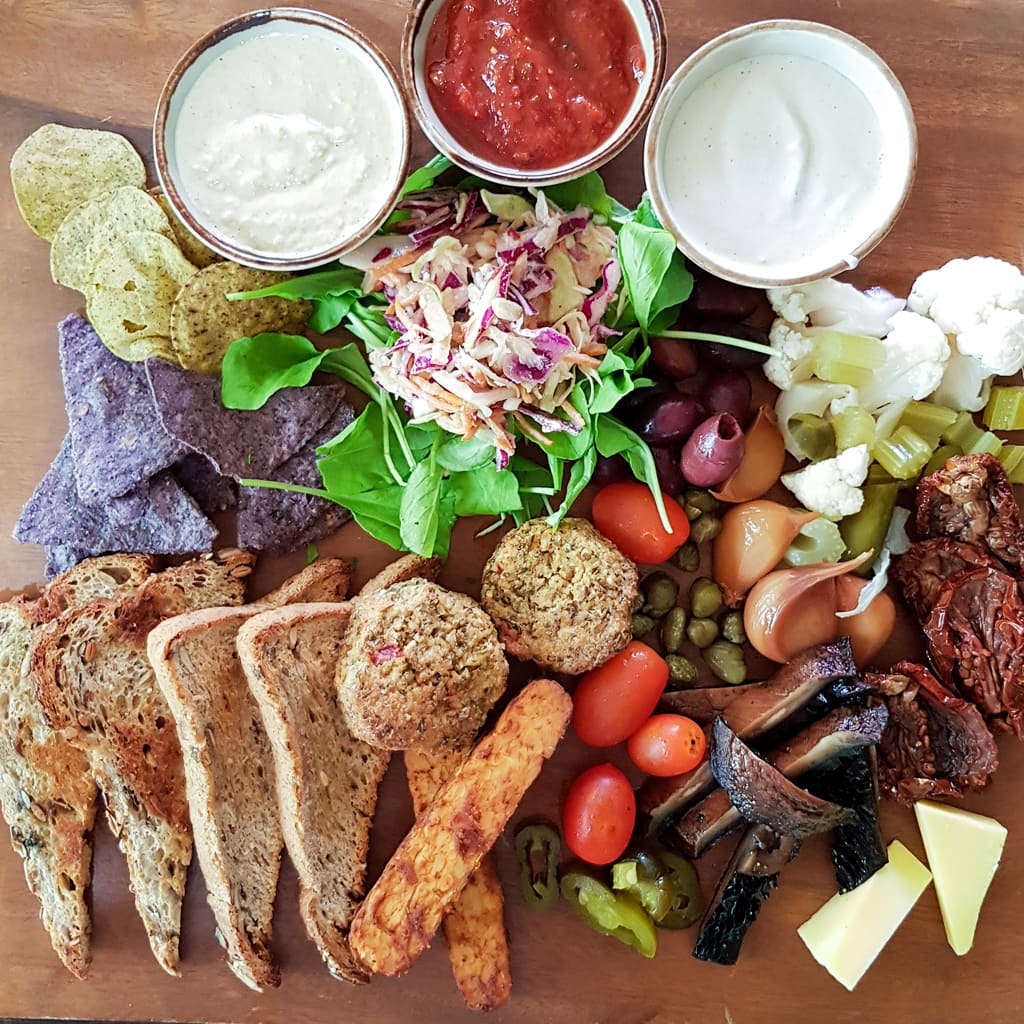 This Indian restaurant in Taupo makes some good, comforting food. We found it quite hard to find a well-reviewed restaurant in Taupo before we came across this one. It's not a fully vegan place and you're not clearly able to see what's vegan and what's not on the menu, but they have a very big selection of vegetarian dishes and quite a few of them are accidentally vegan. Just ask the staff, they'll be able to tell you.
This place is a small health food store and café. They make some really good juices and their daily special hot meal was delicious when we tried it (we had lentil dahl, Jeremy gets way too excited about dahl for breakfast). The prices are actually really good and the health food store itself is all vegan as well. Yay!
Blissful Healthy Vegan Takeaway (Hamilton)
For us, Hamilton is usually a pit stop place when we're on our way to Taupo. Last time we went, we found this little Chinese café that was fully vegan. It's a buffet set up with a good range of options and you pay by weight. This had us a little worried that it would be expensive but Jeremy packed his plate as high as he could and I think it only cost us about $18 for lunch and dessert in total (we had the vegan fudge and I highly recommend you try it- it's really really yum).
---
Alright, that's it for now. These are all the places we could think of. I hope these sort of recommendations are helpful. Personally I really like trying out new food places and it's always good to know when a fellow vegan has tried and tested a place before me. Please let us know if there are any places that we missed so that we can try them out next time we're over!
Annick xx