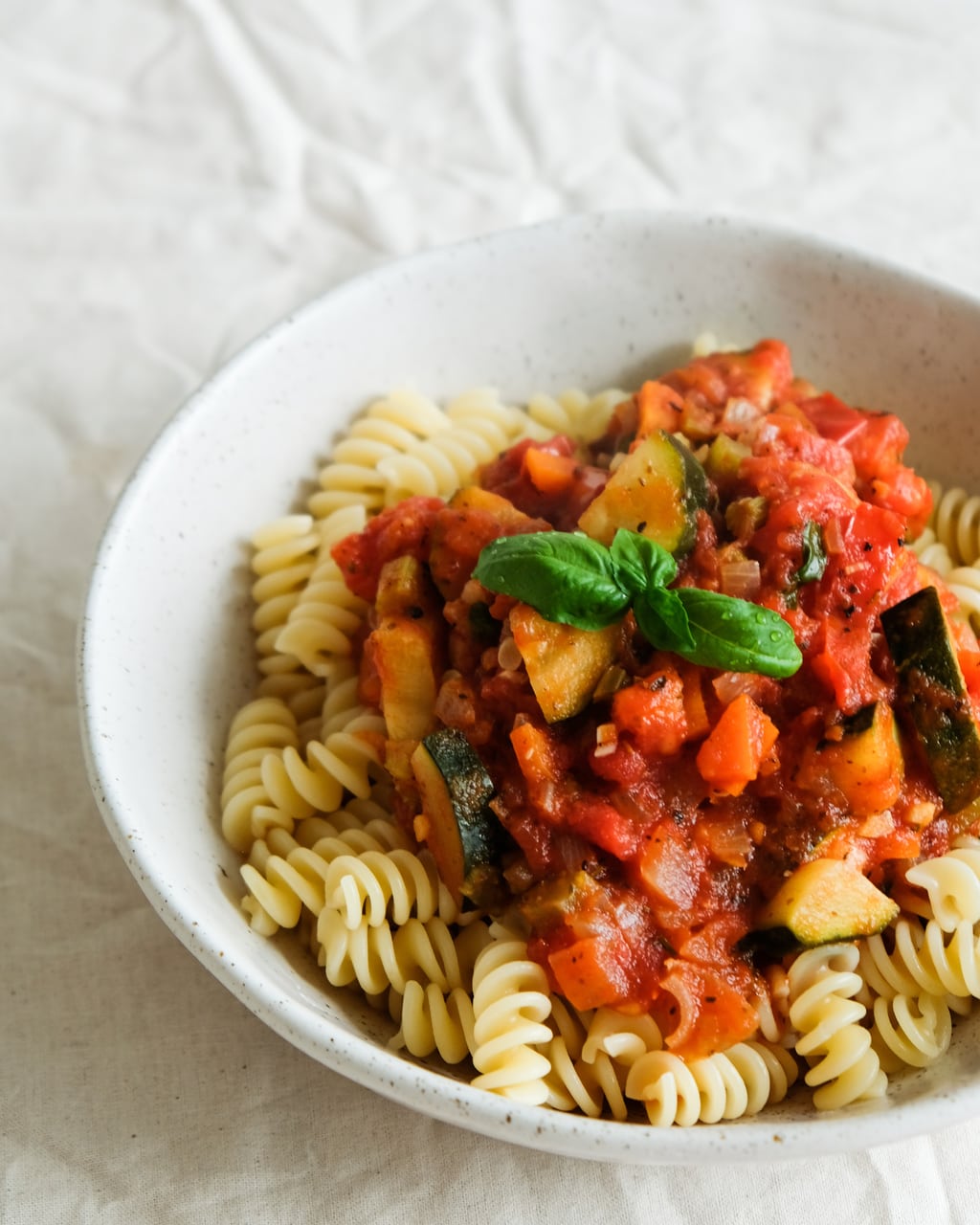 Hello there! It's been a while…but I'm back with a new recipe. Well, it's not exactly new because it's probably a recipe that I have made hundreds of times and is one of my go-to "I don't know what to cook and don't feel like standing in the kitchen for hours" dish.
Personally, I'm a huge fan of pasta and I probably ate it nearly everyday as a teenager. This might also have to do with the fact that there was not much else that I was able to cook by myself, because believe it or not, I really didn't cook at all until I moved across the world and away from home. Anyway, still to this day, pasta is one of my go-to meals if I'm in a rush, tired or if I crave an old classic comfort food.
This Simple Tomato Pasta Sauce is, as the title says, really easy to make. And the good thing is, it's actually loaded with lots of yummy vegetables too. I love to make it together with some Farfalle, Fusilli or Penne pasta. You can of course choose whatever pasta you feel like.
---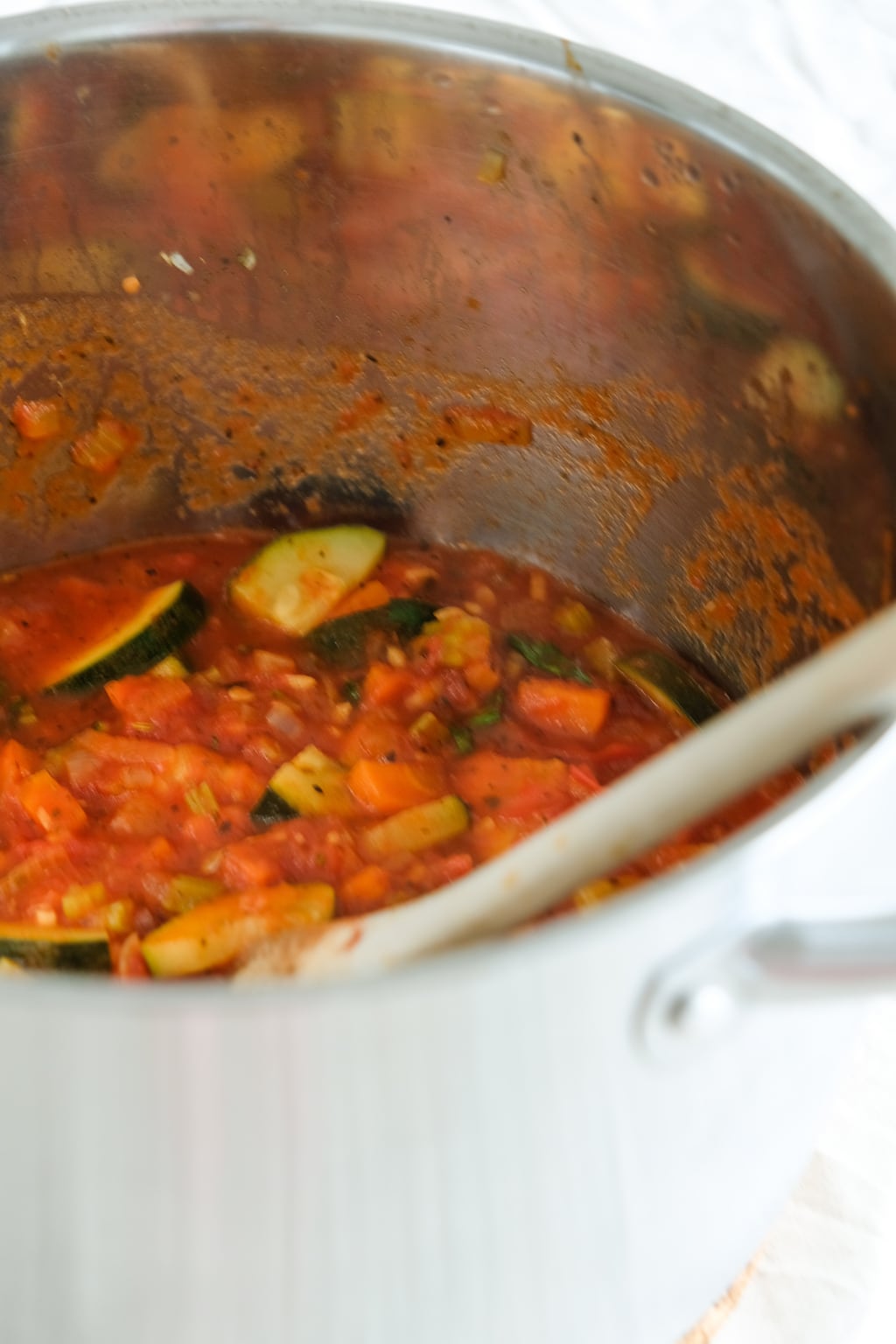 ---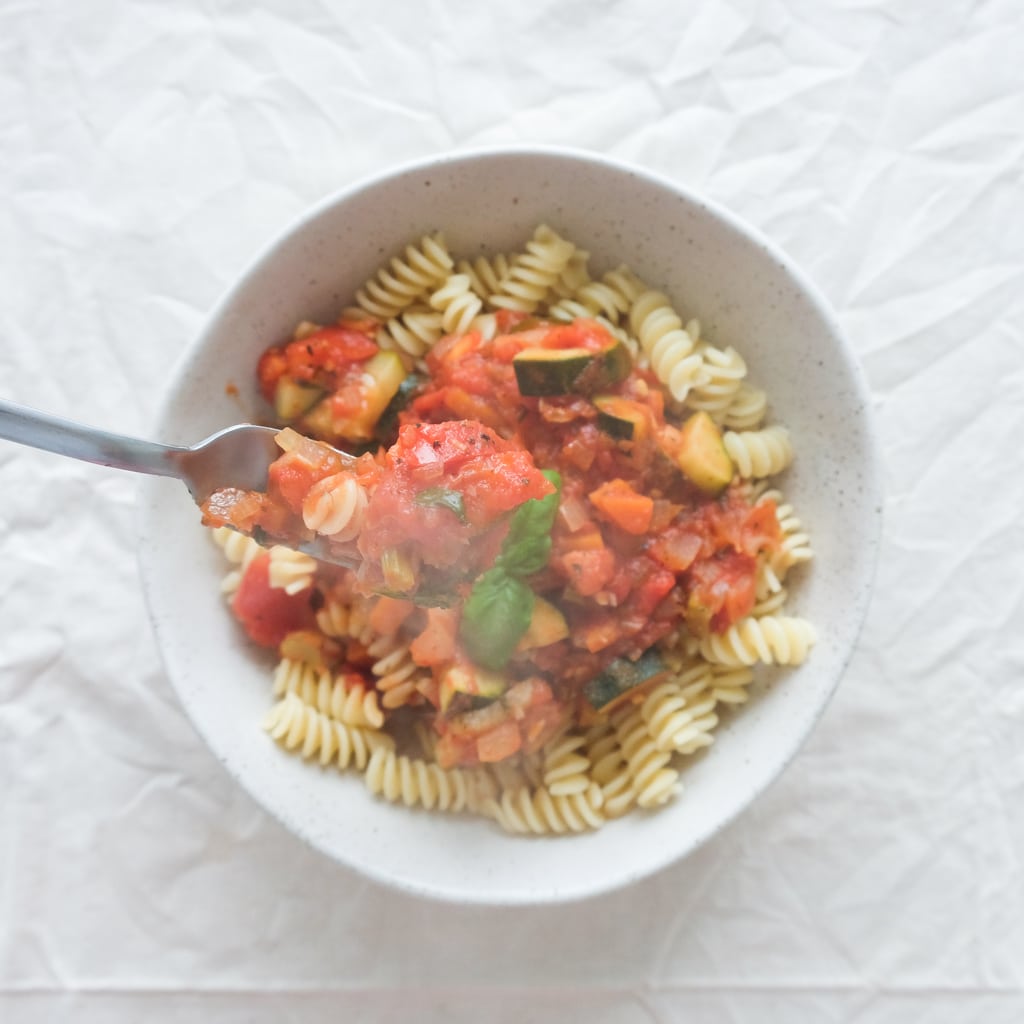 I really hope you enjoy this recipe and that it becomes one of your go-tos as well. If you do make it, please let us know and tag us @nothangryanymore and use #nothangryanymore on Instagram with your creations.
Anyway, enough of my rambling, let's get cooking!
Annick xx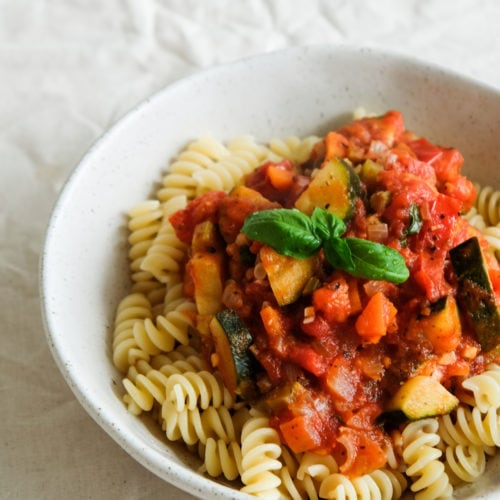 Simple Tomato Pasta Sauce
A simple and delicious tomato sauce for your perfect pasta dish on a cosy evening.

(Click on the stars to vote!)
Ingredients
Tomato Sauce
1

onion

2

cloves

garlic

2

tsp

extra virgin olive oil

1

tbsp

mixed dried herbs

(Italian mixed dried herbs with rosmary, thyme, oregano, sage)

1

carrot

1

sprig

celery

1

zucchini

1

can

chopped tomatoes

2

fresh tomatoes

2

sprigs

basil

salt and pepper

(to taste)
Instructions
Prep
Chop up the onion and garlic gloves very finely, carrot and celery a little bit bigger and zucchini again slightly bigger than the rest. (see picture above)

Cooking
Heat up a medium sized pot and add olive oil, onion and garlic. Let cook for 1-2minutes.


Then add carrot and celery together with mixed dried herbs. Stir and let cook for another minute.

Now add zucchini, stir and let cook for a minute.


Add tomato sauce from the can, stir and let simmer for about 15 minutes.


In the mean time boil a pot of water with a few pinches of salt. Once the water is boiling, add your favourite pasta and cook for the recommended time (actually, cook the pasta about 3 minutes less than the recommended time and try it - pasta is best al dente and the recommended time on the packaging usually overcooks the pasta).


2 minutes before the pasta is cooked, add freshly chopped tomatoes and chopped basil to the sauce and season it with salt and pepper to taste.


Once the pasta is cooked, drain the water and serve together with the sauce. Add some basil on top for garnish if you like. Enjoy!

Notes
Nutritional Information
1 serve including sauce and pasta:
Calories: 531 Fat: 5.0g Saturated Fat: 0.8g Sodium: 170.3mg Carbohydrates: 100.1g Sugar: 10.5g Fiber: 6.8g Protein: 17.7g
Nutrition Facts
Simple Tomato Pasta Sauce
Amount Per Serving (0 g)
Calories 0
% Daily Value*
Fat 0g0%
Cholesterol 0mg0%
Sodium 0mg0%
Potassium 0mg0%
Carbohydrates 0g0%
Protein 0g0%
Vitamin A 0IU0%
Vitamin C 0mg0%
Calcium 0mg0%
Iron 0mg0%
* Percent Daily Values are based on a 2000 calorie diet.