Simple syrup is, as the name suggests, simple.
This is not an original recipe and I'm not sure who or when someone started making simple syrup. However, since I've called for it in a number of other recipes (especially cocktails), I thought it might be good to have a dedicated post on it.
Simple syrup requires two ingredients: sugar and water. There are two main ways of making it. You could either use a 1:1 sugar to water ratio or a 2:1 sugar to water ratio. The the 1:1 ratio is less sweet, thinner and needs to be kept in the fridge. On the other hand, the 2:1 sugar to water ratio is a bit thicker in texture, it's also sweeter and because it has a high sugar content it's shelf stable.
Both sugar and water are added to a pot and heated up. Once the sugar has dissolved you can take the pot off the heat and let the syrup cool down. And there you go, you've just made simple syrup!
Now, if you'd like to flavour your simple syrup then you can certainly do that too. You can add herbs such as rosemary or spices such as cardamom to your sugar and water before adding heat. Alternatively, you can also use a other types of sugar, for example demerara or palm sugar to give your syrup a different flavour profile.
I hope you found this little introduction helpful. If you'd like to use your simple syrup in a delicious cocktail, then check out these recipes:
Please let me know how you go and don't forget to share your creations with me on Instagram @nothangryanymore. I love seeing them!
Annick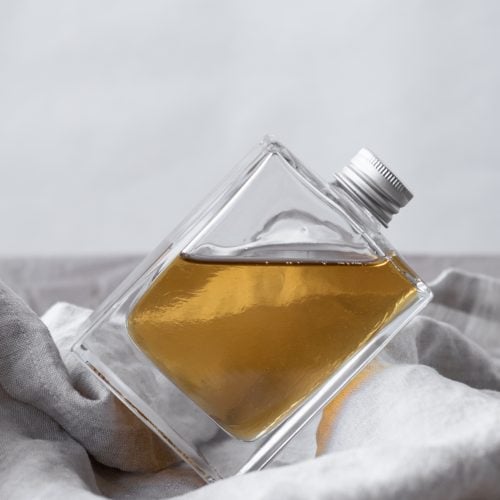 Simple Syrup
Used in many cocktails. This 2:1 sugar to water ratio is shelf stable.
(Click on the stars to vote!)
Ingredients
200

g

sugar

(raw sugar gives a slightly richer flavour and a more golden colour)

100

g

water
Instructions
Add the sugar and water into a saucepan and heat up until the sugar has fully dissolved.

Let cool down and store at room temperature in a sealed container.
Nutrition Facts
Simple Syrup
Amount Per Serving (15 g)
Calories 38.7
% Daily Value*
Fat 0g0%
Cholesterol 0mg0%
Sodium 0.2mg0%
Potassium 0.2mg0%
Carbohydrates 10g3%
Protein 0g0%
Vitamin A 0IU0%
Vitamin C 0mg0%
Calcium 0.6mg0%
Iron 0mg0%
* Percent Daily Values are based on a 2000 calorie diet.